Share on facebook
Share
Share on twitter
Tweet
Share on pinterest
Pin
The 1990s had a signature sound across nearly every genre, and there were many authentic love songs that came out of this era. Not only did the lyrical content strike a chord with many listeners, but the cadences, sonic progressions, and vocal range of this era were top-notch.
Many songs from this time in music left a lasting impression on listeners and are also one of the most sampled eras of music.
Keep reading through this list to get a look at the 10 best 90s love songs that were hits of their time.
1. I Will Always Love You by Whitney Houston
One of the richest and most soulful voices in music history, Whitney Houston showed her talent and prowess on the classic song "I Will Always Love You." It's a beautiful slow jam that is packed with organic instrumentation and perfect for live performances.
Whether it's played every year on Valentine's day or placed in your favorite rom-com, it's a song you won't be able to escape for many more decades. It's understandable as the entire production has the qualities to be classified as one of the best 90s love songs.
2. My Heart Will Go On by Celine Dion
A voice that's loved worldwide, Celine Dion offers her angelic vocals on "My Heart Will Go On." The record is an excellent example of how to properly use reverb with live instruments without muddying up the overall production.
Perfect for a slow dance, the song was also famous for its part in the 1997 Titanic film, which had an emotional impact on many listeners. It's full of passion and hits the cadences that send a tingle down your spine.
3. When A Man Loves A Woman by Michael Bolton
Always impressing listeners with his vocal range, Michael Bolton isn't shy to the slow jam genre. As the various guitar riffs complement Michael's voice, your ears stay interested throughout the whole song.
The overall production sounds like the music is conveying the conversation, and Michael is adding that undeniable passion with his voice. It's an excellent song and is one of the best 90s love songs on this list.
4. Can You Feel the Love Tonight by Elton John
Created for the 1994 film Lion King, "Can You Feel the Love Tonight" is blessed with Elton's vocals and musical expertise. Aside from Elton John's popularity, this song stuck with multiple generations of people, from kids up to old school Elton John fans.
Aside from how the song was created, it's sonically pleasing and delivers a calming tone through each changing dynamic. If you listen closely to the instrumentation, you can hear the influence of Elton on the production, but it will remain in everyone's hearts primarily due to its association with the classic Lion King film.
5. As Long As You Love Me by The Backstreet Boys
The Backstreet Boys were the heartthrobs of the 90s that you couldn't get away from. Their music was everywhere on every radio and television, and fans went crazy for every song they made.
It's well known that the group made plenty of love songs that were complete bops, but a few stuck with people long after the group split up. "As Long As You Love Me" is one of the best 90s love songs and will go down in music history as a staple hit out of the 90s era.
6. Wonderwall by Oasis
From their acclaimed album (What's the Story) Morning Glory?; Oasis produced a 90s classic with "Wonderwall," and fans never once forget the lyrics since its release. For me, this is a childhood classic that I grew up listening to around the house, and I feel it's rightly placed in this list of the best 90s love songs.
Its chorus is highly memorable, and it was only further immortalized as it has been placed with a long list of movies and other media projects over the years. If for any reason you haven't heard of this song, you've been missing out on the talents Oasis has to offer.
7. Nothing Compares 2 U by Sinéad O'Connor
This is a sensual jam that hits all of the characteristics of a love song out of the 90s. For me, the drum kits are generally a dead giveaway, just like the big pop-snares out of faster music from the 80s.
"Nothing Compares 2 U" is wrapped in warm strings, a soft drum kit, and the powerful vocals of Sinéad O'Connor. Fans still adore this song today and hit a nostalgic memory for many and their loved ones.
8. Kiss From a Rose by Seal
An acoustic record that'll fill you with joy, Seal, doesn't miss when he gives it his all. "Kiss From a Rose" is easily a staple from his discography, and the melodies from the verses and the chorus alike will quickly get stuck in your head.
His vocals are undeniably smooth, but the piano and acoustic guitar progressions are not only supportive but evolve beautifully throughout the track. It's a record that you often heard in the 90s, and you couldn't avoid it even if you wanted to at the time.
9. Believe by Cher
When I say this song rang through clubs worldwide, that's an understatement to the cultural impact "Believe" had when it was released. Cher's voice is unmistakable, and the feel-good qualities from this record were and are loved by many people all over the world.
From a production standpoint, it hits just right, and the bass line keeps you groovin' the whole time. Whether you're a fan of Cher's music, you've definitely heard this song at some point in your life as it was everywhere for years and still gets played today in many forms of media.
10. I Swear by All-4-One
A record that's more driven by the lyrical content than the instrumental, "I Swear" is the 90s staple, and All-4-One never misses with their vocal range. I love the breaks in the song and brass solos sprinkled throughout, adding an extra layer to the dynamics.
It had a lasting impact on R&B lovers and is considered a great example of classic R&B, which thrived in the 90s and early 2000s. Even though this song was a big player in All-4-One's career, they have many other songs that bring just as much talent and enjoyment.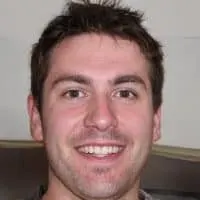 Alex is a man of many talents. He's been playing music since he was young, and has been the main content writer at Tone Start for the past few years. Alex loves to play around with different styles of music and enjoys listening to anything from country to classical.