Share on facebook
Share
Share on twitter
Tweet
Share on pinterest
Pin
Whether you're hitting the town with a group of friends or want to be part of the crowd, karaoke is a great way to have some fun. But, what song should you pick when it comes time for your turn with the mic?
There are some fantastic tracks that are found in most karaoke songbooks, but if you want a real crowd pleaser, you'll need to look to the 1980s.
So without further ado, here is my list of the 10 best 80s karaoke songs!
1. Don't Stop Believing – Journey
"Don't Stop Believing" has featured in many movies and television shows from the animated "Cloudy with a Chance of Meatballs" to the action-packed "The Losers." So, it stands to reason that it will have great appeal to your typical karaoke audience.
While it has a great tune, this song is easy to sing, so even if you're not a great crooner, you should be okay. You can even take a page from Journey's book and tailor the song for your city. Just add your town or city to the end of the line "just a small town boy, born and raised in…"
2. What's Love Got To Do With It – Tina Turner
Tina Turner is the Queen of rock for good reason, with her powerful voice, "What's Love Got to Do With It" became a smash hit in 1984. While you may not have Tina's great vocal skills, you can practically guarantee that the audience in any bar will join in and help you belt out the chorus.
This is one of the best 80s karaoke songs for a girl's night out, as the lyrics resonate with anyone who's had her heart broken. Added to the amazing real-life story of Tina, this song is truly empowering.
3. Love Shack – B52s
"Love Shack" is a 1980s classic that has remained timelessly popular. While the music video was whacky, the lyrics are a little naughty, which makes it perfect if you want to let down your hair.
The great thing about this song is that it is remarkably easy to sing. Like most of the best 80s karaoke songs, you're also likely to have help when it comes to the chorus.
4. Hit Me With Your Best Shot – Pat Benatar
Pat Benatar ruled the 1980s after her second album release Crimes of Passion which included this song. "Hit Me With Your Best Shot" is a great song that really gets feet tapping.
The song has had a revival in popularity due to being featured on the television show Glee and the Pitch Perfect movies. So, even if you're with a younger crowd, this song should still be very appealing.
5. Walking on Sunshine – Katrina and the Waves
"Walking on Sunshine" immediately lifts the mood at any karaoke event. Whether you're enjoying a summer karaoke bash or you're following that emo guy who always sings the saddest songs, this number will get the crowd back in the mood for a good time.
This song is another one that sounds great, but isn't remarkably challenging to sing. There are some great instrumental bits in the song that will allow you to catch your breath if you are struggling a little.
6. I Love Rock & Roll – Joan Jett & The Blackheart
Joan Jett took her rock and roll inspiration from the 1970s television show Happy Days, but her sound was all 80s. With great beats and fun lyrics, "I Love Rock & Roll" typifies the Joan Jett sound.
This is another karaoke classic that will get the crowd moving and singing along. So, if you want to unleash your inner rock goddess, this is one of the best 80s karaoke songs for you.
7. Running up that Hill – Kate Bush
"Running up that Hill" is a fantastic 80s song that experienced renewed exposure due to being featured in the Netflix show Stranger Things.
Kate Bush has a superb vocal range, at over 3 octaves. This does make singing many of her songs a little challenging but "Running up that Hill" is quite easy, with no difficulty to reach high notes.
So, if you want an 80s karaoke song that will also be appreciated by a younger audience, this song is a great choice.
8. Livin' on a Prayer – Bon Jovi
We're back to the rock genre in the 1980s, but "Livin' on a Prayer" is one of the best 80s karaoke songs. The opening bars are iconic and will immediately get people singing along with you.
Just be prepared for the key change, which does involve a hard-to-hit note. However, since most people will struggle, it usually leads to a good time, as the entire bar is out of tune.
So, simply go for it and have a laugh.
9. Sweet Child of Mine – Guns & Roses
"Sweet Child of Mine" is another 80's rock classic that is sure to have the entire bar singing along. With its epic intro that demonstrates the guitar skills of Slash, this song is instantly recognizable.
This song is sure to be on every karaoke playlist, after being featured in the new MCU movie Thor: Love and Thunder. However, while this is one of the best 80s karaoke songs, it is more challenging to sing than you may have initially thought.
10. It Must Have Been Love – Roxette
"It Must Have Been Love" was the theme song for the movie Pretty Woman, cementing it into 90s culture, despite it being an 80s tune. This is a great song for the end of the night when you've already drunk some liquid courage because it is a tricky tune.
While you may have everyone singing along with you, you'll need to be pretty self-confident to carry this song. However, if you can hit the high notes, you'll be the queen of karaoke.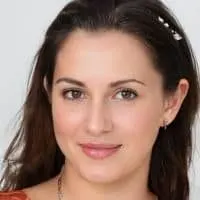 Alexandra loves playing the piano and guitar. She has always been a music lover, but it wasn't until she was in high school that she realized how much she loved to play. It allowed her to express herself without having to be verbally expressive, which is something she found very empowering.