Share on facebook
Share
Share on twitter
Tweet
Share on pinterest
Pin
Anyone who knows Alanis Morissette knows that she is one of the best rock artists. She's known for her iconic style, carefree attitude, and incredibly catchy music that still holds up today.
So without further ado, here is my list of the best Alanis Morissette songs of all time!
1. You Oughta Know
While "You Oughta Know" might not be one of Alanis' most famous songs, in my opinion, it's one of her best and is the perfect optimization of her music and style. It's got her signature style and her iconic vocals.
It's a fantastic song to listen to when you're in the mood to feel like a badass, and with its unbelievably catchy chorus, you're going to be singing "You Oughta Know" for days after listening. I just thought you oughta know that!
2. Hand In My Pocket
If you've never heard "Hand In My Pocket" before, I'm just going to assume that you've been living under a rock all of your life. It's one of Alanis' most famous songs, if not the most famous song that she's ever released, and it's clear to see why.
It's incredibly catchy, has a simple, easy-to-sing melody, and is highly relatable. It's the perfect song to listen to when you're stressed out and need some motivation to let go of your worries and relax for a little while. Definitely worth the listen.
3. Thank U
"Thank U" comes off of Alanis' Supposed Former Infatuation Junkie album and is one of the more emotional songs she's ever released. It's got an iconic, haunting opening that will send chills down your spine and leave you wanting more.
The singer's signature vocals shine through in this more slow-paced number, with an addictive hook and epic chorus that make you want to get up and belt your lungs out. The music video is fantastic, and I highly recommend checking it out when you have a chance.
4. Ironic
Perhaps Alanis' most famous track, Ironic, captures the feeling of helplessness when everything seems to go wrong at once. We've all been there, which is part of what makes this a relatable and well-known song.
You've probably already heard this song before, but if you haven't, then you don't know what you're missing out on. Perhaps the most iconic part of this song is its hook, which takes on a kind of ethereal, almost-humorous tone in Alanis' voice that I can't get enough of.
5. Precious Illusions
In my opinion, "Precious Illusions" is a criminally underrated song that deserves far more attention than it gets, especially if you're someone who enjoys rock and grunge music. It has a clever chord progression that you don't hear much of nowadays, with a fantastic music video.
Alanis' vocals are rich, powerful, and utterly haunting and will leave you wanting more immediately after listening. As a hardcore Alanis fan, I can't help but rant and rave about this fantastic song.
6. Hands Clean
"Hands Clean" comes off of Alanis' The Collection album and is another song that I think is quite underrated. It's probably because it's one of the singer's more emotional numbers, but it still features that rock-grunge flair that she's known for.
It's got a powerful, rich electric guitar that permeates throughout the song, and these signature drums give Alanis songs that undeniably feel Alanis. If you've liked the songs on this list so far, I strongly suggest giving "Hands Clean" a listen.
7. You Learn
"You Learn" is another of Alanis' most famous numbers and has more of the 2000s feel to it than a lot of her other music. This is reflected in the undeniably 2000s music video that accompanies it. It's one of my favorite songs that the singer has ever released.
The title is relatively self-explanatory. She sings about taking all of the lessons that life has to teach us in stride and learning to roll with the punches because there's nothing else that we can do when the going gets tough.
8. Guardian
"Guardian" is definitely one of the most emotional songs that Alanis has ever released. While it definitely has that signature rock feeling to it, the waterworks are definitely going to be working overtime once you start playing this track.
It's extraordinary for anyone who has that one person they'd do anything for in their life. If you're a protective person and want a song that you can play to show your appreciation for your significant other, then "Guardian" is definitely it.
9. 21 Things I Want in a Lover
"21 Things I Want in a Lover" is another of those criminally underrated songs, in my opinion, and is one of the most badass songs that Alanis has ever released. It comes from her Under Rug Swept album, and the title explains it all.
In it, Alanis sings that she is by no means an easy woman to please and is unwilling to settle for anyone who doesn't meet her expectations. If you're a boss woman who doesn't settle for anything less than the best, then "21 Things I Want in a Lover" is definitely the song for you.
10. Crazy
"Crazy" is Alanis Morissette's iconic cover of the song of the same name by Seal, and she puts her signature rock punk flair that makes this song undeniably hers. If you loved the original, you'd definitely love this authentic original.
"Crazy" is a song about letting go of all of your restrictions on yourself and letting your true nature shine through. It's a fantastic song for anyone who feels like they have to hide and is one of my favorite songs that Alanis has ever released.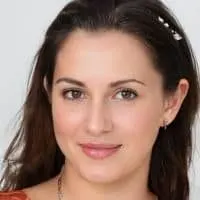 Alexandra loves playing the piano and guitar. She has always been a music lover, but it wasn't until she was in high school that she realized how much she loved to play. It allowed her to express herself without having to be verbally expressive, which is something she found very empowering.