Share on facebook
Share
Share on twitter
Tweet
Share on pinterest
Pin
Quintessential 90's rock: tallying up the hits from Counting Crows.
For more than two decades, Counting Crows have been producing crowd-pleasers with candid lyrics accompanied by charismatic live performances.
Counting Crows is an American alt-rock band formed in 1991 from Berkeley, California. Interestingly enough, the name of their band was inspired by a British nursery rhyme involving the superstition around counting magpies.
The band has had major success over the years, amassing fans from around the world who admire their soulful lyrics and passionate hits. The group has released an impressive seven records, received Academy Award and Grammy Nominations, and sold more than 20 million records around the globe.
Join me as I count down the best Counting Crows songs out there right now!
21 Best Counting Crows Songs
1. Mr. Jones
Of course, my list must start with Mr. Jones because Mr. Jones is what catapulted the band to fame! It was released as a teaser from their debut 1993 album, August and Everything After.
With pointed lyrics like "when everybody loves me, I will never be lonely," the song is a commentary on the perceived idealism of fame and was inspired, funnily enough, by pre-fame rejection on a night out at the bar.
Written primarily by Adam Duritz and guitarist David Bryson, and produced by T-Bone Burnett, Bruce Ranes, the song remains one of the most recognizable songs of the band. When it was released, it shot to number 5 on the US Billboard Hot 100 and hit number 1 in Canada and number 7 in France.
2. Round Here
Heralded as a "devastating masterpiece," by fans, Round Here has a multitude of meanings, depending on who you ask. If you ask the band, they share that it's about the struggle of uninspiring jobs, life's frustrations, and pondering about actualizing your dreams.
Fans, however, feel comforted by the band's raw words and attribute it to overcoming mental health struggles, family problems, and standing up for your individualism.
The song is smooth and mellow, with noticeable guitar riffs and light percussion throughout. The song was released in 1994, as part of the band's August and Everything After album.
3. Accidentally in love
Fans of the 2004 film Shrek 2 will surely remember this uplifting hit! Accidentally in Love was the first song to be played in the film and tells the story of falling in love with someone a little less conventional.
Counting Crows lead singer Adam Duritz's sullen voice is overlayed by punchy, lively music with catchy lyrics. Critics, fans, and even children went crazy for the song, loving the happy song that is rather opposite to what the band normally releases.
The song was released just before the movie release in May 2004, making it an easy-listening hit for summer 2004. The song received a nomination for Best Original Song at the 2005 Academy Awards.
4. Big Yellow Taxi (Feat. Vanessa Carlton)
Counting Crows collaborated with musician Vanessa Carlton for their take on the original 1970 Joni Mitchell song and were featured in the hit film Two Weeks' Notice.
Big Yellow Taxi featured on the band's fourth album Hard Candy released in 2002 but this version did not include the vocals of Carlton.
It remains a well-loved cover and I still frequently hear it on the radio. It's a song that has aged incredibly well, with its important examination of society's urbanization and gentrification.
5. Colorblind
Colorblind is a moody, dark, and haunting song written by Adam Duritz and Charlie Gillingham. The song's deep lyrics are matched with classical-sounding piano, soft violin, and mellow guitar.
Colorblind is number 7 on the 1999 album, This Desert Life and featured in the 1999 drama film Cruel Intentions.
The song is described by fans as intense and heavy, with interpretations wide and varied but many people love its poetic discussion on the heaviness of depression.
6. A Long December
A Long December is a sulky, piano-heavy tune. It was released, aptly, in December 1996 as part of Counting Crows Recovering the Satellites album.
Written and sung by Adam Duritz, the 4 minutes and 54-second song is about life, the many changes we all go through, the hope for the future, and trying to be positive about what's to come.
It climbed its way to number 1 on Billboards US Adults Alternative Song and number 1 on Canada's Top Singles, RPM.
7. Omaha
Omaha is a soulful tune combining Celtic influences and upbeat rock.
The lyrics of Omaha critique the influence of Christianity on American society, and the rigid rules that it puts in place, rather than focusing on spreading love.
The song is track two on the band's first album, August and Everything After, released in 1993.
8. Rain King
Noticeably upbeat and cheerful, Rain King is a pop-rock tune from the band's first album, August and Everything After. Fans applaud the song for its nostalgic magic, as it draws you in to reflect on your life.
Rain King was inspired by a character in a book written by Saul Bellow, but focuses on the creative process, finding your vision and translating that into the final, creative masterpiece.
9. Hanginaround
This rocking upbeat song peaked at number 1 on Billboard US Alternative Adult songs.
Hanginaround has a super catchy beat, singable lyrics, guitar solos and was a big hit with fans. The song is fun, and you can tell the band had fun making it. The band was experimental with this one, looping eight piano pieces, drums, and adding a flair of hip hop to the mix.
It was released in 1999 as part of the band This Desert Life. The music video is quintessential 90s, filmed in the band's living room and featuring their real-life friends.
10. Anna Begins
Number ten on my list is Anna Begins, from the band's first album, released in 1993.
The whiny, low-beat song laments heartbreak, promises, and denial. Famously, Anna was a woman that Adam Duritz met in Greece, who he fell fast and hard for. Anna was not keen to carry on the relationship, leaving Adam's heart in pieces and inspiring the hit song.
Fans adore the relatability of young love, confusion, and daydreams – and the idea that new love is seemingly perfect.
11. Perfect Blue Buildings
Number 11 on my list is Perfect Blue Buildings, a mellow, soft rock song that some have deemed "agonizing" and "haunting," to listen to due to its rawness.
The song, which was written by Adam Duritz, discusses the challenges of sticking to sobriety. With lyrics asking for "help" over and over, it seems to be a desperate cry for assistance.
The song is featured on the band's first album, August and Everything After, and it was released in 1993.
12. Raining in Baltimore
Raining in Baltimore is a delicate song that involves heavy piano overlayed with some organ sounds halfway through.
This song is emotional and highlights the intensity of being lonely, isolated, and wishing to be elsewhere. Adam Duritz was born in Baltimore but left at just age 3. The lyrics are noticeably painful and invokes sympathy from the listener.
Like many of the Counting Crow hits, the song's meaning is defined by the listener. Many fans related to the song as they felt it was about those who choose to live away from their country, perhaps somewhere with less of a support system, and navigating this.
13. Time and Time Again
In Time and Time Again, you can truly feel the sorrow in Adam Duritz's voice, as he belts about the challenges of being in love, time apart, and questioning yourself.
His angst voice is paired with heavy guitar and percussion that makes for a mellow, tragic, hit that is a part of their first album.
14. Sullivan Street
Sullivan Street is the 8th track on the band's first album August and Everything After written by Adam Duritz and David Bryson. The song implores soft piano, percussion, and bass, with the focus on the angsty vocals of Duritz.
It is a heavy song that discusses the heartbreak of knowing you must leave someone, or somewhere, that you still care for but ultimately know it's what is best for you. "Sullivan Street" is about a place with distinct memories that make it hard to revisit – yet it is a permanent fixture.
15. A Murder of One
This intense, percussion-heavy tune is the final song from the band's first album August and Everything After and was written by Adam Duritz, Matt Malley, and David Bryson.
The catchy song lasts nearly 6 minutes as it discusses, with a sense of urgency, the loss of child naivety and the reality of life's sorrow and frustrations.
"Murder" in the title is a creative nod to the band's name and the superstition of counting magpies.
16. Goodnight Elisabeth
Goodnight Elisabeth is a feature song from the group's 1996 album Recovering the Satellites.
The song has a noticeable country twang, which is different for the band, but is still a nice song. Duritz sings, "I'll wait for you in Baton Rouge, and I'll miss you down in New Orleans," shows that despite breaking up with a woman named Elisabeth, he'll be thinking of her yet due to his fame and touring, their relationship won't work.
17. American Girls
This alternative, pop-rock hit is upbeat and spunky and features the lovely vocals of Sheryl Crow. The song was released on May 13, 2002, and shot up to the number 1 spot on the Billboard US Adult Alternative Songs chart.
The band rocked the house down with a live performance on the acclaimed The Late Show with Conan O'Brien in 2002, with a positive reaction from their fandom.
18. Mrs. Potters Lullaby
Mrs. Potter's Lullaby is a fun, upbeat song that encourages you to get up and dance.
It was inspired by a secret movie star that the band's singer Adam Duritz was crushing on. He must have been pretty inspired since it only took him a rumored 8 hours to write the hit.
One of the band's longer songs, lasting nearly 8 minutes, was a part of their 1999 album This Desert Life. They later released a popular music video, which follows the band in a sort of daydream party-style video.
19. Elevator Boots
The boys are back! Counting Crows wowed fans with an impressive release in May 2021, Elevator Boots, a part of a 4 song EP "Butter Miracle, Suite 1."
The song has a bit of country, remixed with their classic rock beats and the voice of Adam Duritz, who sounds a bit smoother and calm than previously, taking the lead.
The band performed their latest single to the delight of fans on Jimmy Kimmel Live on May 21st, 2021.
20. Ghost Train
The penultimate tune on my list had to be Ghost Train. This angsty percussion-heavy tune is pretty underrated, through a solid contribution to the band's first album, August and Everything After.
Like the band's other songs, the poetic lyrics are a stripped-back look at how previous relationships, romantic and not, sit with you, linger with you, and continue to impact your life even after they finish.
21. Angels of The Silences
I conclude my list with Angels of the Silences, one of the pure rock songs from the group. Angels of the Silence was the first song released from the 1996 album, Recovering Satellites.
With all the elements of a perfect rock song, fans loved it, calling it dynamic and catchy. It landed at number 3 on the US Modern Rock Tracks chart making it the most successful song from the album.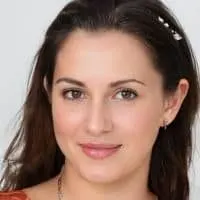 Alexandra loves playing the piano and guitar. She has always been a music lover, but it wasn't until she was in high school that she realized how much she loved to play. It allowed her to express herself without having to be verbally expressive, which is something she found very empowering.