Share on facebook
Share
Share on twitter
Tweet
Share on pinterest
Pin
There's something undeniably epic about music featuring prominent deep vocals, and modern equipment has made it even easier to capture and enjoy the richness of a deep voice. As a result, we've seen many sea shanties and acapella groups skyrocket to viral fame.
In this list, you'll find classic recordings from deep-voice legends like Johnny Cash and Leonard Cohen along with modern tracks from some of the most popular deep-voice singers of today!
So without further ado, here is my list of the best deep voice songs of all time!
1. God's Gonna Cut You Down – Johnny Cash
We'll begin the list with a track from the Man In Black himself. "God's Gonna Cut You Down" is a classic American folk song that Johnny Cash covered in 2003. Johnny Cash's iconic voice lends tremendous power to this cover song.
Cash's version features gritty acoustic guitar riffs over booming stomps and claps, and Johnny Cash's voice stands out with both strength and vulnerability.
When I'm preparing to work or exercise, this awesome deep voice song always helps me get in the zone!
2. You Want It Darker – Leonard Cohen
This next track is a highlight from the late, great Leonard Cohen. During Cohen's 50-year music career, he released 14 albums (and a 15th posthumously). "You Want It Darker" is the title track of his final album You Want It Darker, released in 2016.
This song features Cohen's iconic deep voice over a pipe organ, choir, and driving bass as he contemplates his life and his imminent death –– Cohen passed away 17 days after the album's release.
In the song's chorus, Cohen cries "Hineni, Hineni, I'm ready, my Lord," a Hebrew phrase that Cohen speaks to signify that he does not fear the approaching end of his life.
I love this song for its unique expression of both strength and vulnerability through the words of a man facing death with courage and grace.
3. Change On The Rise – Avi Kaplan
Avi Kaplan is one of today's most accomplished acapella basso singers. He captured international attention for his unique vocal range during his time performing with Pentatonix. Then, in 2017, he struck out on his own as a folk singer-songwriter.
"Change On The Rise" is the first track on Kaplan's 2020 solo album I'll Get By. The song's instrumentation emphasizes multi-tracked vocal harmonies over minimalist percussion, and the lyrics discuss holding onto hope in the face of challenges and trials.
This song fits perfectly in my personal "moody folk" playlist with its emotional swells and epic rhythm!
4. Chicago – Shawn James
Shawn James is a folk singer-songwriter who captured attention with his dynamic instrumentation and powerful, deep vocals. His songs frequently explore themes like memory, remorse, religion, and vice.
"Chicago" appeared on James's 2019 album The Dark & The Light. The densely layered vocal harmonies feature front and center over the delicate strums of an acoustic guitar. James's powerful vocal expression and mournful delivery make "Chicago" one of the best deep voice songs released in recent years.
This song always makes me nostalgic for the city of Chicago –– even though I've never lived there!
5. Misty Mountains – Richard Armitage, The Dwarf Cast
As far as deep voice songs go, it's hard to beat the epic theme song from Peter Jackson's The Hobbit: An Unexpected Journey.
"Misty Mountains" appeared in one of the early scenes of the movie, where Thorin Oakenshield (Richard Armitage) and his companions (The Dwarf Cast) sang a folk-inspired acapella song about their history and their quest.
"Misty Mountains" is fully acapella and features a combination of deep male voices chanting together in a chorus. It is somber yet hopeful, and it makes the perfect theme song for the start of a grand quest.
6. Ticking Bomb – Aloe Blacc
Aloe Blacc has carved out a special place for himself straddling several genres including rap, R&B, soul, folk, and funk. "Ticking Bomb" appeared on Blacc's 2014 alum Lift Your Spirit and features Blacc's deep voice-over diverse instrumentation including acoustic guitar, percussion, synth, and piano.
"Ticking Bomb" explores the desperation people feel all over the world in the face of bad news that never seems to get better. The lyrics empathetically address the stress and sadness that we sometimes feel during dark times in our lives.
7. Chainsmoking – Jacob Banks
"Chainsmoking" is a folk and R&B fusion track from Jacob Bank's 2018 album Village. The lyrics capture the bittersweet pleasure and pain of being in love with a person who you know is bad for you.
"Chainsmoking" features synth swells, electric guitar riffs, simple percussion, and Banks's deep voice multitracked in dramatic harmonies. The slow rhythm has an irresistible pull that will have you swaying along.
This song is one of my go-to vibe tracks when I'm working, exercising, driving, or doing chores around the house.
8. Wellerman – The Wellermen
In 2021, a folk song "Wellerman" went viral on TikTok and inspired a brief obsession with sea shanties that spread all across social media. The Wellermen group formed during this craze when 4 TikTok singers united to form a social media supergroup.
The Wellermen released their own cover of "Wellerman" at the height of the sea shanty hype storm and swiftly racked up millions of plays. This track tells the story of a whaling crew locked in an eternal battle with a right whale.
This modern take on a classic sea shanty features four male vocalists over the pulse of a bass drum. Whenever I'm in the mood for an epic sea shanty, I cue up this song on Spotify!
9. The Devil Wears a Suit and Tie – Colter Wall
"The Devil Wears a Suit and Tie" appeared on Colter Wall's 2015 album Imaginary Appalachia. This grungy folk track features Wall's huge, deep voice over acoustic guitar riffs and driving percussion.
"The Devil Wears a Suit and Tie" tells the story of a musician who sells his soul to the devil in Mississippi in exchange for musical success. It's a classic story brought to life once more by Wall's unique voice and sparse instrumentation.
This dark folk song is the perfect background music for driving alone down rugged country roads!
10. Human – Rag'n'Bone Man
Rag'n'Bone Man captured attention and won awards in 2017 with his song "Human." This track is a fusion of soul, R&B, rock, and blues featuring layered synths and filtered vocals over gritty percussion.
"Human" tells the story of a person who's tried their best to be "everything for everyone" and failed. The lyrics beg for forgiveness and mercy after making mistakes in life, repeating the words "I'm only human, after all."
Rag'n'Bone Man's deep voice lends great strength and passion to this vulnerable yet energetic track.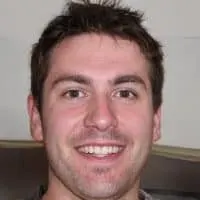 Alex is a man of many talents. He's been playing music since he was young, and has been the main content writer at Tone Start for the past few years. Alex loves to play around with different styles of music and enjoys listening to anything from country to classical.