Everyone loves a Christmas song, but the less traditional ones are my favorite. Hard rock Christmas songs really are the best, especially if they're a tongue-in-cheek cover of a traditional sweet tune!
I've put together a list of some of the best hard rock Christmas songs for you to enjoy.
So, put the fire on, make sure you've got a cup of eggnog handy, and enjoy the holidays with these hard-rock Christmas belters!
1. "Thank God It's Christmas" – Queen (1984)
First up is one of the most underrated Christmas songs, in my opinion. "Thank God It's Christmas" is a well-known rock Christmas song, written by Queen's lead guitarist Brian May and drummer Roger Taylor in 1984.
It's an emotional number for any Queen fan, but who wouldn't want Freddie Mercury singing to them on Christmas Day? I love putting this one on when I'm wrapping presents or preparing the turkey on Christmas day.
2. "White Christmas" – Iggy Pop (2013)
Who needs Bing Crosby when you've got Iggy Pop, right?! This hilarious rendition of "White Christmas" by Iggy Pop just had to make our best hard rock Christmas songs list, with Iggy's creepy "Ho-Ho-Ho" in the intro and gravelly vocals filling me with all kinds of Christmas cheer.
This Christmas banger was released in 2013 on the album Psych-Out Christmas by Cleopatra Records. If you haven't heard it yet, give it a listen instead of the standard Christmas carols – I promise you won't regret it.
3. "Kidnap The Sandy Claus" – Korn (2008)
If you're a fan of the film The Nightmare Before Christmas, you'll really love this next one. "Kidnap The Sandy Claus" by Korn is a superb cover from Tim Burton's classic film and brings a whole new meaning to the strange lyrics from this well-known Christmas tune.
One of my favorite lines from the song is "Kidnap the Sandy Claws, lock him up real tight". The amazing voice of Jonathan Davis singing these lyrics is somewhat chilling, and I love playing it every year at Christmas time to give my elderly relatives something to talk about…
4. "Run Rudolph Run" – Lemmy, Billy Gibbons, and Dave Grohl (2008)
"Run Rudolph Run" by Motorhead's Lemmy, ZZ Top's Billy Gibbons and Foo Fighters' Dave Grohl is a hard-rock classic, with some super gravelly vocals from the Motorhead legend and punchy guitar riffs from the ZZ Top guitarist.
Dave Grohl's heavy drum beats complete this fantastic trio of hard-rock legends. This great Christmas song is featured on the We Wish You A Metal Xmas and a Headbanging New Year album, and is a favorite among many hard-rock fans.
5. "Christmas Time (Don't Let the Bells End)" – The Darkness (2003)
It's just not Christmas without listening to "Christmas Time (Don't Let the Bells End) by The Darkness. Who can resist the sultry voice of Justin Hawkins when enjoying the holidays?
Released in 2003 on their debut album Permission To Land, this song is hugely popular among The Darkness fans at Christmas, and the iconic video of the band unwrapping Christmas presents is truly magical. Give it a watch, you're bound to love it.
6. "Merry Christmas Everybody" – Slade (1973)
Next up is a 70s Christmas classic, it's "Merry Christmas Everybody" by Slade. Released as a non-album single in 1973, this song really makes it feel like it's Christmas – imagine being in that studio audience back then!
Noddy Holder's lyric "the old ones are the best" has taken on a new meaning now that the song is nearly 50 years old. You're bound to hear this countless times on the radio at Christmas, but it just never gets old!
7. "Xm@$" – Corey Taylor (2011)
I don't think anyone expected Corey Taylor from Slipknot to do a Christmas song, but it's safe to say he proved them wrong, and some! "Xm@$" by Corey Taylor was released as a one-off single in 2011, and it gives fans across the globe some tasty hard-rock Christmas cheer.
"If I ain't hammered it ain't Hannukah" is one of my favorite lyrics, and it felt wrong not to include it in my top 10 best hard rock Christmas songs.
8. "All I Want for Christmas Is You" – My Chemical Romance (2005)
There's not much that's more anti-establishment than the "All I Want For Christmas" cover of Mariah Carey's classic Christmas song by My Chemical Romance. This great hard-rock Christmas song seems like it was made for Gerard Way's emo-esque vocals and the band ace the piano/guitar medleys.
When asked about this cover, Gerard Way explained it was a way to feel more Christmassy when they were away touring over the Christmas period. Ahhh, how sweet!
9. "Linus and Lucy" – Foo Fighters (2017)
If you're looking for a hard rock Christmas song that's full of nostalgia, there's nothing better than the Charlie Brown cover of "Linus and Lucy" by the Foo Fighters. Performed on SNL at Christmas in 2017, the band chose a very unusual song to cover – but it certainly got everyone feeling merry and bright.
I thought I couldn't love the Foo Fighters any more than I already did, and then I remembered this song. This beautiful Christmas cover is one I'll forever play at Christmas, and dare I say it – I think I prefer this rockier version to the Charlie Brown original.
10. "Santa Claws is Coming To Town" – Alice Cooper (2008)
Could I make a list of the best hard-rock Christmas songs without including Alice Cooper? This amazing cover of "Santa Claus is Coming to Town" written by J. Fred Coots and Haven Gillespie is made all the better by rock legend Alice Cooper and makes hard-rock fans feel they have a place amongst the cheesy Christmas cheer.
The minor tone on the chorus' classic lyric makes this song a true hard-rock Christmas classic, and the creepy additions of "he knows where you live" and "he knows what lives under your bed" make this song all the more hilarious.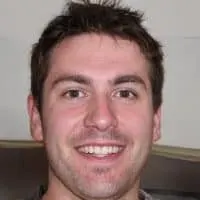 Alex is a man of many talents. He's been playing music since he was young, and has been the main content writer at Tone Start for the past few years. Alex loves to play around with different styles of music and enjoys listening to anything from country to classical.