In the paragraphs below, I am not just going to review C.F. Martin & Company's top 7 guitars.
Rather, I shall present to you our finest selection of acoustic and electric-acoustic instruments, each having a set of unique features and a temper of its own.
Then, I shall give you some precious tips to consider before buying a Martin guitar and answer five exciting questions about Martin guitars in general.
Without further delay, let's unveil our top choice.
The Best Martin Guitars of All Time
1. Martin LXK2 Little Martin
[amazon box="B0002F5792″ template="horizontal" description_items="2″]
On the top of our list sits a little boy with a big voice of its own. LXK2, aka Little Martin, is the company's smallest and most affordable acoustic guitar.
Out of sheer curiosity, I tried to find out when this model was first released. All I could establish was that Martin developed the ¾ design at some time in the later 1890s.
Sound
For such a small guitar, the LXK2 Little Martin delivers a surprisingly good tone. The volume's loud enough for playing in a band and has reasonable projection and sustain.
Fellow reviewers describe Little Martin's tone as "warm and thick" with a well-defined low-end presence. Still, the guitar's minimalist design does not make it a great candidate for unplugged solos.
Playability
LXK2 Little Martin is the perfect travel guitar, while its affordable price makes it suitable for beginners. Big guys may frown at its ¾ size, but kids would certainly appreciate it.
While this little boy lends itself well to rhythmic playing and basic chord progressions, the lack of electronics turns the on-stage performance into a challenge.
Martin's LX1E is better for that purpose, as it features Fishman's patented preamp and pickup system.
Build Quality
I must say that LXK2 Little Martin does not impress with its build quality, and some fans of the brand may even be disappointed.
The guitar's top, back, and sides are made of Koa HPL, a high-pressure laminate.
A "bolt-on neck" joint connects the guitar's neck to its laminated body, which is a step down from Martin's signature dovetail neck joint. If you peep through the soundhole, you'll see that the X-bracing inside isn't scalloped.
Price
Selling for about $350 in the street, this is probably Martin's cheapest acoustic guitar. All in all, the Little Martin is a great first guitar choice that provides outstanding value for its convenient price.
PROS 👍
Consistent and warm tone
Affordable price
Compact design
CONS 👎
Laminated top, back, and sides
No electronics
2. Martin LX1 Little Martin
[amazon box="B001R2O0BK" template="horizontal" description_items="4″]
The second place on our list is for another Little Martin, the versatile LX1. Two things distinguish this guitar from its sibling, the LXK2: first, it's got a solid Sitka spruce top, and second, it has an electronic acoustic modification that's roughly $100 pricier than the purely acoustic version.
Sound
From what I heard, LX1's sound isn't that much different from LXK2's. The solid Sitka spruce top may add extra crispness, but its surface isn't broad enough to make a big difference. On the plus side, the compensate saddle adds some intonation accuracy.
I could hear the high-end clearly, but the mid-range sort of overlaps with the low end. I would not say hard strumming or jamming is the best approach to this small guitar.
To take the most out of it, you should try some light fingerpicking or flatpicking. With the pre-set EQ on, the mids get cleaner, and some extra crispness can be heard.
Playability
The ¾ body may be too small for a large-framed adult player, but the low oval neck is just a notch narrower than that of a standard dreadnought.
Also, fourteen of its 20 frets are open. Due to LX1's minimalist design, the lack of a cutaway does not hamper access to the other six.
Build Quality
The guitar's solid spruce top significantly improves its construction, although the back and sides are still made of laminated mahogany.
The X-bracing is not scalloped, and the strata-bound neck is attached to the body with a simple Mortise and Tenon joint.
Strata bound means that the neck's made of several pieces of wood laminated together. The nut and the saddle are made of white Corian, which is some cheap acrylic polymer.
Price
Little Martin LX1 costs $400-$500, depending on whether you prefer the entirely acoustic version or the electronic acoustic one. On the whole, this is an affordable starter guitar, and the added preamp system opens some on-stage performance opportunities.
PROS 👍
Solid spruce top
Comes with Martin's Lifespan 2.0 strings
Ideal for travel or student practice
CONS 👎
Laminated back and sides
The nut and the saddle are made of cheap plastic
non-scalloped bracing
3. Martin DX Johnny Cash
[amazon box="B07XMFBQWG" template="horizontal" description_items="2″]
The third position in our list is for a full dreadnaught acoustic guitar with laminate top, back, and sides that's been around since 2019.
It all began in the early 1970s when a representative of country star Johnny "The Man in Black" Cash contacted Martin Guitars and asked them to make an all-black D-35.
Sound
Martin DX Johnny Cash has a warm and resonant sound, amplified by the no-cutaway design and the presence of a scalloped X-bracing inside.
The deep bass and rich overtones with an excellent projection make this guitar very suitable for country and folk style playing and all forms of traditional American music.
The high end is bright without being overbearing, but the bottom end sounds a bit darker. A word of advice: use the amp system sparingly as it messes up the mid-range.
Playability
Martin DX Johnny Cash is a full-sized dreadnought electric acoustic guitar that smaller-framed fingerpickers may find challenging to play. The lack of a cutaway certainly won't make things easier for them.
The well-contoured neck is a bit chunky with a 16″ radius, but big-handed guitarists should not have a problem with that.
If the tuners feel a bit stiff, you can replace them with Grover 102c, the ones present on Johnny's custom-made guitar back in the 1970s.
Build Quality
Martin's nod to history materializes on the guitar's custom fingerboard inlaid with stars and the "CASH" logo.
Johnny Cash's signature is also replicated on the rosette and label. Martin DX's gig bag is also embroidered with the "CASH" logo.
The guitar's body and neck are made of heavy-duty laminate called Richlite, which is resistant to fluctuations in temperature or humidity. So, you should not worry about fret buzz caused by winter pitting or spring swell.
Finally, Martin DX Johnny Cash features a comfortable 25.4″-long scale and scalloped X-bracing. The nut is still made of Corian (plastic), but the saddle's made of TUSQ, which is a significant improvement from the previous two candidates.
Price
With a convenient price tag of $600, Martin DX Johnny Cash makes the perfect secondary guitar for the traveling fingerpicker. I think it's one of the most reasonable first-guitar choices in the Martin family.
PROS 👍
The full dreadnought body delivers powerful sound
The guitar's body and neck are weather-resistant
TUSQ saddle
CONS 👎
The Fishman Electronics system messes up the midrange
No cutaway
No solid top
4. Martin D-15M
[amazon box="B003K7CEWM" template="horizontal" description_items="2″]
Martin's D-15 series includes acoustic guitars made entirely of solid mahogany. The series was initially launched in the 1930s when the company had to find a way to cut costs but keep making cool-looking and great-sounding guitars.
Sound
As an all-mahogany acoustic guitar, Martin D-15M delivers a richer, warmer, and fuller tone than most spruce top dreadnaughts.
Martin's patented A-Frame scalloped X-bracing, designed explicitly for the mortise/tenon neck joint, provides a very open sound with plenty of resonance and projection.
The mid-range dominates the sound field, but some subtle highs and gentle overtones can also be heard. That said, the guitar lends itself very well to blues tunes.
Playability
Despite the lack of a cutaway and the full dreadnaught size, Martin D-15M is very comfortable to play straight from the box.
The 25.4-inch scale is very responsive to all sorts of string attacks, while the 1.6875-inch nut makes the guitar perfect for strumming, fingerpicking, or flatpicking.
Build Quality
Martin D-15 M's top, back, sides, and neck are all made of solid mahogany. The more expensive rosewood is used to make the guitar's fingerboard, headplate, and bridge.
The pins are made of ebony, while the nut and the compensated saddle are made of natural bone, which is a qualitative leap from our previous candidates. The headstock is fitted with solid vintage-style tuners and decals.
Price
The Martin D-15M costs $1,300, so you'll have to drop some cash on it. Few budding fingerpickers are lucky enough to start learning the secrets of acoustic playing on a Martin D-15M.
Still, it is an excellent choice of a first guitar for the selected few who can afford it. One is more likely to see this acoustic guitar in the hands of an experienced professional rather than a novice.
> Click here to read our full review
PROS 👍
Martin's most comfortable dreadnaught
Revolutionary A-Frame scalloped X-bracing
Outstanding build quality
CONS 👎
D-15 M's all-mahogany body and neck make the guitar unsuitable for joyful leads and crazy solos
5. Martin 000-15M StreetMaster
[amazon box="B073DXH1TZ" template="horizontal" description_items="2″]
Despite its name, the 000-15M StreetMaster is not the guitar one is going to do some downtown busking with. This auditorium-style acoustic guitar with a cutaway captivates with its simplicity.
Sound
The "M" in this acoustic guitar's name indicates an all-mahogany top, back, sides, and neck. As a result, its tone is full and balanced with well-defined amplitude and focus.
Even without a spruce top, the StreetMaster manages to deliver a far livelier tone than most of its siblings in the 000 series, which makes it the perfect guitar for some on-stage accompaniment. Finally, the auditorium body style accounts for a superb projection.
Playability
The auditorium design of the 000-15M StreetMaster is more compact than a full-sized dreadnought, and the presence of a cutaway facilitates access to the upper frets.
The guitar's specially modified low-oval neck profile allows you to play faster lines for hours on end without any finger fatigue. The Plek'd frets, and smooth katalox fretboard makes the StreetMaster even more comfortable to play.
Build Quality
The 000-15M StreetMaster features an all-mahogany body and neck with a delicate satin finish. The A-frame X-bracing is still present, but there's no scalloping.
Yet, the presence of Martin's simplified dovetail neck joint is a step forward in build quality, while the lack of body binding is a discreet nod to the working musician.
The fretboard and the bridge are made of some Mexican ebony called Katalox, which is a step back from the more expensive rosewood used to make the same parts of Martin D-15M.
On the headstock, you can find some Golden Age Relic Nickel open-gear tuning machines that work really well with Martin's Lifespan 2.0 92/8 Phosphor Bronze, .012-.054 strings.
Price
The 000-15M StreetMaster's simplified working-class design is quite out of tune with its aristocratic price of $1,400.
Few of today's working guitarists can afford an acoustic instrument of such a class. However, its higher price is justified by the guitar's superb build quality and playing versatility.
> Click here to read our full review
PROS 👍
Vintage look
Superb tone and build quality
Dovetail neck joint
Increase versatility
CONS 👎
6. Martin D-10E Road Series
[amazon box="B07MWY9JXR" template="horizontal" description_items="2″]
The D-10E is an affordable no-cutaway D-14 Fret acoustic-electric guitar designed for traveling musicians. It's got a solid spruce top with a satin finish and Sapele back and sides.
Sound
Unlike our all-mahogany candidates, the Sitka spruce top of D-10E delivers a crisp tone with clear rounded bass and a clear high end.
The action setup guarantees a good projection and an excellent tone sustain when playing unplugged. When you plug-in, make sure to fidget the amp settings a little bit to achieve an equally refined tone.
Playability
The Martin D-10E weighs less than five pounds, which makes it easy to carry around. The action is adjustable according to one's playing style, but the out-of-the-box position allows both hard strumming and gentle fingerpicking.
The built-in soundhole tuner automatically mutes the audio output allowing the guitarist to tune up without a pedal.
Build Quality
Sapele wood is less expensive than mahogany, hence the Martin D-10E's more reasonable price. Still, it features an outstanding build quality and some unique design features.
You'll fall in love with the "mother-of-pearl" pattern fingerboard and the multi-stripe rosette border with elaborate inlays. If you want to pay less than $1,000 for a Martin guitar, you can expect some plastic parts such as the bridge, bridge pins, nut, and saddle.
Price
The Martin D-10E Road Series costs less than $900, which is a pretty comfortable price for a guitar of such a robust build and tone complexity. I'd say it's a reasonable choice of a beginner's guitar or a secondary instrument.
> Click here to read our full review
PROS 👍
Fishman MX-T electronics facilitate on-stage performance
Robust construction
The solid spruce top boost tone projection and sustain
CONS 👎
No dedicated EQ
The volume control needs improvement
7. Martin D-28
[amazon box="B0765S1HLX" template="horizontal" description_items="4″]
The Martin D-28 is considered to be the company's flagship model. The 2017 modification embodies all of the best guitar-making practices that Martin Guitar has employed for many decades now.
Sound
Being a no-cutaway dreadnought, the Martin D-28 delivers a powerful tone with a crisp midrange that's just perfect for bluegrass playing.
The guitar has excellent mid-scooped bass, while the rosewood back and sides provide a superb tone sustain. The spruce bracing is forward-shifted but not scalloped. Even so, it dramatically increases the guitar's resonance.
A small precaution: your Martin D-28 does not like humid places. If exposed to such conditions for quite some time, the guitar may start sounding as if there's a pillow in it.
Playability
The one thing that makes the Martin D-28 so comfortable to play is the asymmetrical design of its neck. Its profile is rounded up around the first position and becomes shallower as you go up.
The unique neck profile allows the player's thumb to show up more over the fretboard's top in the starting position and naturally move towards the middle of the neck as the playing progresses.
Build Quality
Compared to the six acoustic guitars reviewed above, the Martin D-28 features the highest level of craftsmanship. The solid Sitka spruce top and the rosewood back and sides are an unbeatable combination.
The ebony fingerboard has been decorated with Martin's signature "Mother of Pearl" inlay. The bridge is also made of ebony, while the 1.75″ nut and the saddle are made of natural bone.
Finally, you can rely on Martin's hard-shell case to protect your precious D-28 from the elements.
Price
Legends like Bob Dylan, Joni Mitchell, and Tony Rice used to play a Martin D-28, so you aren't going to get this guitar for a song. With a price tag of $3,000, Martin D-28 is the most elite instrument on our list.
> Click here to read our full review on the Martin D-28
PROS 👍
Deep and loud bass
Very comfortable neck
Superb construction and materials
CONS 👎
Sensitive to humidity
High retail price
Things to Consider Before Buying a Martin Guitar
Before going to the local guitar shop or ordering a Martin online, please take a minute or two to read my four tips below.
1. Price
Our last pick, dreadnaught icon D-28, is roughly ten times pricier than our top pick, the affordable and versatile LXK2 Little Martin. The margin is extensive, so you should choose a model whose cost matches your needs and skills.
2. Playability
Smaller framed fingerpickers may fancy the instruments on the first two spots in our list, while bigger and richer guitarists may grab one of the full-size dreadnaughts towards the bottom.
For me, the Martin D-10E Road Series strikes the perfect balance between versatility and comfort of playing.
3. Quality
If it's an original Martin, you should not worry about your guitar's build quality. Understandably, guitars made of higher-quality materials are more expensive.
4. New or Used
If you want to buy any of the guitars on positions one to three, you'd better buy a new one. All guitars from the fifth spot downwards age gracefully, and their tone matures over time. Hence, they make an excellent long-term investment.
Frequently Asked Questions (FAQ's)
Let's answer some of the hottest questions about Martin guitars that I could find online.
Why Are Martin Guitars So Expensive?
Not all of them are expensive, but even the most affordable models have handmade parts.
Are Martin Guitars Overrated?
In my opinion, Martin Guitars are not overrated.
Why Are Martin Guitars So Hard to Play?
The strings and the neck may feel stiff at first, but they will become more comfortable over time. This is especially true for the dreadnaughts.
Do Martin Guitars Increase in Value?
Our sixth and seventh choices make excellent long-term investments.
Do Martin Guitars Sound Better With Age?
Models upwards of $2,000 do sound better with age.
Conclusion
It is not an accident that I started this review with a Martin for just $350 and closed it a $3,000 acoustic gem.
I guess one needs at least seven years of dedicated practice to fully appreciate the difference between the compact LXK2 Little Martin and the iconic D-28.
My personal favorites are the mid-priced Martin D-10E Road Series or the Martin DX Johnny Cash. These reliable instruments can easily pull out an unplugged gig or help one make their first steps in acoustic playing.
#1 Product Recommendation ​​
[amazon box="B0002F5792″]
It is surprising why a guitar of unassuming build quality that sells for about $350 in the street dominates a field of far pricier and better constructed acoustic instruments.
Our top choice is based on the fact that Martin LXK2 Little Martin is a guitar that everybody can buy. There's something else. A great chef can make an award-winning dish even from lesser cuts and leftovers.
Martin has put together a compact and nice-sounding acoustic guitar from what has been left in their workshop. In terms of value for money, this little boy is a big champion!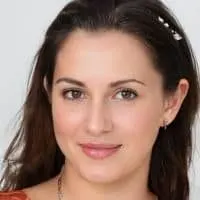 Alexandra loves playing the piano and guitar. She has always been a music lover, but it wasn't until she was in high school that she realized how much she loved to play. It allowed her to express herself without having to be verbally expressive, which is something she found very empowering.