After an extensive amount of research we have gathered enough information to make a comprehensive list of the best P90 guitars that are priced underneath $1000. We can tell you right now that the Godin 5th Avenue CW Kingpin II reigns supreme over the rest due to its playability, appearance, and price. The 5th Avenue is a big hit with buyers online, so don't just take our word for it!
We will be checking out all the best guitars priced under $1000 that incorporate the use of P90 pickups for you to go and check out yourself!
1. Godin 5th Avenue CW Kingpin II
The cutaway Godin 5th Avenue CW Kingpin II is a North American archtop electric guitar that is truly in a class of its own. It features a pair of Godin Kingpin P90 single-coil pickups that delivers a classic vintage tone – providing a large amount of presence and clarity.
The guitar is crafted from Canadian wild cherry, and the body is a molded archtop and back. Some of the key features of the 5th Avenue include the adjustable bridge, classic f holes, contoured high-gloss headstock, floating pick-guard, and cream binding. All of which help enhance the classic look of the guitar.
I admit that I really admire the custom polish finish of the guitar, which is very reminiscent of the 19th century French polishes.
One of the most impressive things about Godin as a company is the fact that they produce their own brand of single-coil p90 pickups. The 5th Avenue features both a neck and a bridge pickup of these pickups. And in all honesty, you don't even need an amp for this guitar to sound great, it sounds just as good played acoustically.
Overall, the Godin 5th Avenue CW Kingpin II is truly an amazing guitar. It doesn't matter what your music taste is, the tonal range produced by the 5th Avenue will be sure to give you whatever you are looking for (to an extent!). From jazz, to bluegrass, to rock, you'll be sure to get a kick out of the 5th Avenue.
2. Epiphone Les Paul Special I P90
Epiphone Les Paul Special I P90 Electric Guitar Worn Cherry
Body Body shape: Single cutaway Body type: Solid body Body material: Solid wood Top wood: Not applicable Body wood: Mahogany Body finish: Gloss Orientation: Right handed Neck Neck shape: SlimTaper D Neck wood: Mahogany Joint: Bolt-on Scale length: 24.75" Truss rod: Standard Neck finish: Gloss Fretboard Material: Rosewood Radius: 12" Fret size: Medium Number of frets: 22

Mahogany Les Paul body features Epiphone P90R and P90T Soap Bar pickups producing huge, FAT single coil tones, and an adjustable wrap-around bridge/tailpiece for maximum edge and sustain
Case sold separately
Mahogany Les Paul body features Epiphone P90R and P90T Soap Bar pickups producing huge, FAT single coil tones, and an adjustable wrap-around bridge/tailpiece for maximum edge and sustain
Case sold separately
The Epiphone Les Paul Special I P90 is a mahogany bodied guitar that features the Epiphone P90R and P90T pickups. One of the best things about this guitar is its affordability, which is handy for anyone looking to pick up a P90 guitar for a great price.
You might be asking, can this guitar play metal? Well, that's not really what P90's are meant to do sadly. Of course you can make any guitar play metal if you try hard enough, but P90's aren't really designed for that kind of sound. It suits more of a classic, or a hard rock sound.
You'll notice that there's no tailpiece next to the bridge. This is because the bridge also acts as a tailpiece, making it incredibly easy to set up the guitar.
One thing I should mention is that the tuners don't have screw adjustments, but they can be swapped out pretty easily if need be. To be honest, the tuners really aren't THAT bad as they seem to hold tune decently well.
The neck feels extremely smooth, which is quite surprising considering the price of the guitar. One thing that might put some people off the guitar though is the fact that it has a bolt-on neck. But you have to expect that kind of thing for a guitar of this price.
If you're after an affordable guitar that feels a lot more expensive than it is, then the Epiphone Les Paul Special I P90 would be a great addition to your collection. It's a great beginner to intermediate guitar that allows you to jump on the P90 bandwagon and experience the hype.
3. Epiphone Blueshawk DELUXE
Epiphone Blueshawk DELUXE Semi-Hollowbody Electric Guitar, Wine Red
This guitar has a Mahogany contoured back with a AAA Flame maple Veneer top and a Mahogany neck that has a Slim Taper D-shaped set neck.
Rosewood fingerboard with pearloid "Diamond" inlays and Epiphone P-90T and P-90R PRO Single Coil Pickups with a Hum-cancelling "dummy" coil mounting between pickups inside the body.
Master Volume and Master Tone with VariTone True Bypass and a Nighthawk fully adjustable and string-thru body bridge.
Now let's have a quick talk about the Epiphone Blueshawk Deluxe, which comes in at fourth place on our list. The Blueshawk Deluxe is the successor of the original classic that was origionally brought out in the 90s. It features both P90T and P90R PRO single coil pickups, along with a 6-position Rotary VariTone. The VariTone may take a bit of time to experiment with, but you can get some very interesting sounds from it.
Position 1: No effect
Position 2: -5db at 1875 hz
Position 3: -6db at 1090 hz
Position 4: -7db at 650 hz
Position 5: -10db at 350 hz
Position 6: -14db at 130 hz
At first glance it's obvious that the Blueshawk Deluxe is a truly beautiful looking guitar. The combination of the cream coloured pickup covers against the glossy finish of the body seems to compliments each other very well. There are three different colour finishes for you to choose from: Wine Red, Midnight Sapphire, and Translucent Black.
The semi-hallow body of the BlueShawk Deluxe makes the guitar feel very light. Both the body and neck are made from mahogany, and the top is laminated maple. On top of that the guitar also features a nice Urethane finish.
4. Epiphone Casino Coupe
The Epiphone Casino Coupe is a hollow body guitar that has quite a compact design. It features a laminated maple construction, f holes, glued-in mahogany neck with rosewood fingerboard, dual Dog Ear P90 pickups, individual pickup tone and volume controls, and a 3-way selector.
There are several finishes that the Casino Coupe comes in for you to choose from. You can pick from a variety of three different colours: cherry, natural, or classic vintage sunburst.
The two P90 pickups sound really great on this guitar. You can really get yourself a good range of tones from them.
Overall, the Epiphone Casino Coupe is another brilliant sounding guitar for the price it's selling at, and is well deserving of a place on our list of the best P90 guitars around right now.
What Are P90 Pickups?
In 1946 Gibson came out with a single-coil guitar pickup that was coined the P90 (also known as the P-90).
P90 pickups are made up of six screw pole pieces, roughly ten thousand turns of copper wire, and a couple of powerful bar magnets! The increased number of windings of the coil makes the P90 sound really bright and powerful. As you might know, the pickup produces a quite a thick sound, which tends to get quite hairy as you turn the volume up. Although, once you pull the volume back a bit, it will help give you a much more detailed and clearer sound.
P90's are known to have a soapbar style, which is because these pickups are in the shape of a bar of soap! Some people seem to think that P90's have more than six pole pieces, but if you have a look closely then you'll notice that two of the pole pieces are actually screws for the height adjustment of the pickups.
It should be mentioned that P90 pickups are not really the prettiest sounding pickups, but they are a definitely a popular choice for guitarists who enjoy playing rock and punk music. So if this sounds like you, then you should definitely give them a chance.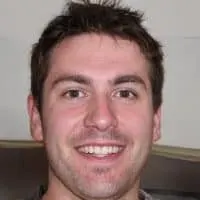 Alex is a man of many talents. He's been playing music since he was young, and has been the main content writer at Tone Start for the past few years. Alex loves to play around with different styles of music and enjoys listening to anything from country to classical.