As a child who grew up in the '90s, I was just beginning to start high school when pop-punk became big. Until then it had all been about nu-metal, grunge, and brit-pop, but such bands made way for a new wave of popularized pop music, and I fell in love with it instantly.
Not only did the genre add a tongue-in-cheek smoothness to the normally harsh genre of punk, pop punk musicians generally had a softer side to their songwriting with many songs being written about the tender subject of love.
So without further ado, here is my list of the best pop punk love songs of all time!
1. blink-182 – I Miss You
Pop punk is a genre that is associated with happy-go-lucky vibes, tongue-in-cheek lyrics, and generally happy and carefree energy, but anyone who has been in love knows that it's not all sunshine and rainbows. This is depicted beautifully through the morose yet anthemic love song by Blink 182, "I Miss You".
The title is pretty self-explanatory, and I would be shocked if you could name me a single '90s kid who hasn't sung their heart out to this song at some point in their life.
2. The Offspring – Want You Bad
That first pop punk love song might have left you feeling a bit down, so let's switch things up immediately with the high-energy "Want You Bad" by The Offspring. This track perfectly encapsulates the euphoric and carefree experience of realizing you love someone, doing seemingly anything to get their attention.
I think this is a great contrast to start with – love can sometimes be hurtful, but mostly it is beautiful, energetic, and optimistic.
3. The All-American Rejects – The Last Song
We've taken a look at the highs and lows of love songs, so let's take a look at something more balanced – "The Last Song" by The All-American Rejects. I remember hearing this song as a child and enjoyed it but not as much as the band's hit "Dirty Little Secret". However, I think I was just too young to appreciate it.
This pop-punk classic explores the bittersweet feelings of moving on from a relationship, reflecting on how each other has grown despite leading to a breakup. I think it takes a stunningly neutral and optimistic stance on breakups, so I highly recommend you listen to this one if you're ever struggling with love.
4. Green Day – Good Riddance (Time Of Your Life)
Of all the songs on this list of the best pop punk love songs, "Good Riddance" by Green Day means more to me than all of the others. My friend Steven and I performed this song to an entire school of 400 students as we departed to move to high school, and I remember seeing tears being shed, memories being shared, and hugs all around.
In my opinion, it's one of the greatest songs of all time for saying goodbye to a loved one. Whether someone has passed away, moved school, or simply taken a new direction in life, this song is one to share and to help express love, whether it is for a romantic relationship or just a friend.
5. My Chemical Romance – Helena
People often associate the word 'love' exclusively with romantic relationships, but it's so much more than that. People love their friends, their pets, their family, and all sorts of other things, and I think it's important to represent these broad applications of emotion.
"Good Riddance" was a good example of how love songs can be applied to friendship, just as My Chemical Romance's "Helena" demonstrates a similar loving experience with family members. Specifically, Gerard Way wrote this song as a tribute to the recent passing of his beloved grandmother. I just hope the heavy guitar riffs and screaming didn't disturb her rest too much!
6. Mayday Parade – Kids In Love
I was never a fan of Mayday Parade when they were first releasing music – I was generally into the heavier pop punk bands like MCR and Green Day. However, I recently rediscovered this track when it played on the radio, and I couldn't believe how much it spoke to me.
This beautiful track discusses the nonchalant and carefree 'love' that kids experience, and how it differs to the more challenging reality of love as an adult. Listening to this really brought me back to the feelings I experienced when I had my first high-school crush, and how it seemed so important at the time. Ah, to be a kid again…
7. Panic! at the Disco – Always
I must admit that I never listened to much Panic! At the Disco – I always found their songs a bit too poppy, and as a rebellious teenager, this just didn't speak to me. However, now that I've grown up I've learned to appreciate their music, particularly their lyrics, and "Always" easily fits on my list of the best pop-punk love songs.
The lyrics of this song explore the classic conundrum where someone is loved by another, but does not reciprocate such feelings. However, long after the lover has gotten over this, the tables turn and the person who was once loved finds themselves in the shoes of the lover. I can certainly relate to this track, wondering what may have been if I'd given things a go with someone who fancied me a long time ago.
8. blink-182 – Always
Don't worry, you're not seeing double – it's another song called "Always", but this time by blink-182. I simply had to list another track by this band, and I felt like the euphoric and nostalgic nature of "Always" acted as a perfect contrast to the somewhat depressing "I Miss You".
Ironically, it was this song that I would always end up listening to when I was trying to get over my latest failed love endeavor. The uplifting melodies, fast drums, and ranged dynamics gave me hope that my crush would come back to me, or that I would at least find someone else in due course.
9. Fall Out Boy – Alone Together
We're reaching the end of this list of the best pop-punk love songs, and as if there was any chance that I'd conclude this list without mentioning Fall Out Boy! This band specialized in romance-kissed pop punk songs in the '00s, with "Alone Together" being a prime example.
This track describes the sensual feeling people with chemistry experience when they are alone in a room together, something that most people will be able to relate to. I like this track because it doesn't concern the depression of breakups or the mourning of loved ones, instead simply focussing on the sensations and atmosphere that arise when two people love each other.
10. Sum 41 – With Me
We've sadly reached the end of this list of the best pop-punk love songs, and I've decided to finish things off with a banger – "With Me" by Sum 41. I absolutely loved this band as a kid mainly due to their turbo-charged punk whirlwinds and rebellious lyrical content. However, they occasionally demonstrate a softer side with songs such as "With Me".
This song explores how love often goes unnoticed despite it being right under your nose, and once this is finally realized, those involved begin to feel more whole and complete. It's a beautiful ballad that focuses on the positives of love, and how people complete each other emotionally, and I love it. I have mad respect for heavier bands such as Sum 41 who are not afraid to explore the softer sides of human emotion. Love it.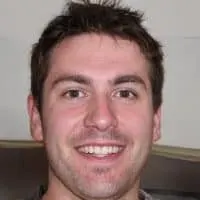 Alex is a man of many talents. He's been playing music since he was young, and has been the main content writer at Tone Start for the past few years. Alex loves to play around with different styles of music and enjoys listening to anything from country to classical.