There was a decent amount of pedals that made our list of the best reverb pedals for under $100. It was clear early on that one reverb pedal stood out from the rest though, and if you haven't guessed it by now then we'll tell you! The TC Electronic HOF Mini takes the title due to its compact size, simplicity, and the surprising amount of functionality it provides through the use of TonePrint Technology. A reverb pedal that is well-deserving of its high appraisal online.
We now present to you our list of the best reverb pedals under $100 for you to check out!
BEST REVERB PEDALS UNDER $100 COMPARISON CHART
Invalid table id.
5 BEST REVERB PEDALS UNDER $100
1. TC ELECTRONIC HOF MINI
If there's one thing I like, it's a sweet sounding reverb. Taking the number one spot on our list of the best reverb pedals under $100 is the HOF (Hall of Fame) Mini by TC Electronic.
First things first, this pedal is incredibly small, and I mean REALLY small. The HOF Mini's dimensions sit in at 1.9 (W) x 1.9 (D) x 3.7 (H) inches. This makes the pedal incredibly transportable, and easily able to fit on any pedalboard.
The simple 1-knob layout of the HOF Mini might fool you into thinking that is all the pedal has to offer… but I can tell you right now that this is not the case. There's a tonne of stuff built-in 'under the hood' of the pedal that can be accessed using TC Electronics patented TonePrint technology.
Simply just take out your iphone, android, or tablet, and connect it to the pedal wirelessly. This allows you to change up the sound of the HOF Mini without any problems.
2. DONNER VERB SQUARE
Sale
Donner Reverb Guitar Pedal, Verb Square Digital Reverb 7 Modes Room, Hall, Church, Spring, Plate, Studio, Mod, True Bypass
7 Reverb Effect: Room, Hall, Church, Spring, Plate, Studio and Mod.
Digital circuit design, true bypass provides transparent tone
Whole Aluminium-alloy classic, stable and strong.
LED indicator shows the working state.
DC 9V Adapter power supply is not included.
Moving on to our second pick is the Verb Square from Donner.
The Verb Square comes with 7 different presets for you to choose from, this includes: spring, plate, studio, mod, room, hall, and church.
Much like the TC Electronic Hof Mini, the Verb Square can easily fit into the palm of your hand. It has such a small footprint, so try your best to not to lose it when you're storing it away!
I'm sure you've heard of the saying "big things come in small packages." Well, the Verb Square is a true testament to that statement. The pedal packs a tonne of features and is really quite versatile. You should be able to find yourself a nice reverb in no time.
3. BIYANG BABYBOOM RV-10 TRI REVERB
Reverb Guitar Pedal,Stereo Effects Pedal 3 Modes Hall Spring Room True Bypass Guitar Mini Multi-effects Pedal Full Metal Shell
3 Mode Effects: Hall, Spring, Room. This guitar pedal also has A/B switch which varies the sound giving a total of 6 unique reverb sounds covering everything from intimate rooms to long spacious springs/plates/halls.Another excellent addition to this proven line of Baby Boom series effects
Stereo Input and Output:This feature means you can use the Reverb Pedal either as a guitar effects pedal, or as a super compact outboard reverb for recording and mixers.It can happily take a mono input (e.g. single guitar) and mono output (e.g. one amplifier).This guitar pedal has 2 input interfaces and 2 output interfaces
Unique Design: Seal designed dustproof potentiometer to ensure its life. Advanced digital circuit design, true bypass provide transparent tone. LED indicator shows the working state. The TIME knob can control the reverberation time, the BLEND knob can adjust the degree of reverb effect
High Quality: This guitar effects uses high quality parts and construction throughout,HI-FI audoi components,German WIMA audio capacitance,high precision resistance etc...for clear signal transaction,mirror-like surface treatments, metal casing and a rugged stomp switch
NOTE: If You Have Any Problems with This Reverb Guitar Pedal, Please Try Using It with a High Quality Alkaline Battery Or a 9V Battery Connector to Determine Compatibility with Your Pedalboard Power Supply.
The RV-10 Tri Reverb from Biyang Babyboom is an excellent reverb pedal for its price. The pedal is very sturdy and well-made, which is something you wouldn't expect from a cheaper unit.
There are two tone knobs positioned on the front of the RV-10 for 'blend' and 'time.' Furthermore, the pedal also features an A/B switch and 3-way switch for the 'room,' 'spring,' and 'hall' settings. I must say that these three settings sound great, and I particularly love when 'hall' is selected. This mode gives you a rich, but not too in your face reverb that will leave you and your mates with their jaw open.
The best way to explain the A/B switch is that when A is toggled you are able to get a much more darker and fuller sounding reverb. In contrast, when the B setting is active you'll get a reverb that sounds a lot like other standardized reverbs.
Overall, the RV-10 Tri Reverb is great in terms of tone, value, and design. It is suitable for any style of music you play.
4. DEADBEAT SOUND THE VOID
THE VOID Reverb Effect Pedal by Deadbeat Sound
Enter "The Void" with this Eerie Reverb Pedal by Deadbeat Sound. Add body and depth, classic or modern evocative tones.
Small and Compact. 60 (W) X 96 (D) X 55 (H) mm
True Bypass Reverb
Decay and Mix knobs.
9V DC (Power Supply Included) Comes with Two Patch Cables and foam padded storage box. Current Draw of 200 mA
The Void is a small, budget-friendly, and ambient-sounding reverb designed by Deadbeat Sound.
If you're looking for a reverb that does a fairly decent job, then you can count on The Void to deliver. While it might not be the most versatile pedal around, it will give you unique-sounding reverb, one that is kind of hard to describe in words.
One thing I will mention is the packaging the product comes in. Not only does it come in a really cool box, but the pedal also comes with a manual, 9V power supply, and two patch cables – which is basically all the materials you will need to add the Void to your pedalboard.
Don't expect the Void to sound as good as some of the more expensive reverb pedals out there right now. Although, I should say that the pedal is probably on par with most of the other reverb pedals in this price range.
Overall, the Void is a great sounding reverb for the price, but don't expect to knock the socks off anyone using it. It is a great introductory-level reverb for musicians to play with.
5. BEHRINGER DR600 DIGITAL REVERB
The Behringer DR600 Digital Reverb pedal has received quite a handful of mixed reviews from buyers online, both positive and negative. Let's have a look at why this is the case…
As you may know, Behringer is a company that designs their circuits around pre-existing pedals. This means that the DR600 Digital Reverb is basically just a cheaper version of the Boss RV-5 Digital Reverb. This is not a bad thing by any means, but there's a reason Behringer can get away with charging only a fraction of the RV-5's price.
This is a pedal that you will either love or hate. But for the price, who's complaining? In saying that though, there are much better alternatives to this pedal out there right now.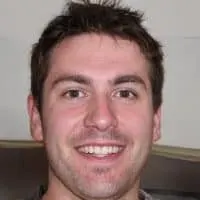 Alex is a man of many talents. He's been playing music since he was young, and has been the main content writer at Tone Start for the past few years. Alex loves to play around with different styles of music and enjoys listening to anything from country to classical.