Solid state amps are becoming very popular choices for guitar players. With modern changes in these amps, they have really upped their value, giving musicians a chance to play an amazing metal sound. Here we will delve into the best solid state amps for metal and provide a buyers guide to help you determine which one is the best for you.
Best Solid State Amp For Metal Comparison Chart.
Invalid table id.
5 Best Solid State Amps For Metal
1. Fender Mustang GT 40 Bluetooth Enabled Solid State Modeling Guitar Amplifier
As an Amazon choice winner, the Fender Mustang GT 40 Bluetooth Enabled Solid State Modeling Guitar Amplifier comes in a choice of 40 Watt, 100 Watt, or 200 Watt. It has new and improved modeling technology and is equipped with WiFi for easy updates, preset exchanges, and connecting to the Fender activity app. A full 2-year warranty is included in the purchase of this solid state amp. Your mobile device will allow you to have Bluetooth streaming and control.
This truly makes Fender ahead of its time.
This solid state amp allows you to play at any venue. It sounds amazing in your garage at practice, in the basement, or at a friend's house. Play outside with your buddies or in a venue. More than 45 effects are included with this amp, so the ability to create countless tones is up to you.
Features:
21 classic amp voices and 45 effects
Full-color LCD display
Equipped with Bluetooth technology which enables you to stream audio from your mobile device directly to your amplifier
Easy-to-use Fender Tone app
2. Orange Amps Electric Guitar Power Amplifier
Another Amazon Choice winner, the Orange Amps Electric Guitar Power Amplifier is a reasonably priced 12 Watt amp. The 6-inch speakers have dual gain controls and a 3 band EQ. This is an amazing practice amp.
Features:
Perfect for practice
Lightweight at just over 12 pounds
Amazing design of Orange basket weave Tolex and a woven speaker grille
Easy to dial in the tone with 3-band EQ
Very loud at only 12 Watts
3. Randall RG Series RG1503-212 Guitar Amplifier Combo
The Randall RG Series RG1503-212 Guitar Amplifier Combo is a solid state amp that is perfect for metal music. This 150 Watt amp is loud and can easily overpower your drummer. Built like a tank the amp is very reliable with clear and clean gains.
Features:
150W solid state
Auxiliary 1/8″ input
Speaker output rated at 4Î
Three channels " Clean, Gain and Gain 2
FX loop
Headphone output
Included footswitch selects channels and reverb on/off
4. Randall RG80 Solid State Guitar Amp Combo with Reverb – Footswitch Included
This Randall Solid State Amp comes with a footswitch for even greater joy! There are two channels and the wattage on this amp is 80 Watts @ 8Ω with ImpedanceInternal 8Ω. The speaker is a Randall RS12-80-8 with a High-gain FET Solid State Combo Amplifier.
Features:
Reverb
FX loop
1/8″ stereo media input
Headphone output
Speaker-emulated XLR direct output with ground lift
5. Marshall Amps Code 25 Amplifier Part (CODE25)
Sale
Marshall Amps Code 25 Amplifier Part (CODE25),15" x 10" x 15",Black
Authentic modelling of Marshall tones with pro quality FX
14 MST preamps, 4 MST power amps, and 8 MST speaker cabinets
Connect via Bluetooth to stream music from your iOS or Android device
Connect via USB to use DAW interface to record and stream audio from your computer
PEDL-91009 footswitch sold separately
The Marshall Amps Code 25 Amplifier Part (CODE25) is perfect for both practice and recording. This amp has proven to be very versatile and is one of Marshall's most impressive products yet. It comes with Authentic modeling of Marshall tones with pro-quality FX and has 14 MST preamps, 4 MST power amps, and 8 MST speaker cabinets. We can not forget about how it connects via Bluetooth to stream music from your iOS or Android device or via USB to use the DAW interface to record and stream audio from your computer.
Features:
25w 1×10 Digital Combo
4 Power Amp Models:
14 Preamp Models
8 Cabinet Models
24 FX Models
Easy to Use / Intuitive Layout with 100 Presets
Marshall Gateway Software
Bluetooth and USB Connectivity
Best Solid State Amp For Metal Buyer's Guide
A solid-state amp converts an electrical signal into an audio wave by using transistor circuits. At the beginning of the circuit, a pre-amp stage is used while at the end of the circuit, the power amp stage is used. Sound between both of these stages is shaped by reverb, EQ, tremolo, and vibrato. Solid state amps are perfect for guitar players who desire to have loud and clear signals that are undistorted. However, many find that an electric guitar can sound on the brittle side. With the use of solid state amp, the desired sounds can come into play.
Advantages to Solid State Amps
There are many advantages that guitar players have found solid state amps to have. These include the following:
● They are much less expensive than other amps on the market. This is most likely due to having fewer parts than tube amps, with having parts that are much less expensive as well.
● Solid state amps are much lighter than tube amps.
● The solid state amp is not as delicate as amp tubes as those tubes are made of glass. Chances are if you drop your tube amp, it will shatter, which will leave you with a working amp.
● They often require much less maintenance than tube amps. The parts do not need to be swapped as other amps do. Many times, solid state amps can go for decades at a time without having to remove parts. Guitarists often will trade out their power tubes once a year and their preamp tubes every other year.
Considerations to Review Before Purchasing a Solid State Amp
There are different aspects to consider before purchasing a solid state amp.
Quality
The quality of any amp you buy is essential. Be certain that the shell (exterior) of the amp is hard enough to protect the inside of the amp. Make sure that only high-quality materials are used for the amp when it is being manufactured. You might also see about looking for brands that come with a warranty to fix them in the first year or two if they malfunction.
Features and Effects
Be sure to see what features and effects all come with your solid state amp. And then look to be sure that those features and effects will fit into the music that you play.
Power
Look to be sure the amp has enough power to play where you will perform. Low powered amps are great for small areas and practices while playing to big groups will require large amps.
Design
Some people do not care what their amp looks like as long as it gets the job done. Others prefer to have a vintage look while some like more of a modern look. Whatever you prefer, there is most likely an amp for you. Some amps are designed to save space, so you could go for the combo where the speaker and the head are in the same body. Others prefer the look of having the two in separate bodies.
Tips for Purchasing a Solid State Amp for Metal
The following are some tips that may be of interest to you when purchasing your solid state amp.
Consider the wattage that you really need. Some guitar players are under the assumption that more is always better but this is not always the case. Think about where you will be playing your guitar with the amp. Then decide upon what wattage you really need. If you are in a small area, you really do not need a huge amp.
Do you want a combo when it comes to solid state amps? Combos offer a lot for a musician. Having it all in one package makes it rather handy. Then again, if you already have speakers at home, there is no reason why you can not borrow from your stash. It is a personal preference on what you want to do. There is not a right or wrong answer here, it is completely up to you.
What size are your speakers? The reason for asking is because contrary to popular belief, it does matter. The 12-inch speakers, which were once touted as being the best, may not be your cup of tea. And that is totally fine. What about going with 10s in a 4 pack? Or could you get by with 8-inch speakers? Or possibly a grouping of 6-inch ones? The possibilities are endless when you think of it like this.
Does it matter to you how much you spend on an amp? For some people, the price never matters. If they find an expensive unit and know that it will perform exactly as they desire, they will purchase it. However, for others, they are content with purchasing the generic version of the more expensive thing. What matters most is that the amp will work for you and your needs.
You also need to consider how heavy the amp is. If you are going to be moving it from practice to gig to practice then you most likely want one that is easy on the weight limit.
Glossary of Terms for Amps
The following terms are all words that are either related to solid state amps or are important to know if you are a musician.
Amplifier – Also known as an amp, this is a device that increases the power of the electric signal originating from a guitar or bass and is set up as a combo amp or an amplifier stack.
Cabinet – the portion of a guitar or bass amplifier that holds the loudspeaker. It is also referred to by many as a cab.
Channels – inputs that employ various signal paths, allowing one to explore different sonic characteristics such as clean or distorted.
Effects loop – a circuit that provides the insertion of outside effects units in the signal path of an amp. Noise production is generally improved by applying the effects loop instead of establishing the effects in sequence with the guitar input.
Equalizer (EQ) – a tone control on a guitar or amplifier which lowers or increases sounds that occupy a certain frequency.
Footswitch – a pedal utilized to initiate electrical settings by the foot, used with amps and effects units to allow you to manage them while you are standing up.
Gain – a rise in the energy of the signal coming out of the amp, thus producing distortion.
Preamp – the low-level magnified stages in a guitar amplifier. This is where the small signal from the guitar pickup is magnified and molded for the coveted tonality before being transferred to the power amplifier, which produces the high power signal required to operate the speakers.
Reverb – a brief, recirculating lagging effect used on some guitar amplifiers. It's close to echoing, but rather than distinct, long lagging replays, it is a series of extremely brief lagging that add up to produce a feeling of spaciousness in the tone. A spring system with a dispatching transducer at one terminal and a receiving transducer at the other point are generally utilized as the delay unit, although some amplifiers apply an analog or digital delay line.
Treble – tones of the high-frequency spectrum, which is the counterpart to the bass sound.
Tremolo – a circuit that systematically alters the amplifier output level at a rate and depth produced by controls on the amplifier. The names vibrato and tremolo are sometimes applied interchangeably.
Tube amp– a kind of electronic amplifier that utilizes vacuum tubes to enhance the amplitude or energy of a signal. It may also be referred to as a valve amp.
Vibrato – a circuit that generally modifies the sound of a note. True pitch-shifting vibrato is not normally found on a guitar amplifier. The terms vibrato and tremolo are used interchangeably at times.
Conclusion
We hope you have enjoyed our buyer's guide for the best solid state amp for metal. Our goal is to help you find the best amp possible for your practices and performances and offer you tips to get you set up and going. We feel that the amps listed above are some of the best ones on the market and are confident that one of them is right for you.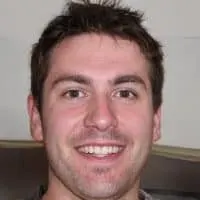 Alex is a man of many talents. He's been playing music since he was young, and has been the main content writer at Tone Start for the past few years. Alex loves to play around with different styles of music and enjoys listening to anything from country to classical.