When you think of bears, what comes to mind? For me, the word bear conjures up images of sweet little stuffed teddies with big button eyes and fluffy paws.
Bears are a favorite for children's movies and songs, but as they often do, they have also found their way into songs released by some of the older folks.
In this article, I'll be taking a look at the 10 best songs about bears of all time!
1. Eating the Bear by Joan Armatrading
Joan Armatrading released her song "Eating the Bear" in 1981 on the album Walk Under Ladders. A fun song that uses bears as a metaphor for life, "Eating the Bear" takes a look at some of life's struggles and overcoming them.
"Eating the Bear" is just one great song by this popular 80s singer, but it just happens to be my favorite. The song takes up the number one spot on my bear songs list, so be sure to give it a listen when you add it to your list, too.
2. Polar Bears on the Moon by Bill Hicks
Bill Hicks shares this fireside tale of polar bears living on the moon. Released in 2002 on the album The Perfect Gig, "Polar Bears on the Moon" sounds like a story that has likely been passed down from one generation to the next.
Of course, there is really no such thing as polar bears on the moon, but this song will captivate you as it sings of this wonderful possibility. Add "Polar Bears on the Moon" to your playlist and enjoy the smooth sounds of Bill Hicks.
3. Bi-Polar Bear by Stone Temple Pilots
The Stone Temple Pilots shared their personal lives with their song "Bi-Polar Bear." Released in 2001 on the album Shangri-la Dee Da, the song is about lead singer Scott's battle with bipolar disorder.
Characterized by manic episodes, the disorder is controlled solely by medication to stabilize moods and keep sufferers calm. Scott has been very open in sharing his battle, and "Bi-Polar Bear" is just one way in which the singer seeks to raise awareness of this disorder.
4. Fred Bear by Ted Nugent
Inspired by their adventures while hunting in the great outdoors, Ted Nugent honored the memory of his friend Fred by penning the song "Fred Bear." What better way to pay tribute to the bow hunter than with a song?
"Fred Bear" was released in 1995 on the album Spirit of the Wild and is a song that deserves a spot in your music library Add it to yours today and help Nugent honor the memory of his departed friend.
5. The Three Little Bears by Louis Armstrong
Let Louis Armstrong delight you with this fun tale of children's classic "The Three Little Bears." Released in the year 1990, the song has a jazzy sound that is great for those rainy days by the fire sipping on a whiskey or two.
"The Three Little Bears" featured on Armstrong's album Blues for Yesterday and has that unique sound that made Armstrong one of the best jazz and blues musicians of his time. Let Louis soothe your soul with his sweet tale of "The Three Little Bears."
6. Running Bear by Johnny Preston
"Running Bear" by Johnny Preston is a cute tale of the love between a little Indian brave and his maiden. While the song would most likely raise a few eyebrows if it were released in this day and age, it was considered a great song back in the 60s.
The song features on the singer's album ROCK and is a fun ditty that the whole family will enjoy, so be sure to add it to your playlist.
7. Bears by Lyle Lovett
There are many rumors floating around about the meaning of the song "Bears" by Lyle Lovett. While some say the singer used bears as a metaphor for civil rights, others claim it is just a sweet song about a family of bears.
"Bears" was released in 1998 on the album Step Inside This House and is a great song with fantastic vocals by Lovett. Give it a meaningful listen and see if you can decipher the true meaning of the song.
8. (Let Me Be Your) Teddy Bear by Elvis Presley
Elvis Presley had a well-documented fondness for teddy bears. He loved the little fluffy toys so much that they inspired his song "Teddy Bear." The song was released in 1957 and was just another way for Presley to showcase his love for these sweet children's toys.
"Teddy Bear" has that classic Elvis sound that we all know and love and is featured on the soundtrack to the movie Loving You.
9. Teddy Bear by Red Sovine
Red Sovine had many people in tears when they released "Teddy Bear" in 1976. What starts off as a sweet country song soon turns into a heartbreaking one that tells the story of a little boy who had lost his truck driver father in an accident a few months before.
Give this haunting track a listen as it takes up the number nine spot on my list. Remember to grab the tissues because this one is sure to make you cry as you hear this emotional tale.
10. Teddy Bear Song by Barbara Fairchild
"Teddy Bear Song" is another sweet classic from Barbara Fairchild that will have you remembering your childhood playing with stuffed toys. Released in 1972 on the album A Sweeter Love, the song is filled with nostalgia as Fairchild describes the life of a bear on a shelf.
Travel back in time to your younger days as you listen to "Teddy Bear Song" on your playlist of the best songs about bears. It takes up the very last spot on my top ten list and is the perfect way to end off a great playlist of songs about bears.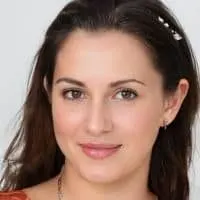 Alexandra loves playing the piano and guitar. She has always been a music lover, but it wasn't until she was in high school that she realized how much she loved to play. It allowed her to express herself without having to be verbally expressive, which is something she found very empowering.