Is your name Matthew, or do you know someone named Matthew? It seems that Matthew is a pretty common name and also the subject for many songs. While some use the name Matthew in the title to refer to someone or in the lyrics to tell a tale, there are more songs about Matthew than you would think!
I searched high and low to find the songs on this list and found that many had very little to do with an actual person and more about telling a story.
Let's go on a musical journey and explore the 10 best songs about Matthew!
1. Matthew and Son by Cat Stevens
"Matthew and Son" by legendary singer Cat Stevens is the first song on our list, and for all the right reasons. Telling the tale of a man's journey through life while working long, hard hours, Stevens highlights the plight of many as they work themselves tirelessly for someone else's benefit.
Released in 1967, the song featured on the album of the same name and was received with much joy by critics and fans worldwide. Add this one to your playlist, and listen along to a relatable tale about the slog and grind of the working world.
2. Song for Matthew Smith by The RavenMasters
"Song for Matthew" does not seem to have any particular meaning and is more a tale assembled with the use of music and sounds. Released in 2017 by pop band The RavenMasters, the song has a classic pop sound that is uplifting and cheerful.
When you listen to it, see if you can find any hidden meaning in the song and its lyrics, and add "Song for Matthew" to your playlist today.
3. Hey Matthew by Karel Fialka
If you've never heard of Karel Fialka, don't worry because neither had I before I created this best Matthew songs playlist. I wish I had, though, because this man is a musical genius.
His song "Hey Matthew" starts with an innocent enough question-and-answer game between him and his stepson Matthew, but the meaning behind the song will knock your socks off. Asking what the little boy sees on TV, Fialka highlights the dangers of too much television and says that television is the source of all things bad. Give "Hey Matthew" a play and see for yourself.
4. St. Matthew by The Monkees
The song "St. Matthew" by the band The Monkees is a tongue-in-cheek reply to Bob Dylan's song She Belongs to Me. Centering around a woman named St. Matthew who wanders around searching for her place in life.
Released in 1969, the song references Dylan's song and has a catchy melody and tune that will have you tapping your foot along to the beat. Enjoy "St. Matthew" loudly as you add it to your playlist.
5. Matthew by John Denver
A song about faith, love, and living life as best as you can, "Matthew" by John Denver was recorded in 1974 for the album Back Home Again. It tells the story of a boy named Matthew and his life on the farm with his family.
Living peacefully, and most of all in true happiness, is what many of us want from life, and Denver sells us this dream with his hit song. Check it out for some heartwarming, almost motivating, fun about a boy living life to the fullest.
6. Matt's Song by David Francisco
"Matt's Song" by David Francisco is undoubtedly one of the saddest songs on our best Matthew songs list and tells of the death of the singer's cousin named Matthew.
Losing a family member is never easy, but Francisco found the ultimate way to honor his cousin and put his emotions into a song.
"Matt's Song" was released in 2020 and featured on the singer's album Lionheart. It is a sure winner and takes the number six spot on our playlist.
7. Matthew's Got a Gun by Vibe Guys
This is one of the quirkier songs on our list, and honestly, not even I can decipher the meaning. Singing of a potential battle between a man named Matthew and his mailman, the lyrics do make one wonder what the song is supposed to mean.
Be it a bunch of nonsense or a song with a much deeper hidden meaning, "Matthew's Got a Gun" is worth a listen, if only for its catchy tune and great use of instruments. Add this to your playlist and see if you can tell what the Vibe Guys are trying to say with their song "Matthew's Got a Gun."
8. Matthew Kaplan Superstar by Helen Love
Who is Matthew Kaplan, and why does Helen Love think he's a superstar? I searched tirelessly for the answer to this question and I am still none the wiser. Recorded in 1997 for the singer's album Radio Hits 2, the only information I could gather is that the song was written for a musical comedy.
Though it makes no sense to me anyway, it has a super catchy beat and repetitive lyrics that will have you singing it to yourself for days to come.
9. Matthew McConaughey by Nasty Weekend
It seems that the boys from Nasty Weekend are obsessed with actor Matthew McConaughey as they wrote an entire song about him, aptly named "Matthew McConaughey.
The song itself has some interesting lyrics that seem to tell a story, but with no way of connecting the lyrics to the actor, it doesn't make much sense.
All in all, though, it is a song about Matthew, which makes it worthy of a spot on this list. Give it a listen today; who knows, you might just become a fan of the actor, too.
10. Go Down Matthew by Melissa McClelland
Bringing us to the end of our list is an entry by Melissa McClelland titled "Go Down Matthew." Recorded in 2006 for the album Thumbelina's One Night Stand, it is about a boy she loves and how she wants to treat him better.
With a folksy, storytelling song, McClelland makes this song worthy of a spot on our best songs about Matthew list for her brilliant vocal performance. She is a true storyteller and takes up the last place on our playlist.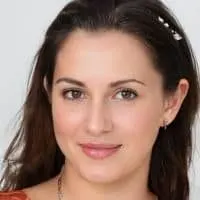 Alexandra loves playing the piano and guitar. She has always been a music lover, but it wasn't until she was in high school that she realized how much she loved to play. It allowed her to express herself without having to be verbally expressive, which is something she found very empowering.