"Money makes the world go round," or at least that's how the saying goes. Having money is great, but it can't buy you happiness.
The songs on this list take us as far back as the 60s and are all centered around money and its importance.
So without further ado, here is my list of the best songs about money!
1. Money, Money, Money by ABBA
"Money, Money, Money" by Swedish pop group Abba was and still is a big hit. Released in 1976 on the band's album Arrival, the song tells the story of a woman who works extremely hard for her money but goes nowhere in life. Hatching a plan to marry a rich man to cover her expenses, the song has a classic ABBA sound that we all know and love.
"Money, Money, Money" takes the number one spot on our money song list. Enjoy ABBA when you add this great track to your playlist today.
2. Mo Money, Mo Problems by Notorious B.I.G
It's hard to believe that "Mo Money, Mo Problems" is 25 years old! A big hit in the late 90s, "Mo Money, Mo Problems" was released by rapper Notorious B.I.G in 1997 and featured Puff Daddy and Mase.
The song focuses on the troubles that having money and influence bring, which is something that many rappers of today can relate to. Give this classic song a listen, and relive the 90s in the best way possible. Biggy for life!
3. She Works Hard for the Money by Donna Summer
1980s singer Donna Summer hit the nail on the head with her release of "She Works Hard for the Money," which featured on her album of the same name. A song about an independent woman doing her best to make her own money, the song was a power anthem for black women in the 80s.
With the song spreading the message that women don't need a man or his money to make them happy, it is a great addition to our list and makes for great easy listening thanks to its funky beat.
4. Money (That's What I Want) by The Flying Lizards
The Flying Lizards struck gold with the release of their song "Money (That's What I Want)" in 1979. Featured on the album The Flying Lizards, the song has a funky 80s sound that makes you want to shake your hips as you hit the dance floor.
If catchy lyrics and a groovy beat are your thing, you will love "Money (That's What I Want)," you'll definitely want to play this one with the volume on loud.
5. You Never Give Me Your Money by The Beatles
There were many rumors surrounding the meaning of the song "You Never Give Me Your Money" by The Beatles. While some fans speculated that it was written to spite the band's manager for keeping Paul McCartney under his thumb, others believe it is a rags-to-riches story that the band is singing about.
Whatever the meaning, "You Never Give Me Your Money" is a fantastic song by one of the world's greatest bands. The song was released in 1969 and featured on the album Abbey Road.
6. For The Love of Money by The O'Jays
You'll recognize this song the minute you hear the very first bar. Often featured in movies where money is a theme, the song "For The Love of Money" was released in 1973 by The O'Jays.
Featured on the album Ship Ahoy, the song describes the popularity of money and how it is something almost everyone wants and needs to get their hands on.
"For The Love of Money" was one of the biggest hits for this relatively unknown band but is well worth a listen.
7. Moneytalks by AC/DC
Die-hard fans of AC/DC will love this blast from the past. Released in 1990 on the album Live at Donnington, the song has that unmistakable AC/DC that fans go crazy for. Some men will often use their money to impress girls, which is essentially what the song "Moneytalks" is about.
"Moneytalks" comes in at number seven on our list and features some epic guitar solos that make for a fantastic song. Give this one a listen and remember to turn the volume up.
8. Gold Digger by Kanye West (Feat. Jamie Foxx)
Say what you want about him; Kanye West is a brilliant artist. With hits like "Gold Digger" under his belt, the singer continues to wow fans with every song he releases.
A song about women who only wants a man because he has money, "Gold Digger" was released in 2005 on the singer's album Late Registration and featured a vocal performance by none other than Jamie Foxx.
"Gold Digger" is popular for its great beat and catchy lyrics. Add it to your playlist today, and sing along to this catchy song.
9. Money Changes Everything by Cyndi Lauper
Cyndi Lauper is undeniably one of the quirkiest singers ever. Her song "Money Changes Everything" was released in 1983 and became an instant hit. Taken off the album She's So Unusual, the song is catchy and has that amazing 80s sound that had fans begging for more.
"Money Changes Everything" is a song about one girl's decision to leave her lover for another man who has more money, but it must be said that not all women are like this, and there are those who overlook how much money a man has.
10. It's All About The Benjamins by Puff Daddy and The Family
P.Diddy, Puff Daddy, Sean Combs. No matter the name he goes by, this man is talented. Singing about how money makes the world go round, "It's All About The Benjamins" was released in 1997 on the album No Way Out and featured The Family.
Rap music has come a long way since the 90s, but it is good to hear a classic rap song that is still so relatable today. "It's All About The Benjamins" brings us to the end of our best songs about money playlist and deserves a spot on yours.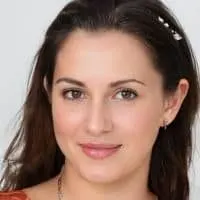 Alexandra loves playing the piano and guitar. She has always been a music lover, but it wasn't until she was in high school that she realized how much she loved to play. It allowed her to express herself without having to be verbally expressive, which is something she found very empowering.