New York – the Big Apple. There is not much one can say that has not been said about this great city, but somehow, musicians continue to find the words when we can't.
Let's jump straight into our list and see just what each singer has to say about this incredible city.
So without further ado, here is my list of the best songs about New York!
1. Autumn in New York by Billie Holiday
If you have ever had the opportunity of visiting New York in the fall, you will know exactly what Billie Holiday sings about in her song "Autumn in New York." Released in 1956 on the album Recital, the lyrics make New York sound like a magical being rather than a city.
With a promise of finding love, "Autumn in New York" has a dreamy sound only made better with the incredible vocal talents of Ms. Holiday. Add this beautiful 50s track to your playlist and enjoy the dreamy, ethereal feeling that the song will give you.
2. Englishman in New York by Sting
Quentin Crisp was a flamboyantly eccentric gay icon who moved to New York in the 1980s. Crisp was also the face behind Sting's hit song "Englishman in New York," which was released in 1987 on the singer's album …Nothing Like the Sun.
The song has extremely catchy lyrics that will have you singing along to a tale of a friend who does things his own British way despite living in one of the most famous cities in the world.
3. Welcome to New York by Taylor Swift
Taylor Swift celebrated her move to the big apple by penning the song "Welcome To New York." An upbeat song with a catchy beat, "Welcome to New York" was released in 2014 and features on the singer's album 1989.
The song has become somewhat of an equality anthem as Swift sings about the city being a place to call home for absolutely everyone, including those who are a part of the LGBTQ+ community. Give this fun song a listen when you add it to your New York songs list.
4. New York, New York by Frank Sinatra
Old Blue Eyes had people wanting to move to New York when the hit song "New York, New York" was released. Taken from the musical of the same name, the song was released on Sinatra's album in 1980 and is the ultimate song to embody the true spirit of this great city.
Add "New York, New York" to your best songs playlist and experience the classic sound of one of America's true greats.
5. Chelsea Morning by Joni Mitchell
Folk singer Joni Mitchell first released her song "Chelsea Morning" in 1966 on the album Joni Mitchell – Live Radio Edits. A fun, folksy-sounding song about the small downtown neighborhood of Chelsea. Living with her lover, it is always a good day in Chelsea.
This song is just the pick-me-up you need when you are having a bad day. Joni Mitchell, famously known for her amazing songwriting ability, is a true musical genius, and her voice is like a warm summer's day.
6. New York State of Mind by Billy Joel (Feat. Tony Bennett)
New York is so much more than just a city. Ask those who live there, and they will tell you that it is a feeling, a friend, and of course, a "New York State of Mind," as Billy Joel sings in this epic song. Released in 1976, the song has a soul feel that will instantly relax you.
"New York State of Mind" is featured on the album Turnstiles and remains one of Billy's most popular songs. Give it a thorough listen, and you, too, will want to move to New York in a heartbeat.
7. The Only Living Boy in New York by Simon & Garfunkel
Losing a friend or feeling like you are losing a friend can leave you feeling rather lonely. Simon and Garfunkel capture this feeling perfectly with their song "The Only Living Boy in New York."
Released in 1970 on their award-winning album Bridge Over Troubled Water, the song tells the tale of feeling lonely, like the man in the song has no one by his side.
Known for their emotionally-charged hits, the pair struck gold with "The Only Living Boy in New York." Give this 70s classic a listen and see what emotions the song brings out for you.
8. Empire State of Mind by JAY-Z (Feat. Alicia Keys)
JAY-Z and Alicia Keys team up to bring us one of the hottest songs of 2009. "Empire State of Mind" was released on the album The BluePrint 3 and spoke of New York as more than just a city.
New York signifies hope, possibility, and freedom, which is the message that JAY-Z tries to convey in his hit song. Pop this song on your track list and enjoy its catchy beat and funky lyrical style.
9. Harlem Blues by Nat King Cole
Jazz lovers will love this 1957 offering from Nat King Cole that was featured in the movie St. Louis Blues. "Harlem Blues" tells the story of a heartbroken man living in Harlem trying to cope with losing his girlfriend.
Wishing she would return to him and end his blues, the singer delivers a powerful and touching performance as he sings of his "Harlem Blues."
10. Angel of Harlem by U2
It is only apt that the last song on our best songs about New York playlist is a tribute to a singer who appeared at number one on our list. "Angel of Harlem" paid tribute to none other than singer Billie Holiday and was recorded for U2's album Rattle and Hum.
Released in 1988, the song tells of the singer's life when she moved to Harlem. Leave it to U2 to make a rock song about Billie Holiday. Enjoy this unique tribute when you add it to your playlist today.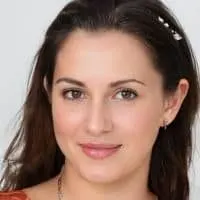 Alexandra loves playing the piano and guitar. She has always been a music lover, but it wasn't until she was in high school that she realized how much she loved to play. It allowed her to express herself without having to be verbally expressive, which is something she found very empowering.