Have you ever sat and thought about just how many songs there are that start with the letter "E?" Now you don't have to wonder anymore as I present you with my list of ten songs that begin with "E."
Taken from different decades and by a wide variety of artists, these songs all start with an "E" and are some of the most popular songs of their time.
So without further ado, here is my list of the best songs that start with "E"!
1. Every Breath You Take by The Police
It is only fitting that I start this list with one of the best songs from the band The Police. "Every Breath You Take" was released in 1983 on the album Synchronicity and is thought to be a love song. But, it is, in fact, not.
"Every Breath You Take" is sung by a bitter, controlling man stalking his ex-lover's every move. With no clue as to what led to the relationship ending, I think it is safe to say that his possessive ways had something to do with it. Give "Every Breath You Take" and listen closely to the lyrics that somehow seem creepy once you learn the real meaning behind the song.
2. E.T. by Katy Perry (Feat. Kanye West)
"E.T." was not just a movie about an alien but also a song by music star Katy Perry. Released in 2010 on the album Teenage Dream, "E.T." features rapper Kanye West and is a pop-rap masterpiece.
The song is about a love so pure and dreamy that he could be considered otherworldly or from another dimension. Only Katy Perry can capture her dream man in this way, and "E.T." will make you want that kind of relationship too. Add it to your playlist and fall in love with love.
3. Elevation by U2
U2 brings a little sexual innuendo in their song "Elevation." A song that explores the excitement of intimate experiences, "Elevation" was recorded in 2000 for the album All That You Can't Leave Behind and is perfect for that date-night playlist.
Let Bono and his band add some spice to your night when you add "Elevation" to your playlist. Light a candle or two, play this jam, and your night is set.
4. Everlasting Love by Love Affair
British pop band Love Affair released one of their greatest hits in 1968. Featured on the album The Everlasting Love Affair, "Everlasting Love" is a sweet ditty about love and accepting your significant other for who they are.
The song featured in popular films like Love, Actually, and was a number-one hit for the band in the late 60s. You, too, can have the love that the song describes when you add it to your playlist. Dedicate "Everlasting Love" to your lover today, and you are guaranteed to be in their good books for at least a good while.
5. Everything I Wanted by Billie Eilish
Billie Eilish explores the unique bond siblings share in her song "Everything I Wanted." Describing a dream she had of her brother saving her from suicide, the singer has often spoken of the love she has for her brother and wrote this hit in 2019 as a tribute to their relationship.
"Everything I Wanted" is a hauntingly beautiful song and was recorded for Billie's album When We Fall Asleep, Where Do We Go? Add some Billie to your life when you listen to "Everything I Wanted" and think about your relationship with your siblings.
6. Eternal Flame by The Bangles
Do you believe in soulmates? I do. I believe there is one person, your soulmate, that you are meant to be with for the rest of your days. "Eternal Flame" by 80s band The Bangles is a song about soulmates and describes the everlasting romance of a couple that is truly in love and clearly meant to be together.
The song was released in 1988 on the album Everything and is a reminder that no matter where you go in life, that special someone is out there waiting and hoping to love you.
7. End Game by Taylor Swift (Feat. Ed Sheeran & Future)
"End Game" is a bit different from the kind of music we usually hear from Taylor Swift and features artists Ed Sheeran and Future. Recorded in 2017 for the album reputation, "End Game" describes a woman's longing to be the one a guy is aiming for.
We all just want to love and be loved, and "End Game" captures this feeling so well that you will think Taylor wrote it just for you. Give it a listen and add it to your playlists today.
8. Everybody's Fool by Evanescence
Amy Lee from Evanescence had a hard time accepting the change she saw in her sister as she became someone she was not just to fit in, so much so that she wrote the song "Everybody's Fool" to share her feelings on the matter.
A song about pretending to be someone else or changing who you are to fit into society's mold, "Everybody's Fool" was released in 2003 on the album Fallen. It's been a while since we heard any new music from this epic band, but if you give "Everybody's Fool" a listen, you will see that their music is still very relatable today, even if it is almost twenty years old.
9. Everything You Want by Vertical Horizon
Vertical Horizon wasn't around for very long, but with hits like "Everything You Want" to remember them by, there is no denying that this band made great music. In "Everything You Want," the band explores the heartbreak of loving someone that's already with someone else and touches on the feelings that come with that realization.
The song was released in 1999 on the album of the same name and is one of those songs that you will end up playing on repeat – it is just that good! Add "Everything You Want" to your list of songs that start with "E" and discover the talent that is Vertical Horizon.
10. Escape (The Pina Colada Song) by Rupert Holmes
The last song on my list of the best songs that start with "E" is a fun one. "Escape," sometimes also called "The Pina Colada Song," is a fun ditty by Rupert Holmes that was released in 1979 on the album Partners in Crime and took a closer look at a man who has become bored of his marriage.
Responding to an ad in the classifieds section of the newspaper, the man thinks about what it would be like to leave his wife and be with someone else, someone more fun who enjoys Pina Coladas and dancing in the rain.
This is a dangerous space to be in, and we can only hope he makes the right decision. You, however, will make the best decision when you add "Escape" to your playlist and dance the night away to Rupert Holmes.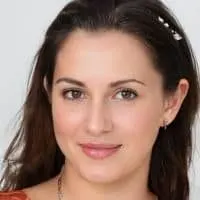 Alexandra loves playing the piano and guitar. She has always been a music lover, but it wasn't until she was in high school that she realized how much she loved to play. It allowed her to express herself without having to be verbally expressive, which is something she found very empowering.