Karaoke is, in my opinion, one of the most entertaining activities you can participate in. What could be better than singing your heart out to your favorite songs after a few drinks with your friends cheering you on?
Karaoke is still very popular in many countries, with whole bars dedicated to the love of karaoke.
If you happen to find yourself in one of these bars and have no idea what to sing, this list of the best Spanish karaoke songs might just help you choose the ideal song!
1. Despacito by Luis Fonsi (Feat. Daddy Yankee)
Do you remember how big the song "Despacito" was just a few years ago? Released in 2017, the song quickly climbed to the top of the charts and stayed there for weeks. While many don't know the lyrics, the temptation to sing along is too great, and even the dullest of people will find themselves singing the lyrics.
"Despacito" is poppy, catchy, and most of all, has a great beat that is sure to have the ladies – and men- shaking their hips to the song's beat. You, too, can enjoy this banger when you add it to your Spanish karaoke playlist and fight the urge to sing along. Good luck!
2. Vente Pa Ca by Ricky Martin (Feat. Maluma)
Latino legend Ricky Martin brings us yet another great song with the 2016 release of "Vente Pa Ca." Featuring the vocal talents of Maluma, the song was recorded for the album of the same name and has become a rather popular choice for karaoke songs worldwide.
The lyrics are simple enough, so even if you don't speak Spanish, you, too, can belt out this tune at your next karaoke party or bar. If singing it in public is a bit of a stretch for you, rather add it to your karaoke song playlist and sing it in the comfort of your car or the shower.
3. Macarena by Los Del Rio
We all remember the "Macarena." Not only a great song but an even better dance, the "Macarena" is one of the best choices you can make to sing at karaoke. Released back in 1996, the song is still extremely popular today and has enjoyed renewed popularity thanks to the video streaming application TikTok.
Make the right choice and choose "Macarena" by Los Del Rio for your karaoke song, or add it to your playlist today to enjoy some good old Spanish music at its best.
4. La Bamba by Ritchie Valens
Ritchie Valens set the stage for Spanish music in 1958 when he released his hit song "La Bamba." While you will not hear this song too often anymore, it is still a karaoke favorite and should definitely be on your best Spanish songs for karaoke.
Originally a Mexican folk song, "La Bamba" is a bit of a love song with a difference and is sure to add some fun to your karaoke party.
5. Gasolina by Daddy Yankee (Feat. Glory)
Just when you thought the song "Gasolina" was dead and buried, it popped up at the most random times. Before adding it to this best karaoke songs playlist, I had not heard this song for a good few years.
Released in 2010 on the album Onda Latina Summer 2010, "Gasolina" was once one of the most popular songs, and you couldn't turn out the radio without hearing Daddy Yankee singing his hit song. Now it is your time, and you can bring this epic song back when you choose it as your karaoke song.
6. Live Your Life by MIKA
MIKA is by no means a Spanish music star but does add elements of other languages to his songs. His 2012 offering of "Live Your Life" is the perfect karaoke song and has a great tune and catchy beat that will have the audience singing right along with you.
"Live your Life" is featured on the album The Origin of Love and is a fantastic song by MIKA that you simply must add it to your karaoke list for fun evenings with your friends.
7. Tequila by The Champs
The Champs celebrated the famous Mexican drink when they released their song "Tequila" in 1958. It was fairly uncommon to sing about alcohol back in the 50s, so this song came at a time when most would have considered it controversial.
Whether you love it or hate it, the drink is popular among Mexicans and the rest of the world. What better way to say thank you and pay tribute to this party drink than by knocking back a few and then singing about it at a karaoke bar? Add "Tequila" to your karaoke songs list today and have a great sing-a-long with friends.
8. Livin' La Vida Loca by Ricky Martin
Ricky Martin found fame and fortune with the release of his now iconic song "Livin' La Vida Loca." Originally released in English, the singer also made a Spanish version that featured on the album Ricky Martin.
The song certainly sounds different in the singer's home language and is a fantastic addition to any Spanish karaoke list. "Livin' La Vida Loca" was released in 1999 and has been featured in a number of films and advertisements over the years, including the hit movie Shrek.
9. Button by Maroon 5 (Feat. Anuel AA and Tainy)
Maroon 5 pays tribute to the Spanish language with their song "Button." Featuring Anuell AA and Tainy, the song is an invitation to turn the singers on and has a sexy flair to it. "Button" was released only a year ago, in 2021, but is already a popular choice for karaoke bars.
Add it to your playlist today and experience the collaboration of English and Spanish in what is considered one of Maroon 5's sexier songs.
10. Amigo by Roberto Carlos
Bringing us to the end of our best Spanish karaoke songs list is none other than "Amigo" by Spanish crooner Roberto Carlos. A song about friendship, brotherhood, and treasuring those close to you, the song is an ideal choice for that visit to the karaoke bar with your friends.
"Amigo" was recorded in 1977 and featured on the album Roberto Carlos. Experience a true Spanish classic and add this to your playlist today. You will love it!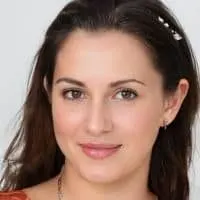 Alexandra loves playing the piano and guitar. She has always been a music lover, but it wasn't until she was in high school that she realized how much she loved to play. It allowed her to express herself without having to be verbally expressive, which is something she found very empowering.