Share on facebook
Share
Share on twitter
Tweet
Share on pinterest
Pin
An artist that's created some of the biggest hits in modern music history, Céline Dion is loved by music lovers worldwide. You know she's made an impact as multiple generations of listeners appreciate her talent and mark on music as a whole.
Every one of her songs has a memorable production quality, and her angelic voice is what really seals the deal, especially during the Christmas season. She's so well known that she's immediately recognized just by the tone in her voice.
So without further ado, here is my list of the 10 best Céline Dion Christmas songs that have made an impact on us all!
1. Happy Xmas (War Is Over)
Full of passion, just like all of her work, she offers a calming and warm vocal range on this Christmas classic. If you didn't hear this song in your own home, you've likely heard it in countless forms of media.
With elements from the pop genre, the song boasts a big drum kit to match the power in her voice, leaving a sonic impact with every downbeat. I can confidently say that this is rightly placed in this list of the best Céline Dion Christmas songs.
2. The Prayer
With no need for percussion, "The Prayer" is a cinematic ballad orchestrated by the talented artist, and the record takes you on a highly emotional journey. The dynamics are so encapsulating that you quickly lose track of time, hoping the song never ends.
Her voice has a tendency to tap into what the brain likes to hear, and she can make you feel good regardless of whether the lyrical content is happy or sad. All of the sonics complement each other perfectly, and the song offers strong supporting vocals from Andrea Bocelli.
3. O Holy Night
Another record from her beloved album These Are Special Times, every melody in this song screams Christmas time and will quickly fill a house with joy. The artist doesn't hold back on her vocal ability, and the instrumental leaves all of the room she needs to flourish.
As the record progresses, she continues to impress with her vocal range, reaching heights that always impress. Although she has percussion in many of her songs, I feel the solely instrumental ballads are some of her best work.
4. Don't Save It All for Christmas Day
This record offers contrasting elements as it has a heavy R&B vibe and is one of her slowest jams. It's also perfect for a slow dance or to share during an intimate moment with your significant other.
The drums hit slow, but they put you in a swing, and she puts more and more power in her voice when you least expect it. Her voice remains calm for the most part, but her moments of raw power will resonate between your ears as the mix couldn't be any better, in my opinion.
5. Ave Maria
The way Céline Dion floats across the track is truly impressive, and the reverb on her voice is perfect for the space it's given. The instrumental is carried by a dream-like acoustic guitar and orchestral strings that seem to wrap all around you.
The mix on this song is excellent as it pans in the best ways and covers all of the dynamics that bring out genuine emotion in us all. Christmas time is meant for good feelings, and "Ave Maria" is a go-to choice for many during the holidays.
6. Christmas Eve
A song that has all of the qualities of high energy Christmas jam, this record has a great blend of upbeat energy and Céline Dion's smooth vocals. Perfect for a party or a dance with your partner, it's a welcomed change of pace on her album These Are Special Times.
When this album was released, each song became an instant hit with incredible replay value. Considering the impact all of these songs have made, it's clear why "Christmas Eve" made this list of the best Céline Dion Christmas songs.
7. Another Year Has Gone By
As usual, the artist puts all of her singing prowess in this record, but the instrumental really sells the whole of the production as it's beautifully arranged. The acoustic melody will get you in your feelings, and the vibratos from Céline Dion never get old.
It's a stellar track for reflection, and the lyrical content makes it perfect for sharing with a loved one. The record also comes with many electric guitar melodies that'll pull on your heartstrings every time.
8. The Magic of Christmas Day (God Bless Us Everyone)
Offering a big drum kit and strong instrumental melodies, this is an excellent song for the Christmas season. Aside from the stellar instrumental, the power from the artist's voice can be trumped.
The hook of this song is the favorite part for many listeners and myself alike as it's hard not to sing along to it. You'll also love the breakdowns as they allow for her vocals to reverberate and send chills down your body.
One of the more fun and energetic songs on this list, it comes with heavy influence from Hispanic music, and the instrumental has all the qualities for a danceable hit. The singer's vocals sound very organic; as you can tell, she's having a ton of fun while recording.
"Feliz Navidad" was an international hit like many of her other songs, but due to its ethnic influence, it connected with a much broader audience across the world. Due to the versatility of this record, I'd say it's one of the best Céline Dion Christmas songs of her career.
10. The Christmas Song (Chestnuts Roasting on an Open Fire)
The melodies of this song make you feel like you're in a winter wonderland that's scripted by Disney. Her vocals envelop you from the start, and the lounge-like instrumental couldn't be any more peaceful.
Listeners get lost in this record as it offers a strong sense of nostalgia for an easier and less complicated time in life. Christmas is an important time that many people look forward to, and this record fits the vibe of the holiday in every way and will remain a part of Christmas for decades to come.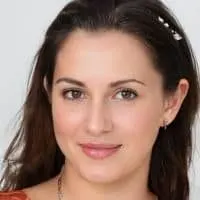 Alexandra loves playing the piano and guitar. She has always been a music lover, but it wasn't until she was in high school that she realized how much she loved to play. It allowed her to express herself without having to be verbally expressive, which is something she found very empowering.