Are you looking for music that's a little different to play at your Christmas party this year? Don't worry; I've got you! I have compiled a list of the dirtiest Christmas songs to spice up any party.
Featuring a range of artists like Ella Fitzgerald and The Jackson 5, this list of songs will have your guests dancing closer than ever.
Add these songs to your dirty Christmas song playlist and have a VERY merry Christmas this year!
1. I'll Be Your Santa, Baby by Rufus Thomas
Rufus Thomas brought some sexy sauciness to Christmas with the release of his song "I'll Be Your Santa, Baby" in 1973. First released on vinyl, the song could easily be mistaken for a Motown classic as Thomas takes us through one of the dirtiest songs that I have heard in quite some time.
With a jazzy sound, "I'll Be Your Santa, Baby" is the ideal song to add to your Christmas party playlist and takes up the number one spot on this sexy list of Christmas hits that guarantee a good night.
2. Santa Claus Wants Some Lovin by Albert King
If you love soul music, you will love this soul-inspired Christmas song that will make innocent ladies blush when they hear the lyrics. Released by crooner Albert King in 1974, "Santa Claus Wants Some Lovin" portrays everyone's favorite bearded man as a man on the prowl for some "company."
The song has an incredibly catchy tune and a great guitar solo that will add fire to your playlist. Give "Santa Claus Wants Some Lovin" to your dirty Christmas songs playlist, and have a good time.
3. Sexy Santa by Steel Panther
Steel Panther's "Sexy Santa" is a Christmas song for rock and alternative lovers. The song sees the band describing Santa as a stripper and has rather suggestive lyrics of what Santa will do to the ladies when he comes down their chimney on Christmas Eve.
"Sexy Santa" was released in 2009 on the album Sexy Santa and is a must-listen for those who want to hear a slightly dirtier Christmas song on their holiday playlist. Add "Sexy Santa" to your party playlist and rock the night away with Steel Panther and their naughty Santa.
4. I Saw Mommy Kissing Santa Claus by The Jackson 5
"I Saw Mommy Kissing Santa Claus" is cute more than it is dirty and has The Jackson 5 singing about catching their mother making out with Santa. Released in 1970, the song is a cover of the original that was recorded by Jimmy Boyd in 1952.
The Jackson 5 have released a string of Christmas hits, but none can compare to this Christmas classic that is a must-listen during the holiday season. Add some Motown soul to your Christmas playlist when you play "I Saw Mommy Kissing Santa Claus" at your Christmas party.
5. Let's Make Christmas Merry, Baby by Amos Milburn
Jazz music has long been associated with Christmas, and this Christmas classic by crooner Amos Milburn is great for a cozy night of drinking eggnog on the couch with your loved ones. "Let's Make Christmas Merry, Baby" was released in 1949 and had that old-time jazz sound sure to get you in the mood.
The song has rather suggestive lyrics, so I don't recommend playing it around the kids, but it is ideal for date night or a cozy night in when the kids are in bed and asleep. "Let's Make Christmas Merry, Baby" features at number five on my list.
6. Wit It This Christmas by Ariana Grande
It would seem that just about every musician has hopped onto the Christmas bandwagon and released Christmas-themed songs. Ariana Grande is just one of them and released her song "Wit It This Christmas" in 2015 on the album Christmas and Chill.
While the song is not what you would usually expect to hear at Christmas, it is a romantic song that invites listeners to make the Christmas holiday about more than just presents and parties. "Wit It This Christmas" is a seduction song that will surely add fire to your night when you play it for your lover.
7. Shimmy Down The Chimney (Fill Up My Stocking) by Alison Krauss
Alison Krauss wants a bit more than a stocking stuffer as she invites her lover over to "Shimmy Down The Chimney." Released in 2004, this country song is rather suggestive as Krauss wants her lover to stick around and spend the night with her.
"Shimmy Down The Chimney" was recorded for the album Shimmy Down The Chimney: A Country Christmas and is a song for country music lovers everywhere. Don't hesitate to add this song to your playlist as you, too, invite that special someone to spend the night.
8. Santa Baby by Eartha Kitt
If you haven't heard "Santa Baby" played at a Christmas party, you are clearly hanging out with the wrong people. This Christmas classic was originally recorded by Eartha Kitt in 1953 but has been covered by a number of various artists over the years.
But, as is usually the case, the covers do not come close to being as brilliant as the original, and no one can trump the soulful, sweet voice of one of the music industry's biggest stars. "Santa Baby" is a sexy song and is a must-listen for the holiday season.
9. Mistress for Christmas by AC/DC
It is quite a surprise to hear that rockers AC/DC released a Christmas song in 1990. While it is not a traditional Christmas song, it has its place on my first Christmas songlist. Featured on the album The Razors Edge, "Mistress for Christmas" describes the singers wanting a lover at Christmas time.
No one wants to be lonely around the holidays, so I can understand why even AC/DC would want a "Mistress for Christmas." Give this one a listen and enjoy the falsetto, brilliant guitar work, and upbeat tempo of "Mistress for Christmas."
10. Santa Claus Got Stuck in my Chimney by Ella Fitzgerald (Feat. The Ink Spots)
Ending off my list of the dirtiest Christmas songs is this 1950 release by the legendary Ella Fitzgerald. "Santa Claus Got Stuck in my Chimney" is a naught Christmas-themed song that has sexual undertones and lots of sexual innuendoes.
Featuring the vocal talents of crooners The Ink Spots, this song is great for those who love a classic-sounding Christmas song with a difference. Add it to your playlist today and enjoy the musical genius that is Ella Fitzgerald.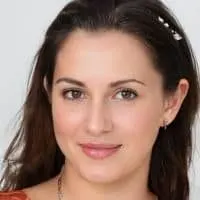 Alexandra loves playing the piano and guitar. She has always been a music lover, but it wasn't until she was in high school that she realized how much she loved to play. It allowed her to express herself without having to be verbally expressive, which is something she found very empowering.