Share on facebook
Share
Share on twitter
Tweet
Share on pinterest
Pin
Even if you don't know it yet, you would have heard plenty of songs that have used drop C tuning. It's one of the more common ways to alternatively tune a guitar and helps to give it a heavy and deep tone.
There are different ways that you can drop a string to a C note but it's usually CGCFAD tuning.
It has been used on some of the biggest heavy metal songs of all time and here we take a look at 20 of the best.
Let's get onto it!
List of the Best Drop C Songs
Here is our list of the best drop C songs from a variety of popular artists and bands:
1. System Of A Down – Chop Suey!
"Chop Suey!" is an incredible track and is notable for its unique stop/start vocal delivery in the verses along with an epic chorus. It was produced by the legendary Rick Rubin and when you combine that with the brilliance of the band, you get something very special.
It was the first single from their huge second album Toxicity and it's crazy to think that it's now 20 years old. This song helped the band win a Grammy nomination for Best Metal Performance and showcases how you can perfectly use drop C tuning in a song.
2. Bullet For My Valentine – Hearts Burst Into Fire
"Hearts Burst into Fire" was the second single released by Bullet For My Valentine from their second album Scream Aim Fire. The band is notorious for using drop C tuning and this is probably the best example of their work.
The brilliant track was featured in the NHL 09' video game and has become a favorite among fans. Along with the guitar work and driving riffs, the drumming is breathtaking on the track and helps to make it a classic.
3. Killswitch Engage – My Curse
Another song that has incredible drumming is "My Curse". It has that beautifully played intro, which gradually gets heavier before it breaks into that grungy and dirty riff. The wild scream enters and what follows is an utterly brilliant song.
It remains their most popular song and came from their fourth album As Daylight Dies, which was a true work of genius. It gained huge popularity at the time and is one of the best tracks to use drop C tuning.
4. The Red Jumpsuit Apparatus – Your Guardian Angel
This is possibly the most beautiful song on this list. It's mostly acoustic-led with drop C tuning giving it a unique song from most other songs that mainly use acoustic guitar. By the end, the full band comes in for a great heavy outro.
The love song is one of the most touching tracks you'll ever hear. It was dedicated to the eight students who lost their lives to a tornado in Alabama. It stands as a great tribute to a sad tragedy and ended up being the school's prom theme.
5. Three Days Grace – Animal I Have Become
Another song that has a fantastic intro is "Animal I Have Become". You get a hypnotic naked bass riff which is followed by the distorted guitar over the top before the drums kick in. Then we get the opening line "I can't escape this hell".
The 'hell' being referred to is one of addiction with Adam Gontier struggling with OxyContin having a hold over him. His personal pain turned into our listening joy as it inspired him to make the band's biggest track and a huge hit for the band.
6. Skillet – Monster
In similar lyrical lines to our previous track, "Monster" is about having a bad side to your personality that you can't control. While not about addiction, the narrator wants to hide his bad side but feels like a monster because of it.
It's the second single released (and the second track) from their album Awake. It ended up being their breakthrough song and managed to reach #4 on the Mainstream Rock chart. It's a huge song with nearly 400 million listens on both Spotify and YouTube.
7. A Day to Remember – All I Want
"All I Want" is a relentlessly energetic track from "A Day To Remember" with the pop-punk style being a slight diversion from the heavier sound we hear from most of their songs. They still keep that heavy feel with drop C tuning.
It was the first single released from their highly successful fourth album What Separated Me from You and has a unique music video. It features a large number of stars from the world of rock and metal who all help contribute to the great song.
8. Nickelback – Savin' Me
From Nickelback's fifth studio album, "Savin' Me" is another song that has a brilliant music video. It shows a man who can see the seconds left to live above the head of anyone that he can see, and saves a woman from disaster whose timer is rapidly counting down.
It's one of many successful songs from the band but is unique with its tuning. There's no surprise with its title that it has been used in many TV shows where a character needs to be saved in some way. Another great track.
9. Escape The Fate – This War Is Ours
After a brief vocalized intro, "This War Is Ours" starts with an incredible solo before the lyrics kick in. What we get after that is a brilliant wall of sound, including more great guitar work and relentless running.
The song comes from the band's second album Escape the Fate and quickly became one of their most popular tracks. It's a classic of the genre and one that reminds me of some great times.
10. Breaking Benjamin – So Cold
"So Cold" holds the curious record of having spent the most weeks on the Mainstream Rock Chart but never managed to make it to number one. It definitely deserved to reach the top spot at some point but Breaking Benjamin is probably proud of their record anyway.
The band released a newer version on their 2020 album Aurora which wasn't quite as dark or powerful as the original. Drop C tuning gives it that haunting feel and one I love hearing time and time again.
11. Godsmack – I Stand Alone
"I Stand Alone" is a song that grabs you straight away with its higher-pitched guitar riff. That soon drops off with a grungier distorted guitar sound with the immense vocals and instrumentation making use of drop C tuning.
It was firstly released on the soundtrack for Scorpion King before being released on their third album. It was a huge hit for the band and their most popular single to date, shown by it reaching the top spot on the Mainstream Rock Chart.
12. Deftones – Change (In The House Of Flies)
Deftones has released many great songs but this is their most listened to track on Spotify. It's a sexy track that rolls along in a sultry fashion before exploding into the chorus. Drop C tuning helps to give it a dark and mysterious feel.
The single was the first released from their stunning album "White Pony" which was littered with brilliance. It's a song that perfectly showcases the Deftones sound and the brilliant musical proficiency you get from them.
13. Sleeping With Sirens – If You Can't Hang
A certified gold single, "If You Can't Hang" is the most popular song from Sleeping With Sirens and featured on their second album Let's Cheers To This. They've released quite a few great tracks but none bigger than this.
The song has quite a few catchy parts, especially with the repetitive use of the line "If you can't hang then, there's the door, baby" in the pre-chorus along with the clever use of "pretty" throughout the chorus. No wonder the song was huge.
14. Children of Bodom – Are You Dead Yet
We could have picked any song from this band's fifth studio album. The reason is that all the songs have drop C tuning. By far the biggest song from the album is the song that bears its name, "Are You Dead Yet?"
The title of the song (and the album) comes after frontman Alexi Laiho got seriously injured. The keyboardist (Janne Warmen) jokingly asked "are you dead yet?" and the term stuck in Laiho's head.
15. As I Lay Dying – Through Struggle
Due to its moody and dark nature, drop C tuning lends itself to songs about struggle and this is another great example. It's a song that relates to those tumultuous times that we all go through in life at some point or another.
It came from their third album Shadows Are Security and I love it. The marching drums and guitar start the song off in epic fashion and it never lets up. It's relentless and breathless, all the way to its thunderous outro.
16. Disturbed – Inside The Fire
Disturbed has an excellent back catalog and "Inside The Fire" is one of their many brilliant songs. It was released as the lead single from their fourth album Indestructible but did encounter some issues with the song's suicidal themes.
The YouTube video not only has an age-appropriate warning but also a message before the song from frontman David Draiman. But taking a look at the comments, it's clear that the song has given plenty of people the strength to keep fighting.
17. Nirvana – Blew
Blew is the first-ever album track we ever got to hear from Nirvana. While not the lead single, it is the opening track from "Bleach". It shows that even from early on, the band wasn't afraid to experiment with some alternative tuning.
Just under three minutes long, it's a track that hits hard and is over before you know it. You hear that infamous grunge sound and the refrain at the end of the track is reminiscent of their gargantuan song "Smells Like Teen Spirit."
18. Ozzy Osbourne – I Don't Wanna Stop
By the time his 10th album came along, Ozzy Osbourne had his sound perfected. You get that driving heavy rock, unique vocal tone, and catchy repetitive lyrics. "I Don't Wanna Stop" showed he was still capable of producing great anthems.
It also puts a smile on your face for its message of him not wanting to stop what he's doing as he's having too much fun. The album was released back in 2007 but the rock legend is still going strong.
19. Bring Me the Horizon – It Never Ends
"It Never Ends" is another song with difficult themes. It's the battle with addiction, how it can affect your life and the perception of it. The angry, pained vocals pour out the raw emotion throughout the epic track.
The painful conclusion to the song is that the narrator accepts his additions and that "it never ends". Drop C tuning helps to give that song a special feel and it's one of the band's many brilliant tracks.
20. August Burns Red – Back Burner
This fast-paced brutal song from August Burns Red is a scathing attack on anyone who values personal possessions and material items far too highly. They put the important things in life on the 'back burner' to chase the wrong dreams.
It is the 3rd song from their second album Messengers, which first graced our ears in 2007. The track is musical brilliant with phenomenal drumming and guitar playing throughout. Mix in the growling and screaming vocals and you get one of the best drop C songs ever.
Conclusion
I can't believe how many talented artists use drop C tuning. Hopefully you find this list useful if you are looking to learn some songs in this amazing tuning.
Let us know if we missed out on any songs that should have made it on the list.
We would love to hear from you!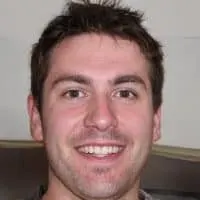 Alex is a man of many talents. He's been playing music since he was young, and has been the main content writer at Tone Start for the past few years. Alex loves to play around with different styles of music and enjoys listening to anything from country to classical.