Share on facebook
Share
Share on twitter
Tweet
Share on pinterest
Pin
E flat tuning is one of the easiest ways to get a unique sound from your guitar. It's simply regular tuning but with all the strings down a half step. You'll end up with strings tuned to Eb, Ab, Db, Gb, Bb, and Eb.
It has been used by countless blues and rock guitarists. Not only does it sound great and add thickness to your tone but it can also have some advantages. You can use heavier gauge strings and it's easier to bend them.
I love this tuning so much that I thought I would find all of the best songs that use E flat tuning.
Let's start with the most famous one of them all!
List of the Best Songs in E Flat Tuning
1. Guns N' Roses – Sweet Child O Mine
Ever tried to play the opening riff to Sweet Child O' Mine but it never sounded quite right? Well, the reason for that may be that your guitar wasn't tuned correctly. It uses E flat tuning so take your guitar half a step down if you want to perfectly cover the infamous riff.
It's one of the best songs of all time for a lot more than just its tuning but it plays an important role. It was Guns N' Roses at their absolute best. It's probably the most famous song to use E flat tuning but there is plenty of competition from the rest of this list.
2. Extreme – More Than Words
It's from an album called Pornograffitti and the band was known for their brand of funk metal. It's fair to say that an acoustic love ballad took many by surprise. It must have been tempting for them to fit it in with their regular style but thankfully they didn't.
The stripped-back love song is simply perfect. As with many bands with one defining hit, they resented it for a while as it overshadowed their other work. They've embraced it now and so they should. When you write a song that is this good, enjoy the success it brings.
3. Poison – Every Rose Has Its Thorn
The effective use of E flat tuning for a ballad can also be seen in Poison's song "Every Rose Has Its Thorn". As with Extreme, this is their signature song and it went on to become their only number one track.
It's a sad song written about Bret Michaels realizing that his girlfriend was cheating on him. The song has lasting appeal and was one of the best songs from the '80s. That decade had many epic power ballads but this song was one of the very best.
4. The Beatles – Across The Universe
The Beatles loved to experiment, especially on their later albums and it's no surprise that they used E flat tuning. "Across The Universe" is a beautifully dreamy track from their 1970 release of Let It Be but had been previously released on a compilation album.
Eight different versions of the song were released between 1968 and 1970 with John Lennon not being particularly pleased with any of them. He actually accused McCartney of trying to ruin the song but most fans would argue that it was, instead, a stunning piece of music.
5. Nirvana – Where Did You Sleep Last Night
This is one of the most painfully sung songs of all time, which is a compliment. You hear the pain of every line through Cobain's vocals, which helps to make it so powerful. Especially when his voice breaks on the word "shiver".
It was a memorable part of MTV's 'Unplugged' but the writer of the song is unknown. It is a traditional folk song that was thought to be written in the 1870s. It has been recorded by a few artists but never more brilliantly than by Nirvana.
6. Michael Jackson – Beat It
This is a competitor with Sweet Child O' Mine for the most famous riff ever. The song is a piece of musical genius and the video is incredible too. It came from Jackson's Thriller album which is one of the best records ever made.
It was written because Jackson and producer Quincy Jones wanted to create a rock track. They succeeded spectacularly and even got Eddie Van Halen to do the solo. E flat tuning helped to give it a beefier sound and one of the best ever songs was born.
7. U2 – One
There is clearly a link between E flat tuning and beautiful love songs, as here is another one. The song can be interpreted in a few ways but the beautiful melody makes it an emotional track. It remains one of U2's most popular songs.
It was released back in 1992 from their third album Achtung Baby and received universal acclaim. That's hardly surprising given it's one of those songs you fall in love with on first listen. It was also released as a benefit single with its proceeds going to AIDS research.
8. Nirvana – The Man Who Sold The World
Here we see another Nirvana cover from their infamous Unplugged session. This song was written by David Bowie but was only ever released as an album track. The song came to wider attention when it was covered by Lulu in 1974.
Known for its hypnotic circular riff, Nirvana would go on to make the song their own in 1994 with their live recording before releasing it as a single the following year. The band would help to showcase the song to a new audience and give it the fame it deserved.
9. Lynyrd Skynyrd – Simple Man
After their humongous singles of "Sweet Home Alabama" and "Free Bird", this is Lynyrd Skynyrd's most popular song. It achieved that level of notoriety without ever being released as a single. It's a beautiful track that perfectly suits that E flat tuning.
The song itself is about a conversation that Ronnie Van Zant had with his grandmother. The wise words were that he should focus on wanting the simple things from life and not chasing after the "rich man's gold", which is probably a good lesson to us all.
10. AC/DC – Highway To Hell
"Highway To Hell" is the opening track from their 1979 album by the same name. The simple but incredible riff makes the song great, along with the iconic vocals. It's a thunderous masterpiece from one of the biggest bands of all time.
The lyrics are about the never-ending touring that AC/DC was doing at the time. This song was from their sixth album and the "highway" referred to was the feeling like they were never off the road.
11. Blink-182 – I Miss You
Blink-182 became a much-loved band because of their high-energy pop-punk sound and the fact they never took themselves too seriously. "I Miss You" was a much deeper and more thoughtful song and one that was a huge hit from their fifth album.
The song is musically quite unique with a cello used along with the brushed drumming. It was written equally by Tom DeLonge and Mark Hoppus and turned out to be one of the biggest songs in the genre. It showed a musical complexity from the band, which the fans loved.
12. Simon & Garfunkel – The Boxer
"The Boxer" was released originally as a standalone single but was later included on their incredible album, Bridge over Troubled Water. Recording the song was an arduous process as the song took over 100 hours of studio time to complete.
The results justified all of their efforts as the song is fantastic. The lyrics are a work of art as they tell the story of a poor young boy who becomes a boxer. Paul Simon later said that the frustrations throughout the song were partly autobiographical.
13. Cory Asbury – Reckless Love
Cory Asbury released the song "Reckless Love" in 2017 and it was the lead single from his second album of the same name. As with most of Asbury's work, the song is a religious one about whether or not he's worthy of the love he receives from God.
The song received a whole host of nominations. It's by far his biggest song to date and it's easy to see why with its unique tuning, lyrical content, and beautiful melody. It's a powerful song and E flat tuning helps to make it such a great composition.
14. Slayer – Raining Blood
Well, the lyrical content from this song couldn't be much different from the song above. "Raining Blood" is about someone who is trapped in purgatory. They take revenge on being cast out of heaven and violently overthrow it, hence the raining blood.
It's Slayer's most popular song and often when they play it live, it will rain 'blood' on the set. It's a ferocious track with frantic drumming and an impressive two-part guitar harmony. It's a song that also sounds incredible live as it's always a fan favorite.
15. Green Day – American Idiot
The American Idiot album was humongous and while some people lament Green Day for 'selling out,' I don't buy into that. Having 9-minute epics on your album is daring and courageous but no song was better from that album than the title track.
"American Idiot" was also politically charged with social commentary on disillusionment with the American public and the war in Iraq. It's up there as one of the best pop-punk songs ever and the E flat tuning helps to give it that extra edge.
16. The Police – Every Breath You Take
"Every Breath You Take" is one of the most misinterpreted songs of all time. Often seen as a love song, the truth is a lot darker. It's a more sinister song about jealousy and stalking someone that you have feelings for.
While it may be misunderstood, there is no doubting its brilliance. It's beautifully arranged with simple but effective drum and guitar sounds. E flat tuning helps to give it a more textured feel and thankfully it wasn't overproduced.
17. Jimi Hendrix – All Along The Watchtower
"All Along The Watchtower" has one of the best opening lines ever with "there must be some kind of way outta here, said the joker to the thief". The lines, of course, were written by Bob Dylan but it was Hendrix that made the most out of them.
The song was included on his iconic and legendary album Electric Ladyland. It's fair to say that Hendrix knew his way around guitar sounds and decided to give this track an extra edge with E flat tuning. Dylan was a genius for writing it and Hendrix was a genius for his incredible interpretation.
18. 3 Doors Down – Here Without You
We already mentioned one song about life touring as a musician with "Highway To Hell" and this is another. "Here Without You" follows a different lyrical theme as it's about being away from home when you're missing someone you love.
The power ballad was released back in 2003 from their second album Away from the Sun and instantly got plenty of radio play. E flat tuning gives the song its heart-breaking tone which we've seen in many of the songs from this list.
19. Join the Club – Nobela
If you wanted to know the best Filipino song in E flat tuning then there's not much competition but this song from Join The Club would be the clear winner. It's a lovely song and the melody is enough for you to love it, even if you couldn't understand the lyrics.
The lyrics themselves are about pining for a love that is probably not going to happen and trying to force yourself to be happy. The song is from the 2016 album of the same name which is full of beautiful songs and great melodies.
20. Smash Mouth – All Star
"All Star" is a joyful song and it never fails to put a smile on your face. Along with the brilliant upbeat song is an equally fun music video. It features a wide range of acting stars doing their character roles from the film Mystery Men.
The song was written to be made as a single and the band delivered perfectly. It has a more mainstream appeal than most of their songs and became by far their biggest song.
21. Van Halen – Eruption
Eddie Van Halen has already featured once on this list due to his solo on "Beat It". While his guitar work on that song is great, on "Eruption", it's out of this world.
The track itself is a short instrumental piece which is almost exclusively Eddie playing one of the greatest solos of all time. It's a mastery of two-handed tapping and has that brilliant sound, thanks in part to E flat tuning.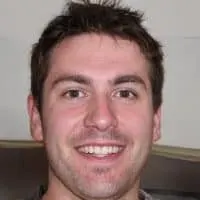 Alex is a man of many talents. He's been playing music since he was young, and has been the main content writer at Tone Start for the past few years. Alex loves to play around with different styles of music and enjoys listening to anything from country to classical.