The Fender CC-60SCE is an affordable electric acoustic guitar suitable for beginners and intermediate players. In this article, I will be reviewing the Fender CC-60SCE to find out if this electric acoustic guitar lives up to the hype around it.
I shall also compare Fender CC-60SCE head-to-head to two of its most viable alternatives: FenderCD-60SCE and Yamaha APX600. Without further delay, let's present the Fender CC-60SCE at a glance.
Read on to learn some precious insights about its tone, playability, and construction.
Let's get onto it!
Overview
Combining an inbuilt tuner with great tone and superb responsiveness, Fender's CC-60SCE has a price tag of just over $300. Its smaller concert-sized body is suitable for seated playing, while the single-cutaway design makes the upper frets easily accessible.
The guitar's solid spruce top adds extra loudness to its crisp and clear tone. The mahogany back and sides are a rarity on such an affordable instrument. The neck's shape further facilitates playing in any position.
Technical Specifications
Body
Design: Concert Cutaway
Top: Spruce
Back & Sides: Mahogany
Finish: Gloss
Binding: Yes
Bracing Pattern: Quartersawn Scalloped "X"
Soundhole: CD Series Pearloid
Neck
Neck Material: Mahogany
Neck Binding: Single-ply Black
Neck Finish: Gloss Urethane
Neck Design: Easy-to-Play with rolled fretboard edges
Scale Length: 25.3″
Inlay: 3mm Pearloid dots
Truss Rod: Dual-Action
Fretboard
Number of Frets: 20
Fretboard Material: Walnut
Fretboard Radius: 12″
Fret Size: Vintage
Nut & Bridge
Nut Material: Crème Plastic
Nut Width 1.69″
Bridge Material: Walnut
Bridge Pins: White with Black Dots
Other
Strings: 6 strings Fender® Dura-Tone® 880L .012-.052
Tuning Machines: Chrome Die-Cast
Electronics: Fishman® CD Preamp
How it sounds
This is a classical concert guitar whose sound scores 9/10. The crisp and precise articulation achieved with Fender's scalloped X bracing strikes the ear with bright highs and full lows.
I wish trebles were more balanced, but they sound a bit pingy, especially in the upper range. On the plus side, this concert guitar delivers plenty of bass power.
The electronic pickup does a great job of maintaining tone consistency. On the whole, Fender CC-60SCE performs reasonably well in plugged-in gigs with a band.
The guys over at PMTVUK made a nice video demonstrating the capability of the CC-60SCE, which you can find below:
Playability
Fender CC-60SCE's body size makes it suitable for fingerpicking, strumming, and lead work. As far as acoustics is concerned, this guitar lends itself well to almost any style.
The piezo pickup and the Fishman preamp with onboard equalizer allow players to switch from an unplugged set to an amplified one easily. Fender's 'easy-to-play neck facilitates faster playing styles and traditional acoustic solos.
The fingerboard's 12" radius and the rolled edges further increase playability, while the cutaway allows beginners to reach the upper frets without even thinking about it.
Build Quality
Fender CC-60SCE's top is made from solid spruce and the back and sides – from mahogany. The quarter-sawn scalloped bracing reinforces the guitar's body from the inside. The gloss finish and the bound edges give this acoustic guitar a modern look.
The neck is also made from solid mahogany, and the fretboard is made from East Indian rosewood. The dual-action truss rod adds extra stability to the neck and facilitates two-way adjustment. Judging by the materials used, the build quality of Fender CC-60SCE is pretty solid.
What Others Are Saying
Over 70% of all Amazon reviewers give Fender CC-60SCE five stars. To sum up all of the positive feedback, let's just say that this is a fantastic electric acoustic guitar for all levels.
Some buyers complain they've received a used instrument, but you can't blame Fender about this. Another user gives this instrument only three stars because it turned out to be smaller than expected.
Pros and Cons
PROS 👍
Build to last a lifetime
Dual-action truss rod for extra stability and easy adjustment
Made from high-quality tonewood
CONS 👎
Plastic nut and saddles
Basic pickup and preamp
Fender CC-60SCE vs. CD-60SCE
Here are some key points of comparison between the CC-60SCE and the CD-60SCE.
Price
The CD-60 SCE sells for about $600, making it almost twice as expensive as the SCE model.
Size
CD stands for Classic Design, meaning that CD-60 SCE is a full-sized dreadnought, whilst the concert-sized CC-60 SCE is a bit smaller.
Sound
CD-60SCE has a solid spruce top version and a mahogany top version. The latter has a warmer and richer tone compared to CC-60 SCE's crisp and bright sounding.
Final Verdict
After taking a closer look at the technical specs of CD-60SCE and CC-60SCE, I could only conclude that the higher retail price of the former model is mainly due to the higher quality of the tonewood used in its manufacturing.
Fender CC-60SCE vs. Yamaha APX600
Here's how Fender CC-60SCE performs against one of Yamaha's most popular acoustic guitar models.
Price
My research shows that both guitars sell for about $300, although some fellow reviewers suggest some of CC-60SCE's modifications could be pricier.
Design
Fender's concert-sized model is a bit larger than Yamaha APX600. The thin-line design of the latter fits closer to the player's body.
Electronics
I think that Yamaha's System 65A preamp provides a more natural-sounding tone than Fender CC-60SCE's low-profile pickup and preamp by Fishman.
Fingerboard & Scale
Yamaha APX600 has a shorter scale (25″) but a wider fingerboard (15.75″) than Fender CC60-SCE. On the other hand, CC60-SCE's nut is wider than APX600's – 1.69″ vs. 1.687″.
Frets
CC-60SCE is a 20-fret electric acoustic guitar, whereas APX600 features 22 frets. Those two frets make a big difference when one has to cover songs like The Who's The Real Me.
Final Verdict
Both Fender CC-60SCE and Yamaha APX600 are beginner-friendly acoustic-electric guitars that provide excellent value for the money. So, this head-to-head bout is a tie.
Conclusion
Fender has managed to pack an impressive variety of features into this affordable electric acoustic guitar. It is an excellent choice for budding talents who will appreciate its playability and versatility.
The electronic pickup system does a decent job, although the tone is a bit muted compared to unplugged playing. Use the die-cast tuners to adjust tone and intonation when playing through an amp.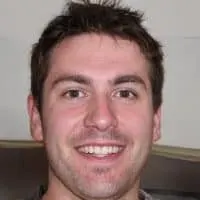 Alex is a man of many talents. He's been playing music since he was young, and has been the main content writer at Tone Start for the past few years. Alex loves to play around with different styles of music and enjoys listening to anything from country to classical.