Share on facebook
Share
Share on twitter
Tweet
Share on pinterest
Pin
There's a reason why Fleetwood Mac was one of the biggest bands in the 80s – their signature folk sound, stunning harmonies, and fresh musical ideas took the world by storm and had us all dancing, laughing, and jiving to their upbeat tracks.
Fleetwood Mac brought a whole new meaning to what we think of as a love song, with their fresh take on the common themes that we've seen throughout decades and decades of music.
So without further ado, here is a list of my favorite Fleetwood Mac love songs!
1. Say You Love Me
"Say You Love Me" is one of the most popular Fleetwood Mac love songs out there, and it's clear to see why. With its upbeat tempo, lively vocals, and simple chord progression, it's a song that makes you want to get up and dance.
The band was known for their amazing vocals and incredible harmonies, and these features are displayed in "Say You Love Me." The track spent several weeks on the radio when it was first released and took the world by storm.
2. Big Love
Next up is "Big Love," which has a more classic 80s feel to it in comparison to many other tracks on Fleetwood Mac's discography. With the airy, reverb vocals, synth hits, and groovy instrumentation, this song is the epitome of the 80s and an actual demonstration of Fleetwood Mac's versatility of sound.
The vocals are powerful, the electric guitar solos transport you to another world, and Stevie Nicks' ad-libs add a sensual touch to an already-raunchy song. Definitely one of my favorite Fleetwood Mac love songs.
3. Songbird
"Songbird" slows things down to a sad, ballad-like tempo, with haunting vocals that tug at the heartstrings. There's nothing overly complex about this track, but that's exactly what I like about it – Fleetwood Mac understands the power of simplicity, especially when it comes to writing meaningful love songs.
While also quite simple, the chord progression is incredibly satisfying, with its resolutions emphasizing the lyrics at just the right times. "Songbird" is a representation of the genius writings of Fleetwood Mac.
4. You Make Loving Fun
No music has ever matched its title quite as well as "You Make Loving Fun" from Fleetwood Mac. It's clear to see why this is one of the band's most popular numbers – it's lively, funky, and has a killer bassline that supports powerful, haunting vocals.
"You Make Loving Fun" is a song about, well, fun love! There are so many love songs about how beautiful, tender, and gentle love can be, so it was refreshing when Fleetwood Mac decided to sing about the fun that comes with being in love!
5. Love in Store
Sadly, "Love in Store" didn't do quite as well as many of Fleetwood Mac's other numbers, but that doesn't stop it from being one of my favorite Fleetwood Mac love songs. It's got the band's classic sound, with clean, peppy drums, pretty harmonies, and smooth vocals.
The lyrics take the forefront of this track, with the backing track being simple enough to let them shine through, allowing the listener to absorb them completely. The chorus is exceptionally catchy and will definitely be stuck in your head for a few days after listening.
6. Sara
There's no denying that "Sara" is one of the world's most popular Fleetwood Mac love songs. Stevie Nicks takes the reins on this track with her haunting, signature vocals that tug at the heartstrings and add a unique texture to this already brilliant number.
In "Sara," Stevie sings about a particularly feminine view of love, while the simple backing track lets her voice shine through. She's got a piercing quality to her vocals, and you can't help but appreciate any lyrics that Stevie sings.
7. Silver Springs
"Silver Springs" is off the Rumors album and is one of the more unique songs from Fleetwood Mac. The instrumentation features some interesting components, like a banjo, which gives a dreamlike quality to the whole track.
This dreaminess is emphasized in the lyrics and by the slower tempo. Overall, this is another of my favorite Fleetwood Mac love songs and is one that I find myself singing over and over after I've listened to it.
8. Little Lies
When "Little Lies" was first released, it was immediately a smash hit globally, reaching the Billboard Top 100 and staying there for quite some time. It's one of the catchiest Fleetwood Mac songs out there, with its phenomenal melody, rich harmonies, and brilliant countermelodies.
The bassline is super groovy, and the upbeat tempo invites you to get up and dance like nobody's watching, no matter where you are. It's one of my favorites for sure and belongs on any good 80s playlists!
9. Don't Stop
"Don't Stop" is one of Fleetwood Mac's earlier works, having been released back in 1977. It's a power rock ballad with powerful vocals, a catchy melody, and groovy drums that almost force you to tap your feet along to the beat.
This track shows the clever lyrical writing that the band was known for, and the chorus is unbelievably catchy.
10. Oh Daddy
And finally, to end off this list, we have "Oh Daddy" from the Rumors album, which is not nearly as raunchy of a song as its title might imply. In fact, it's quite a melancholic number, with haunting vocals, a dreamy backing track, and a mellow tempo with instrumentation that gives it a rock and roll feel.
It's a song about heartbreak and the pains of love – something that we can all relate to, I'm sure. If you need a song to belt out in your room at 3 AM, "Oh Daddy" is it!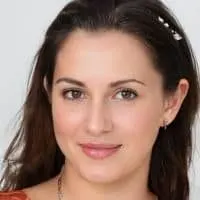 Alexandra loves playing the piano and guitar. She has always been a music lover, but it wasn't until she was in high school that she realized how much she loved to play. It allowed her to express herself without having to be verbally expressive, which is something she found very empowering.