In this article, we will be doing an in-depth review on the Jasmine S35 acoustic guitar suitable for those of you who are on a budget.
It's easy to look at the price of this guitar and come to the conclusion that it must be terrible. We wondered that too. There are some great budget guitars around the $200-$250 range but half that? Well, corners must surely have been cut.
But then we saw the reviews and thought we had to check it out. What we found was a guitar that not only looks great, but sounds surprisingly good too.
Join us as we take a deeper look into the qualities of the S35 and whether or not you should buy it.
Overview
The Jasmine S35 acoustic guitar is one that we were very impressed with. Its list of qualities helps to make it the perfect beginner guitar for those who are on a tight budget. As you can expect, the quality isn't elite but it's more than good enough to get you started in the world of guitars.
It has the common dreadnought shape with a sound that is surprisingly bold while remaining quite balanced. There are a few issues here but for the price, it's hard to complain. Read on as we go a little deeper into its qualities and features.
Specifications
Body type: Dreadnought
Finish: Smooth satin
Top: Spruce
Bracing: Jasmine's "Advanced X"
Neck: Nato
Fingerboard: Rosewood
Fingerboard radius: 12"
Scale length: 22.5"
Strings: Bronze Light Gauge .012-.053
How It Sounds
The sound is the most impressive aspect of the Jasmine S35. It has a very rich tone which rings out very well when both fingerpicking and strumming. With the dreadnought body, the volume of the guitar is high and clear.
There is some warmth to the guitar and you'll enjoy learning your favorite songs. The notes are well balanced with a bold sound that holds up very well. You'll most likely want to upgrade your guitar for recordings but this instrument wasn't made for that.
Take a look at the video below if you would like to see the S35 in action:
Playability
This guitar is quite easy to play which is aided by the fairly slim neck which will reduce any finger aches. It's also well-shaped so it will feel comfortable in your lap but also has buttons if you wanted to add a strap.
The action can be a little high and you may want to amend the setup. This costs money to do at a professional guitar shop, which isn't ideal if you're on a budget. You can learn how to do it yourself and there are many great tutorials on YouTube.
Due to the lower quality of the tuners, you will also find yourself needing to tune it a little more often than you would do with a premium guitar. Aside from those issues, it's a playable guitar and one that is great for learning on.
Quality
As you can expect from a low-budget guitar, you're going to get fairly low-quality materials. We see this with the agathis sides and back. It does have a spruce top which adds to the overall sound and build quality.
The guitar is made in China but the level of construction is quite decent. You do notice that the guitar feels very light and on the verge of feeling flimsy. To counteract that, it does have X bracing which helps the sound but also gives it some rigidity.
The quality is good and it's an instrument that will see you all the way from being a novice to being an intermediate-level player. Other guitars at this price point don't have the same level of quality.
What Others Are Saying
The overwhelming comment you get about the Jasmine S35 is that its phenomenal value for money and we can't argue with that. Users are impressed that you can get such a great sound out of it.
These comments also include many users stating that it was their first guitar and perfect for the job.
The vast majority of the reviews are positive with the negative reviews coming from those who expected a little too much from a budget guitar.
Pros and Cons
PROS 👍
Incredible price
Balanced sound
Spruce top
Comfortable to play
Slim neck
CONS 👎
Entry-level tuners
Fragile
Jasmine S35 vs Yamaha FG800
The Yamaha FG800 is a better guitar. The sound is slightly better and the level of build quality is higher. But it's also around double the price.
They are similar in size and playability so the question is whether or not you should stretch your budget to buy the Yamaha?
If you're on a budget and want a great starter guitar, the Jasmine S35 is a great choice. Have a bit more money? Then the Yamaha FG800 is a brilliant beginner guitar.
Click here to read our full review on the Yamaha FG800
Frequently Asked Questions (FAQ)
Is the Jasmine S35 a full-size guitar?
The Jasmine S35 is a dreadnought guitar, which is full-sized. Dreadnought is the most popular shape of guitar but also one of the biggest that you can buy. In fact, the dreadnought can be a little too big for smaller users.
How big is the Jasmine S35?
In terms of its specs, the dreadnought guitar is a 20-fret guitar that has a scale length of 22.5" and a fingerboard radius of 12". If you wanted to learn on a full-sized guitar then that's exactly what you get here.
Who makes the Jasmine S35?
The Jasmine S35 is made by KMC Music but was originally designed by the Japanese guitar brand Takamine.
KMC Music was founded in 1966 and is the owner and distributor of several brands. The company has its headquarters in Connecticut buy the guitars are produced in its facility in China.
Conclusion
We're not going to pretend that this is the best guitar ever made but it's not meant to be. It serves a purpose and that is to be the perfect guitar for those beginners on a budget. If that sounds like you then this guitar is going to be perfect.
The sound quality is very impressive all things considered and it also plays well with a good level of quality. For this price, you won't find a guitar close to being this good. The Jasmine S35 is the king of budget guitars.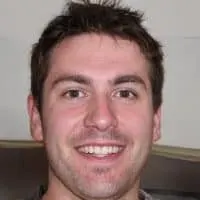 Alex is a man of many talents. He's been playing music since he was young, and has been the main content writer at Tone Start for the past few years. Alex loves to play around with different styles of music and enjoys listening to anything from country to classical.