Share on facebook
Share
Share on twitter
Tweet
Share on pinterest
Pin
While American country singer Kenny Chesney might not have enjoyed the immediate success that many of his contemporaries did when signing with a record label, he's recorded more than 20 albums. He has produced more than 40 Top 10 singles on the US Billboard Hot Country Songs.
There's no denying that he's one of the greatest songwriters out there, but where he shines is in his love songs. Today, we're going to take a look at some of the singer's best love songs.
So without further ado, here is my list of the top Kenny Chesney love songs of all time!
1. Me and You
Starting us off is "Me and You," a sweet and straightforward piano ballad that really lets Kenny's stunning vocals and brilliant lyricism shine through. In it, Chesney sings about the feeling of genuine connection you feel with that particular person in your life.
If there was ever a perfect musical representation of soul mates, "Me and You" is it. Kenny is known for his crystal-clear vocals, simple chord progressions, and beautiful harmonies, and this track is a true showcase of the country singer's best features.
If you're looking for a Kenny Chesney love song to slow dance to, then this is the one!
2. Fall In Love
Moving into a more upbeat and joyous territory, we have "Fall In Love, "which is the epitome of that classic country saying, "give me three chords and the truth." Kenny's lyrics are beautifully simple, allowing you to absorb their meaning fully, while the backing track invites you to get up and line dance with your lover.
"Fall In Love" follows the classic Kenny Chesney formula – short, sweet verses, an incredibly catchy chorus, and plenty of instrumental interludes that get your feet tapping and hips swinging. This track also shows off Kenny's vocal prowess, exploring his full range and powerful runs.
3. I Want To Know What Love Is
"I Want To Know What Love Is" takes on a more solemn, dramatic feeling with its minor key while still maintaining an upbeat, dance-like tempo that you can't help but tap your feet to. This track is a cover of the song of the same name from Foreigner, off of Kenny's Cosmic Hallelujah album.
The verses have a darker feel to them, contrasting nicely with the joyous sound of the chorus. If you're a Foreigner fan and a country fan, then I think you'll love Kenny's take on "I Want To Know What Love Is." I certainly do!
4. You Had Me From Hello
If you've ever experienced love at first sight, you've got to listen to "You Had Me From Hello." In it, Kenny perfectly encapsulates the feeling of being totally enamored by someone without them having to say anything at all. It combines simple harmonies and a sweet melody with a piano ballad-style backing track that tugs at the heartstrings.
There's a reason why this song is one of the most famous first dance songs out there. It's a pure expression of love, showcasing Kenny's command of his voice and the many musical intricacies that make his music truly unique.
5. Come Over
Even though it's not one of the most popular songs that Kenny has ever released, "Come Over" is definitely on my list of the best country songs of all time. It's a fresh take on the feeling of yearning for someone you can't – or shouldn't – have with that classic Kenny country flare.
The lyrics are nothing complicated. The message of "Come Over" is simple – when you've met The One, you just can't let them go.
With a catchy chorus and simple chord progression, you'll be dancing and tearing up to "Come Over" all at once.
6. She's Got It All
Kenny embodies the country spirit with "She's Got It All" – simple lyrics, even simpler music, and a tempo that just makes you want to dance. With lines like 'Every sweet memory I can recall, she got it all, Kenny shows off his lyricism with this track.
Kenny wrote "She's Got It All" with Craig Wiseman and released it in 1997 as the first single from his I Will Stand Album. The song went on to become Chesney's first – but certainly not last – No. 1 hit on the US Billboard Hot Country Singles, and it's clear to see why.
It's one of my favorite Kenny Chesney love songs.
7. The Woman With You
"The Woman With You" is a slow country ballad that took the world by storm when it was first released. It's one of Kenny's more popular numbers, at least in the country world, and I can clearly see why.
It's a beautiful love song, singing about the joy of having someone who enjoys being in your company. If you've got a particular person in your life, this will make an excellent song for the two of you to dance to on your special day!
8. You Save Me
With its waltz-like tempo, unique chord progression, and haunting melody, "You Save Me" is a beautiful Kenny Chesney love song that shows off his vocal prowess.
It really tugs at the heartstrings and is a classic Kenny track that invites you to dance with that special someone.
9. Anything But Mine
One of Chesney's more popular tracks, "Anything But Money," embodies the feeling of early 2000s country music, with its gentle acoustic guitar, powerful electric guitar sounds, and a simple melody that quickly gets stuck in your head.
This track is a pure expression of yearning and feeling empty without the one you love by your side.
10. Somewhere With You
And finally, ending off on a high note (pun intended), we have "Somewhere With You," which is one of the most popular Kenny Chesney love songs.
It's about going through a tough breakup and how we tend to turn to bad habits to do so. It's as relatable of a song as they come and definitely worth the listen if you've never heard this track before.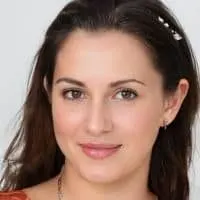 Alexandra loves playing the piano and guitar. She has always been a music lover, but it wasn't until she was in high school that she realized how much she loved to play. It allowed her to express herself without having to be verbally expressive, which is something she found very empowering.