Selling for just under thirteen hundred dollars, the Martin 000-15M is for guitarists who know what they are paying for. This particular model features an all-mahogany top, sides, and back that produce deep and effusive tones.
In this review, you will find the answers to three exciting questions about the Martin 000-15M. You'll also learn interesting facts about its sound, playability, and build quality. I shall also compare this fantastic acoustic guitar to its sibling, the Martin 000-15SM.
Read on to find out more!
Overview
Keeping in mind the superior level of craftsmanship that all martin guitars feature, including many hours of manual labor on each instrument, the price is pretty reasonable.
The nut and the saddle are made of natural bone, while the fingerboard is made of solid East Indian rosewood. The scale is 25.4″ with an A-Frame "X" top bracing pattern that significantly enhances sound projection.
Technical Specs
Body
Top Wood: Solid Genuine Mahogany
Back & Sides Wood: Solid Genuine Mahogany
Color: Natural
Finish: Nitrocellulose Satin
Back & Sides Wood: Solid Genuine Mahogany
Color: Natural
Finish: Nitrocellulose Satin
Design: 000-14 Fret
Style: No Cutaway
Bracing: A-Frame "X" 5/16″ Solid Sitka Spruce
Length: 19.375″
Width: 15″
Depth: 4.125″
Strings
String Type: Steel
Number of Strings: 6
Strings: Martin, .012-.054
Neck
Neck Wood: Mahogany
Neck Shape: Modified Low Oval
Radius: 16″
Fingerboard
Fingerboard Material: East Indian Rosewood
Fingerboard Inlay: Diamonds & Squares – Short Pattern
Number of Frets: 20 (total), 14 (clear)
Scale Length: 25.4″
Tuning Keys: Nickel Open-Geared with Butterbean Knobs
Bridge / Nut / Saddle
Bridge Material: East Indian Rosewood
Nut & Saddle Material: Bone
Nut Width: 1.68″
Other
Case Included: Hardshell Case
Overall Length: 39.8125
Right-handed
How it Sounds
The Martin 000-15M is a pretty loud acoustic guitar for its size, perfect for solos, leadwork, and strumming. The all-mahogany body evokes an intense and clear sound from its taut and vibrant bosom. So clear is the sound that you can hear the tone of every single string.
The superb tone sustainability beautifully complements its fantastic string consistency. The even tone of 000-15M makes it perfect for vocal accompaniment. Yet, the treble and bass are not as prominent as that of a solid spruce top guitar.
Check out this video to hear the 000-15M in all of its glory!
Playability
Martin's 000-15M model is a bit more compact than the dreadnought-sized D-15M. The all-mahogany body with a delicate satin finish is pleasant to touch.
The C-shaped neck fits nicely into the hand, luring the player to start strumming. The body's size is the same as Martin's 000-14 fret guitar, making 000-15M very comfortable to play.
The vintage open-gear tuners, three per side, allow the player to extract every bit of potential from Martin's .012 or .054 strings.
Build Quality
Every part of Martin 000-15M speaks of vintage subtlety. One thing that you can't fail to notice while holding this beautiful acoustic instrument in your hands is the lack of binding or purfling.
The solid Sitka spruce braces in the A-frame "X" pattern inside the guitar are strong enough to support its mahogany top. The headstock with the classic Martin's logo on it is not slotted.
The east Indian rosewood fretboard has a beautiful grain on it, and the vintage-sized frets are a signature feature of Martin's 000 models. The discreet abalone inlay is also present, along with the traditional Martin dovetail neck joint.
What Others Are Saying
"It's finger-picking heaven for an old-school bluesman like me," a happy owner from Nashville writes.
"You cannot beat this Martin for price, playability, sound," adds Darren from North Carolina.
"The simple design is beautiful. The guitar is perfect in its playability, string spacing, and intonation," Craig from California sums up.
Pros and Cons
PROS 👍
All-mahogany body
Beautiful vintage tuning keys
Crystal-clear tone
Comfortable neck
CONS 👎
Bass and treble aren't as prominent as the ones coming from a Sitka spruce top guitar
Martin 000-15M vs 000-15SM
Read on to learn some key differences and exciting facts about Martin's 000-15M and 000-15SM models.
Nut & Bridge
The 000-15SM is a bit wider than 000-15M both at the nut and the bridge. 000-15M's bone nut is slightly smaller than its sibling's, and the string spacing is narrower.
Headstock
The 000-15SM features a slotted headstock that's missing on 000-15M.
12-fret vs. 14 fret
The name of 00015-SM indicates a 12-fret body-neck joint. On the other hand, the 00015-M features a 14-fret body-neck joint; hence its body appears smaller. The SM version features an elongated body, while the body of 00015-M is shorter and squatter.
Sound
Experienced guitarists share that the 12-fret design gives out louder bass than the 14-fret version, primarily because of its wider surface area.
By contrast, the 14-fret model has more projection, resonance, and a better mid-range focus. As a rule, 12-fret guitars have a fuller and rounder tone, whereas the 14-fret models' tone is quicker and punchier.
Martin 000-15M FAQ
Let me now answer some interesting questions about this fantastic-looking and beautifully sounding instrument.
What Is the Difference Between Martin 000 and OM?
The Orchestra Model's longer scale and broader neck are more suitable for fingerstyle playing.
What Does the 000 Mean in Martin Guitars?
The 000 indicates the guitar's size. This design is smaller than Martin's Orchestra Model (OM) and the classical dreadnaught. Yet, it's larger than the 00 and 0 series, which are designed for traveling and small club gigs.
Where is the Martin 000-15M Made?
The first Martin 000-15M was made in the 1930s in the company's factory in Nazareth, Pennsylvania. Amazingly, this beautiful acoustic guitar is still made at the same place today.
Conclusion
This 100% acoustic guitar strikes the perfect balance between build quality and affordability. It gives out plenty of projection for its size, slightly smaller than a classical dreadnaught.
At the same time, it beats small-bodied guitars in terms of mid-range and bass. Buy a Martin 000-15M if you want a mid-sized guitar with a vintage look and feel.
Thanks for checking out my review on the Martin 000-15M.
I hope you have enjoyed reading this review as much I enjoyed writing it. For more Martin acoustic guitar reviews click here.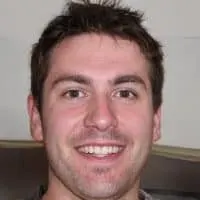 Alex is a man of many talents. He's been playing music since he was young, and has been the main content writer at Tone Start for the past few years. Alex loves to play around with different styles of music and enjoys listening to anything from country to classical.