Martin Guitar Standard Series Acoustic Guitars, Hand-Built Martin Guitars with Authentic Wood 0-18 Natural
PROFESSIONAL SOUND: Martin's Standard Series guitars combine authentic wood, like sitka spruce, mahogany, ebony, rosewood, and more, with innovative bracing, a variety of body styles, and handmade detailing to deliver rich resonance, classic tones, and a professional sound. Add our premium guitars to your touring lineup, studio gear, or instrument collection.
PREMIUM HANDMADE GUITARS: Handmade from the highest-quality materials, Martin's Standard Series guitars are built to stand up to late-night jams, long studio sessions, and plenty of picking. These solid-wood acoustic guitars deliver classic designs, professional sounds, and enjoyable playing.
Thanks for coming to check out our review on the Martin 000-18 acoustic guitar!
Whilst electric and electro-acoustic guitars are favorites for many guitarists, you simply cannot beat the feeling of connecting with the organic sound of an acoustic guitar.
They're great for casual playing and practice, and can also be mic'd up to be heard loud and clear at live events. However, with such a huge range of acoustic guitars out there, it's easy to become overwhelmed and feel spoilt for choice.
One of our favorite places to begin our search is Martin guitars, but with such a long history, their range of acoustics is huge!
We are going to be taking a look at one of our favorite acoustics, the Martin 000-18 guitar, whilst also weighing up the differences between other popular Martin guitars such as the 000-28 and the D-18.
We'll be investigating all of the specifications, pros, and cons of each of these guitars throughout this article, so read on to find out our take on these Martin acoustics!
> Click here to see our list of the best Martin guitars
Overview
The Martin 000-18 is a six-string acoustic guitar that has a unique focus on providing the luxurious tones of a large acoustic whilst compacting this power into a comfortable acoustic with a small-bodied Auditorium build.
The body combines a spruce top with solid mahogany back wood to provide a truly premium overall build with a mesmerizing tone.
Furthermore, the high-quality woods increase the longevity of the guitar tenfold, ensuring the tonal balance remains consistent over years of use.
If the hybrid body wasn't enough, the Martin 000-18 also features a low-oval neck profile complimented by the Performing Artist taper, making it slim and easy on your hand to contribute to the overall comfort of this acoustic.
Specifications
Body shape: Auditorium
Color: Natural
Finish: Gloss with Aging Toner
Top Wood: Solid Sitka Spruce
Back & Sides Wood: Solid Genuine Mahogany
Neck Wood: Select Hardwood
Body Bracing: X Scalloped
Binding: Tortoise Brown
Number of Frets: 20
Scale Length: 24.9″
Strings: Lifespan 2.0 92/8 Phosphor Bronze .012-.054
Body Length: 19.37″
Body Width: 15″
Body Depth: 4.12″
How It Sounds
The sound produced by the Martin 000-18 has the full-bodied tone projections that you would expect from a large-sized acoustic, despite the Auditorium body.
Some users have even commented that the high projection levels can compete with those of a banjo, and this is a great opportunity for a jam or duel! The warm and rounded tone works with just about any style of guitar playing, offering richness in both low and high frequencies in addition to harmonic resonance.
This tone doesn't just sound great – the balanced nature of it means that it is ideal if you are interested in recording in a studio.
Ian Medows gives a good demonstration of how articulate the 000-18 sounds in the video shown below:
Playability
The auditorium build of the Martin 000-18 offers excellent playability due to its downscaled size from a standard acoustic. Let's be honest – smaller acoustics are just more comfortable to play, but it's hard to find a guitar like the 000-18 that includes this build without compromising on the overall sound.
The playability is further complimented by the low-oval neck profile and the Performing Artist taper, making the neck nice and slim.
This minimizes the amount of strain required to navigate the 20 frets, and we guarantee that your fingers and tendons will be thanking you for this!
Quality
You really cannot beat the quality when it comes to this acoustic – Martin guitars have always used the winning combination of spruce tops and mahogany backs, and it's great to see this tradition continuing on the 000-18.
Not only does this look and feel high quality, but it is also excellent at maintaining its quality over time.
If you're looking for a guitar that will still feel good as new for many years to come, you just can't beat this wood combo!
What Others Are Saying
The vast majority of comments made by Martin 000-18 users are overwhelmingly positive.
The most common point made is the excellent balance of being a comfortable medium-sized acoustic whilst having the projection and tone of a full-sized, a dream hybrid that many crave from their acoustic companions.
People are also raving about the balanced tone of this guitar, making it ideal for professional recording environments just as much as it is a great choice for jams.
It's pretty difficult to find any negative reviews about this guitar, but some users have commented that the high-quality wood and expensive price tag results in repairs becoming pretty unaffordable.
We have one word of advice for these people, and that is to treat your Martin like a newborn baby – it truly does deserve to be protected.
Pros and Cons
PROS 👍
The comfort of a medium-sized acoustic
The projection and quality of a full-sized acoustic
Gorgeous woodwork that will remain high-quality despite aging
Carefully crafted neck to minimize strain and further optimize comfort
CONS 👎
The high-quality build can lead to expensive repairs
Some users have complained that the edges of the frets are sharp and not filed down enough
Martin 000-18 vs 000-28
The main difference between the 18 series and the 28 series Martin is the woodwork. The Martin 000-28 features the same Sitka spruce as the 000-18 but uses East Indian rosewood instead of the hard mahogany.
This ultimately leaves the 000-28 projecting a more complex sound with a more prominent low-end.
This is preferable to many, but it can be overpowering to some, so the preference is split down the middle.
Martin 000-18 vs D-18
Whilst the woodwork of the Martin D-18 is very similar to that of the 000-18, the D-18 is simply a more classic and vintage choice.
The guitar has Dreadnought build shape which results in an even more rich and natural tonality than the 000-18, and the larger body overall produces a tone that is favorable.
They are both pretty stunning guitars and hold a lot in common, but if you're a fan of the chunkier and vintage feel of Dreadnought guitars then the D-18 would be preferable.
Frequently Asked Questions (FAQ)
How much does the Martin 000-18 weigh?
The Martin 000-18 weighs approximately 3 pounds and 14 ounces – slightly under the average for an acoustic and just about right for maximum comfort and portability.
Conclusion
We hope that you have enjoyed this article – you simply cannot beat Martin when it comes to authentic and high-quality acoustic guitars, and the 18 series is a truly excellent homage to the guitar company that has existed for almost 200 years!
With its rich and balanced tones, slightly smaller size, and beautiful spruce and mahogany combo, it truly is a stand-out guitar that competes very well with the 000-28 and the D-18.
However, which of these three you choose is all down to you – it simply comes down to personal preferences.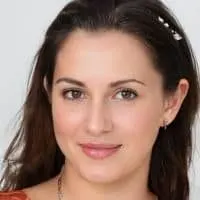 Alexandra loves playing the piano and guitar. She has always been a music lover, but it wasn't until she was in high school that she realized how much she loved to play. It allowed her to express herself without having to be verbally expressive, which is something she found very empowering.