Share on facebook
Share
Share on twitter
Tweet
Share on pinterest
Pin
Some of the best songs to ever grace our ears were composed in front of the piano. While it is true that many modern piano tunes sound rather one-note, you can't deny the accessibility of the instrument.
In this article, I will be listing out ten of the best piano love songs of all time!
1. Make You Feel My Love by Adele
Beginning her career with the release of her debut album, 19, in 2008, Adele has helped shape the modern music industry into what it is today. No other artist had more impact in the 2010s than Adele, whose albums have collectively sold more than 90 million copies.
Of course, in addition to her striking beauty and passionate vocals, Adele's lyricism has played an enormous part in making her one of the world's most famous living artists.
However, for our first pick, we are choosing a cover (by Adele) of a song written by one of the other best-selling artists in the world, Bob Dylan himself. Thanks to her distinctive vocals, you would be forgiven for thinking that "Make You Feel My Love" was always meant for Adele.
2. I'll Never Love Again by Lady Gaga
Speaking of modern-day idols, Lady Gaga has shocked, stunned, and mystified the world with her unique aesthetic sensibilities and distinctive vocal edge. Despite what her detractors may say, one thing about her cannot be debated – she is a damn good singer.
And she is a pretty good actress too. A Star is Born was destined to receive some Oscar buzz from the outset, but no one predicted how good the movie would be.
The film also featured an original soundtrack, prominently featuring Gaga's vocals. And although "Shallow" is a fantastic ballad in its own right, "I'll Never Love Again" is just as worthy of praise and recognition.
3. All I Ask of You by Andrew Lloyd Webber
Who can resist a good musical? Even the most ardent musical haters would be hard-pressed to take issue with The Phantom of the Opera. Its tense storyline and central love affair keep the plot interesting at all times, and the soundtrack (for the movie, of course) helps maintain this momentum.
"All I Ask of You" appears at the end of Act I after a sexually-tense meeting between two of the lead characters. As it befits a play/movie of this caliber, the song is – in a word – operatic.
4. When a Man Loves a Woman by Percy Sledge
Percy Sledge was one of the world's loudest and most soulful voices ever to grace the stage. Although his legacy will withstand the test of time, it is no secret that the 60s and 70s were when Sledge truly hit his stride.
Arguably his most significant hit, "When a Man Loves a Woman," is a soul-fuelled piano love song with an operatic quality that only Sledge could truly capture. However, many cover versions have been released over the years.
5. Is That Alright? by Lady Gaga
A Star is Born set the standard for modern-day piano ballads. Lady Gaga simply cannot help but turn in one outstanding vocal performance after another, even on tracks that may have otherwise been relegated to B-side status.
Of course, "Is That Alright?" is anything but. The song features Gaga delivering genuine emotion and power, giving the song a Broadway-like quality. Although no one could ever replace Lady Gaga, do not be surprised if Adele covers this track down the line.
6. A Thousand Miles by Vanessa Carlton
Although the name "Vanessa Carlton" is rarely heard today, there was once a time when everyone in the industry perked their ears up when the name was tossed around. In truth, Vanessa Carlton never quite managed to live up to her full potential, which she had in spades.
With that being said, Carlton's debut single "A Thousand Miles" set a strong precedent for the young singer's listeners. Everyone was on board the Carlton cruise, but that ship – as they say – had sailed.
7. My Immortal by Evanescence
Ah, who could forget Evanescence? Though they are far from the heights they once enjoyed as a fledgling rock band straight out of Arkansas, their name alone is still enough to command respect.
The band exploded onto the scene with two spectacular singles, one of which was "My Immortal," a song that has become ingrained into the American psyche.
8. All of Me by John Legend
Although his particular brand of soulful RnB may not be to everyone's tastes, there is no denying that John Legend is one solid guy. Like all celebrities, there are bound to be a couple of skeletons in his closet, but Legend is regarded as one of the nicest dudes of all time and one helluva singer.
"All of Me" is a piano banger of a song, emotionally-charged and lyrically-powerful. The song earns extra points for being dedicated to his wife, Chrissy Teigen. When it comes to piano love songs, this is definitely one you want in your repertoire.
9. Shape of You by Ed Sheeran
Ed Sheeran has reached a level of meme few artists can hope – or would hope – to achieve. The British redhead is the gift that keeps on giving.
"Shape of You" is probably Sheeran's best-known jam, and perhaps we could all do with a little less of it. However, the piano version is well worth a look.
10. How Long Will I Love You by Ellie Goulding
Like many other artists featured on this list, Ellie Goulding is a household name. While overexposure can lead to a lack of enthusiasm in the listener, Goulding has remained a stalwart figure in English pop.
"How Long Will I Love You" is a cover of a song previously recorded by The Waterboys. Still, Goulding's version stands on its own thanks to her impressive vocals and the catchy piano instrumentation.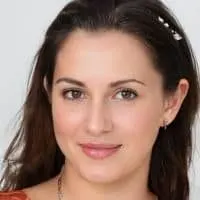 Alexandra loves playing the piano and guitar. She has always been a music lover, but it wasn't until she was in high school that she realized how much she loved to play. It allowed her to express herself without having to be verbally expressive, which is something she found very empowering.