[amazon box="B004BZU4OW" template="horizontal" description_items="4″]
In this article, I am going to be reviewing the Rogue RA-090, which is probably the best acoustic guitar you can buy for under $100. The laminated spruce top of this dreadnaught guitar provides a balanced sound and good projection.
Read on to find out more about its technical specs, sound, playability, and build quality. You will also learn how the RA-090 compares to the RD80 and if it is worth buying. I shall also mention the model's pros and cons and summarize the most exciting user feedback.
Overview
Honestly, this is the first time I've reviewed an acoustic guitar for less than $100. GuitarCenter sells this model for $89.99, to be exact.
This super-affordable instrument is just perfect for guys who want to check out if guitar playing is their cup of tea.
Dreadnaught design, spruce top (although laminated), whitewood body without a cutaway, and C-shaped beck made from Nato wood: RA-090 has what it takes to stand its ground in the treacherous world of cheap acoustic guitars.
Specifications
Body
Body Design: Dreadnought
Top material: solid Sitka spruce
Back & Sides: Body: Whitewood
Strings
Number of strings: 6
String Material: Steel
Neck
Neck design: C-shape
Neck material: Nato wood
Radius: 16″
Fretboard
Number of Frets: 20
Scale Length: 25-3/8″
Fretboard material: Painted maple
Nut & Bridge
Nut Width: 1-2/3″
Bridge material: Painted maple
Nut material: Plastic
Other
Covered nickel tuners
Cutaway: No
Case: Not included
How It Sounds
The sound is OK – bright and crisp with a well-defined middle range. However, the guitar is missing out on bass and high/low end. On the whole, the tone is a bit shallow, although the sustain is good. I could not see any X-bracing, scalloped or not, inside hence the shallow sound.
Take a look at the video below if you would like to hear the RA-090 in action:
Playability
The white dot inlay and the C-shape design of the guitar's neck are supposed to increase its playability. Yet, these are offset by the lack of a cutaway which hampers access to the upper frets.
The RA-090 will cope reasonably well with country and folk playing. It's suitable for casual strumming, but that's about all this acoustic guitar can offer, I am afraid.
Build Quality
Nothing exceptional here, guys. Amazon says the top is made of laminated spruce, but I am not sure about that. More likely, the top's made from laminated whitewood, hence the guitar's unimpressive sound.
As the Rogue RA-090 sits among the top 5 acoustic guitars for less than $100, it's not surprising that its bridge, nut, and saddle are plastic. You can find cheap nickel tuners on the headstock that may sustain the right intonation with a bit of fidgeting. It seems the price tag of about $70 does not allow for any binding.
What Others Are Saying
A guitar teacher reviewing the RA-090 on YouTube says it does an excellent job for its super affordable price. Apparently, it allows him to teach the basics of unplugged playing.
A reviewer on Amazon says that you should give the guitar a day or two to get used to the microclimate in your home. The need for acclimatization is linked to the quality of the materials used to make this guitar.
The strings and the frets are pretty durable, so you probably won't have to replace them for a year or so.
On the whole, it's got 4.4 out of 5 stars on Amazon, which speaks quite well of Rogue RA-090.
Pros and Cons
PROS 👍
Mega affordable
The sound is pretty decent
The build quality is also reasonable
CONS 👎
The body is made of cheap tonewood
No X bracing
No cutaway
Rogue RA-090 vs. RD80
Let's highlight some key points of comparison between the Rogue RA-090 and its sibling, the Rogue RD80.
Sound
From what I could hear on YouTube, the RD80 sounds a notch better than RA-090. The tone is fuller, and I could hear a bit more bass and less buzz.
Price
The better sound of the RD80 can be explained by its higher retail price of about $110 at GuitarCenter.
Playability
Both the RA-090 and RD80 are full-size dreadnought acoustic guitars without a cutaway, which makes them a bit bulky to handle. The RD80 weighs just 5.1 pounds, whereas the RA-090's weight is 5.5 pounds. So, the RD80 wins the playability round by 0.4 pounds.
Build Quality
Both models feature whitewood tops, although some RA-090's have laminated spruce ones. While the RA-090's bridge is plastic, the one of the RD80 is made from Sonokelin wood, which has been used by Asian guitar makers for over a century now.
It appears that the mainstream nickel tuners of the RA-090 do a better job than that of the RD80. The low tuning knobs of the latter are likely to go dead in just a couple of months. Fortunately, they are easily replaceable.
The RD80 has a white binding along its neck and body, but I don't think it makes any difference in terms of durability.
Final Verdict
On the whole, both the RD80 and RA-090 are entry-level acoustic guitars, but I give the RD80 a slight advantage because it sounds better.
Frequently Asked Questions (FAQ's)
Before you decide whether to risk your $70 or not, let me answer a couple of questions about Rogue acoustic guitars.
Are Rogue guitars any good?
Rogue guitars are designed in South Korea and manufactured in China. They are incredibly affordable and are intended for complete beginners. Unless you can afford anything better, Rogue guitars are good to start with.
Is the Rogue RA-090 a good guitar?
The Rogue RA-090 is suitable for some joyful jamming by the campfire or casual strumming in the living room. There's an audio jack on it, so you can attach a preamp if you need to play on stage.
Conclusion
The RA-090 is a nice cheap acoustic guitar to have fun with. The hardware isn't great, but the original strings are pretty durable.
You may have to replace some parts over time, but I don't think it will be worth the time and money. if your Rogue RA-090 breaks, just buy something better.
I appreciate you for coming to check out my review on the Rogue RA-090.
Are you an owner of the RA-090? Let me know what you think about this guitar and whether or not you agree or disagree with my review.
Until next time!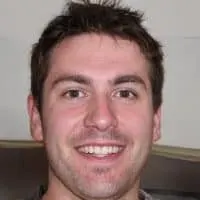 Alex is a man of many talents. He's been playing music since he was young, and has been the main content writer at Tone Start for the past few years. Alex loves to play around with different styles of music and enjoys listening to anything from country to classical.