Rock band Linkin Park exploded onto the music scene in the year 2000 with the release of their album Hybrid Theory. Best known for their award-winning hits "In The End" and "Crawling," the band has a string of emotional hits that will have you feeling quite emotional.
Grab a tissue and your dog for moral support, and enjoy this list of possibly the most heartbreaking Linkin Park songs ever to exist.
So without further ado, here is my list of the saddest Linkin Park songs of all time!
1. Shadow of the Day
Dealing with the raw emotion that comes with losing a loved one is difficult to process. Linkin Park captures this emotion in their 2007 song "Shadow of the Day." Released on the album Minutes to Midnight, the song has a somber, almost eerie tone that will hit you right in the feels.
"Shadow of the Day" takes the top spot on this list. Give it a listen today, and see just why Linkin Park is one of the biggest bands to come out of the 2000s.
2. My December
Touring might seem like a great life. New cities, new people, and being able to share your music with the world. But, as their song "My December" reveals, life on the road isn't all it's cracked up to be.
Released on the album Hybrid Theory in 2000, "My December" is a look at the dark side of being away from your home, family, and friends. With feelings of loneliness, and solitude creeping in, the band gives us an inside look at what being famous is really like.
3. One More Light
Linkin Park released "One More Light" in 2017 on the band's album of the same name. The song takes a look at the emotions associated with losing a loved one. Dealing with grief can leave you feeling isolated, but "One More Light" is a song that everyone who has lost someone can relate to.
Let your emotions flow as you add "One More Light" to your song list. Remember to grab the tissues because this one is sure to tug at your heartstrings.
4. Leave Out All the Rest
Reflecting on our past is something we all do. It's usually when things aren't going well that we take stock of our life so far and question where it went wrong and how to make sure we made a difference.
"Leave Out All the Rest," released in 2007 on the album Minutes to Midnight, is a great song that tackles this reflection. Pop this one onto your playlist as you, too, reflect on your life, focusing on the good things you have done and ignoring the rest.
5. Robot Boy
"Robot Boy" is one of those songs you will want to listen to on repeat. Taken from the 2010 album A Thousand Suns, the song is about keeping emotions bottled up and feeling like nothing and no one can help you escape the pain.
This song is so poignant after the suicide of lead singer Chester Bennington and is a reminder to check in on our friends often because we never know what they might be going through. Blast this incredible track as loud as you can, and rock out to Linkin Park's "Robot Boy."
6. Valentine's Day
Being separated from or losing a loved one can leave you feeling lonely, especially on days like Valentine's Day. This heartbreaking song, recorded in 2007, is a love song with a difference as it touches on the emotions associated with that feeling of loneliness.
"Valentine's Day" was released on the album Minutes to Midnight and is possibly one of the best tracks on this list. Add it to yours today, and experience a heartbreak like no other.
7. Powerless
Being in love with a self-destructive person can leave you feeling hopeless as you try to help them and give them your all. But when they don't do the same in return, it can be devastating.
Linkin Park's 2012 song "Powerless" is a song about just this feeling and was taken off the Living Things album. The song has a somber tone but makes for easy listening. Definitely give this one a listen, and you, too, can reminisce about your lost love.
8. Nobody Can Save Me
"Nobody Can Save Me" is one of those songs that will break you. Singing what could be interpreted as a suicide note, the band shares the story of someone who feels like there is no escape from depression and has reached the end of their tether.
The song was recorded in 2017 for the album One More Light and takes a deeper look at the feelings of depression and darkness that we all feel from time to time. "Nobody Can Save Me" comes in at number eight on my list, so give it a listen and feel the raw emotion that only Linkin Park can invoke.
9. Easier to Run
Running away from the menagerie of your problems rather than facing them often seems like a good idea, but it is one of the worst things you can do. Not only does it open you up to more hurt and pain, but it can also create even more problems.
Released in 2003 on the Meteora album, "Easier to Run" is a song that we can all relate to as we try to escape the bad things in life. Take inspiration from Linkin Park and face your issues head-on.
10. Iridescent
Taking us to the end of my Saddest Linkin Park Songs list is the 2010 song "Iridescent." Released on the album A Thousand Suns, the song is for those who are going through tough times.
Life is not always sunshine and roses, and this song will remind us that we should never let ourselves be crushed or blinded by the hurt and pain that so many go through in life.
Add "Iridescent" to your playlist today, and experience Linkin Park at its best.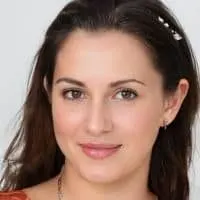 Alexandra loves playing the piano and guitar. She has always been a music lover, but it wasn't until she was in high school that she realized how much she loved to play. It allowed her to express herself without having to be verbally expressive, which is something she found very empowering.