Share on facebook
Share
Share on twitter
Tweet
Share on pinterest
Pin
TikTok is a video-sharing platform that has been an excellent marketing tool for musicians of all types for a few years now. At first, it was purely videos going viral, and the song attached to it would go viral because of it.
Now that marketers and musicians alike have caught on, it's become one of the most valuable social media platforms for music creators. The app has also introduced millions of people to their new favorite track.
So without further ado, here is my list of the ten saddest TikTok songs of all time!
1. Surrender by Natalie Taylor
Being paired with many viral videos on the platform, Natalie gained a lot of attention from her song "Surrender" being used on the platform. Aside from that, the overall quality of the music is cherishable, and it offers many beautiful sonic attributes.
The record does an excellent job at building emotion and can really tap into your feelings. Nowadays, the song is on many new fan's playlists, and many comments online think this falls in the category of saddest TikTok songs you're bound to come across.
2. You Were Good To Me by Jeremy Zucker & Chelsea Cutler
Carried by a powerful message, "You Were Good To Me" comes with a melancholy piano with plenty of sadness in the vocals. The track has a lot of empty space and lets each note ring out to its fullest.
The record goes through many different waves, and although the lyrics hold a sad tone, it's a touching song nonetheless. TikTok videos that go viral are generally highly relatable, and this song's content had something to do with its popularity on the platform.
3. Before You Go by Lewis Capaldi
Aside from the fact that this song has gained popularity on TikTok, it was already a quality record on its own. "Before You Go" is top-notch work from Lewis, and many fans love the strength his voice exudes.
With the lyrics' relatable qualities and the heartwarming instrumentation, it's clear why the song has been used so many times on the social media app. If you like powerful vocals with an even stronger chorus, then you should definitely give this song a listen.
4. Say Something by A Great Big World & Christina Aguilera
A record that delivers a ton of raw emotion, "Say Something" has many timeless qualities that give the song tons of replay value. Supporting vocals from Christina Aguilera make it all the better while complimenting the overall dynamics.
It delivers an excellent heartfelt message, and many people have used this song for tons of relatable videos. Even though this song came out in the early 2010s, it can now be deemed one of the saddest TikTok songs on the platform.
5. To Build A Home by The Cinematic Orchestra
I'd personally deem this one of the saddest TikTok songs on this list by far, as the song brings imagery of dealing with love and having to accept that one day that person may be gone. It's a challenging song to get through, but the production quality is beyond gorgeous, and it's worth a full listen.
It's a great song to share with someone or even reflect on alone every once in a while. It's clear that "To Build A Home" is a timeless record that will never decrease in value.
6. Can We Kiss Forever? by Kina (Feat. Adriana Proenza)
This record offers an airy and melancholic production that uses modern percussion and synth elements. The vocals are relaxed, and I feel they're structured to complement the instrumental more than anything.
The audio of this song is so relaxing that it wouldn't need any vocals to have the same effect. "Can We Kiss Forever" has been going around TikTok for quite some time and will continue to pop up on viral videos as the song is easy on the ears.
7. Losin Control by Russ
An independent artist that has spent years curating his own sound and building a loyal fan base, Russ is multi-talented and has a decent vocal range that tends to impress. He also produces many of his own songs, curating their sound to fit his style.
"Losin Control" is entirely relaxing with minimal production elements, and Russ's vocals give a very natural tone. The melody is relatively simple but rides throughout the song as a soft synth pad, and the lyrical content hits home for many listeners and is one of the reasons the song went viral.
8. Keep Your Head Up Princess Anson Seabra
Anson produced a beautiful record with "Keep Your Head Up," and due to the relatable vocals, it quickly became one of the saddest songs you'll hear on a consistent basis through TikTok videos. Aside from his lyrics, the piano hits just right and doesn't come off too forceful or sharp.
These types of songs resonate with many different individuals from all walks of life, and Anson has gained many new fans from the song's popularity on the social media platform. If you haven't heard the record yet, treat yourself to the creative direction Anson has to offer.
9. Dancing On My Own by Calum Scott
Providing an inspirational yet sad tone, "Dancing On My Own" speaks on feelings of loneliness and lost love, both of which are very common for many individuals. Although the song has a dreary feel, there's also a level of comfort and warmth that comes to the dynamics progression.
Calum Scott's vocals are full of strength, and the production value got the reverberation just right. It's not overbearing, yet at the same time, it gives off a live venue sound for a more authentic approach.
10. This City by Sam Fischer
Sam Fischer blends sonics flawlessly with the lightly struck guitar chords with a blend of pop and slow jam elements. The record leaves all the room for Sam to carry the melodies, and all of the instrumentation is there to support the message.
An excellent song for reflection, and many consider this record to hold up with the rest of the saddest TikTok songs that have been buzzing lately. Offering many shareable qualities, Sam Fischer did extremely well making a song that would resonate with people all over the world.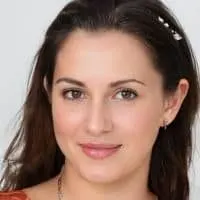 Alexandra loves playing the piano and guitar. She has always been a music lover, but it wasn't until she was in high school that she realized how much she loved to play. It allowed her to express herself without having to be verbally expressive, which is something she found very empowering.