Share on facebook
Share
Share on twitter
Tweet
Share on pinterest
Pin
Boobs. All women have them, and all men love them. Boobs can sell anything from toothpaste to hamburgers, and just a quick internet search can lead you to hundreds and hundreds of songs about boobs.
While most of these were written for fun and comedy, others are proper bangers about the glorious mounds on a woman's chest.
So without further ado, here is a list of my favorite songs about boobs!
1. Drop 'Em Out by Wheeler Walker, Jr.
With over 9 million views on YouTube, Drop' Em Out is a song about appreciating all forms of boobs and the bodies they belong to. Referring to them as boobs, titties, and more, Wheeler Walker. Jr released Drop' Em Out in 2016, and the song instantly became a hit amongst men everywhere.
For catchy lyrics paired with a fun country tune, Drop 'Em Out is a fun song that will get you and those around you laughing.
2. Show Them To Me by Rodney Carrington
From what sounds like a country love song, this laugh-a-minute song from Rodney Carrington speaks of boobs being the solution to all of the world's problems. In a plea to save the world, Carrington begs the female population to show him their breasts.
While we are not sure if this was written in jest or not, it will bring a smile to your lady's face when she hears the romantic tune paired with hilarious lyrics. Just a tip, though, you should not play this song on a first date or around her family.
3. Put 'Em On The Glass by Sir Mix-a-Lot
From the musical genius who brought us "I Like Big Butts" comes another catchy rap song that will stick with you for days to come. Put 'Em On The Glass is a song about, yep, you guessed it, BOOBS.
Perfect for frat parties and college get-togethers, this song will have you singing along and pretending to be a hardcore rapper while singing ridiculous lyrics. Channel your inner Sir Mix-a-Lot and play this at your next get-together.
4. Squeeze Box by The Who
Only The Who can refer to a set of boobs as a Squeeze Box and turn it into a hit. This 1975 song became a favorite amongst young men everywhere as it became "okay" to sing about boobs and not get into trouble.
Your Dad might remember this one, and playing it for him might even see him singing along a few lines. Squeeze Box by The Who is the best song for a flashback that will make him smile.
5. Little T&A by The Rolling Stones
Recently remastered, the 1981 classic by The Rolling Stones had many young rockers singing along to the punk sounds of Little T&A and probably inspired many to get into this genre of music.
With a catchy punk-type tune, Little T&A will get you tapping your feet and humming along to a song that you probably didn't even know existed. Please give it a listen and add it to your playlist for some old-town punk.
6. Milkshake by Kelis
I don't think anyone can forget this sexy song by Kelis that was released in 2003 as a part of the Tasty album that had women across the world showing their sexiest dance moves at the clubs. Referring to her body as a milkshake, Kelis sings about how hers is better than anyone else's and attracts the most men.
While we are not sure if we would want men lining up in our yards for our milkshakes, it is a sexy take on a song about a woman's body that will have you dancing in no time.
7. Night Moves by Bob Seger and the Silver Bullet Band
Another country-rock song about a beautiful woman, Night Moves by Bob Seger and the Silver Bullet Band, is a foot-tapper of note. While describing the beauty of a black-haired woman, Seger sings about his affair with her and the "night moves" that would make him a man.
This song makes it onto our playlist for its upbeat melody and Seger's soothing voice that makes us all swoon.
8. (I Want a Woman With) Big Titties by Black Oak Arkansas
For a heavier, almost metal song about boobs, we bring you Big Titties by Black Oak Arkansas from 1986. Like so many songs written about breasts, this song focuses on the want and need that the singer has for a woman with large breasts rather than small ones.
Again, we are not sure if this song was written in jest or was recorded as a musical piece, but the fact remains that it's a fun song with some excellent guitar work. Please give it a listen and try to fight the urge to sing along.
9. Brush Your Tits by Mondo Ray
Garage punk was all the rage not too long ago, and this song by Mondo Ray is an excellent example of garage punk at its finest, even if the song is about boobs. The tune is incredible, and the lyrics will have you thinking back to young love and the excitement of seeing your first pair of boobs.
Play this for your lady-love and see if she enjoys it as much as we did. Hopefully, the fun tune of the song will distract her from the real subject matter.
10. The Boob Fairy by Four Bitchin' Babes
Ah, finally, a song about boobs sung by a woman! Originally written and performed by Deidre Flint, the Four Bitchin' Babes have done The Boob Fairy great justice and kept that unique sound that Flint was known for.
This is one of the songs that almost every woman can relate to growing up. It tells the story of the boob fairy skipping the singer's house and how she longed for a pair of long knockers. For a fun tune that will get you singing, enjoy The Boob Fairy in all its musical glory.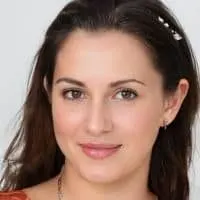 Alexandra loves playing the piano and guitar. She has always been a music lover, but it wasn't until she was in high school that she realized how much she loved to play. It allowed her to express herself without having to be verbally expressive, which is something she found very empowering.