Share on facebook
Share
Share on twitter
Tweet
Share on pinterest
Pin
doesn't let go, and there's nothing you can do but ride the wave of emotion.
And what better thing to do when you're falling in love than to listen to music?
So, in this article, I'm going to take you through some of the best songs about falling in love at first sight!
1. Love At First Sight by Kylie Minogue
How could I not start off this list with this track? Kylie Minogue is known for her electronic dance music, and "Love At First Sight" incorporates all the things we've come to know and love about her music.
The track is fairly simple but features a groovy backing track and Kylie's signature vocals. The whole song invites you to get up and dance, and you won't be able to help to indulge in the feeling of falling in love at first sight. This song is definitely worth the listen!
2. Call Me Maybe by Carly Rae Jepsen
"Call Me Maybe" is one of Carly Rae Jepsen's most popular tracks, if not the most popular song she's ever released. It's extremely catchy, fun, and easy to sing along to, and you'll find yourself humming the tune over and over after you listen to this track for the first time.
The chorus is punctuated with string hits that give the song a joyous feel, while the verses are a little more pensive but definitely still upbeat and uplifting. This is one of the best songs about falling in love at first sight for sure.
3. Get Together by Madonna
Madonna has often been called the Queen of Pop, and it's clear to see why. She's known for her catchy tunes and dance tracks, and "Get Together" really puts her talent on display – it's a song that makes you want to get up and dance the night away with your crush.
Madonna's vocals really take the forefront here, with a simple melody that allows you to pay attention to the clever lyrics. The chorus is incredibly catchy and so fun to dance to that you'll be jiving around your room at 2 AM.
4. I Knew I Loved You by Savage Garden
If you're a fan of folky rock n roll with a hint of the early 2000s, then you're going to love "I Knew I Loved You" by Savage Garden the moment you start listening to it – pun intended. This is the perfect song for old souls.
It features a simple melody and haunting vocals that make this a fun song to sing along to. It's one of my favorite songs about falling in love at first sight for sure.
5. She Will Be Loved by Maroon 5
Maroon 5 is one of the most successful pop groups in the world, and that's largely thanks to their ability to write hits. So many of their songs play on the radio for weeks after their release, and that's a testament to the band's incredible songwriting.
"She Will Be Loved" is one of their most famous numbers, featuring an incredibly catchy chorus, impressive vocals, and an epic backing track. You'll be dancing to this song for days and humming its tune non-stop after listening.
6. Love at First Sight by Michael Bublé
While "Love at First Sight" might not be Michael's most popular song, it's definitely one of his best, in my opinion, and truly showcases his rich, impressive, soulful vocals. It's a simple track featuring mostly piano accompaniment that allows Bublé's voice to really shine through.
He has an almost Frank Sinatra-like tone, underscored by the jazzy backing track that heavily features a saxophone section and a piano that sings through. It's one of the best songs about falling in love at first sight for sure.
7. Love Story by Taylor Swift
You knew that a Taylor Swift song was coming. She's one of the best songwriters of her generation, known for her ability to incorporate storytelling into her music, and she's also incredibly talented at writing love songs.
"Love Story" is exactly what it says on the tin. It's a song about falling in love for the first time. While it has somewhat of a melancholic undertone, it's still euphoric and the perfect soundtrack to fall in love to.
8. Say You Won't Let Go by James Arthur
James Arthur is an incredibly talented singer and puts his vocals on full display on this simple track. "Say You Won't Let Go" is a pretty song about falling in love, and the clean acoustic guitar accompaniment allows you to pay close attention to the lyrics, which really tug at the heartstrings when you start to pay attention to them.
9. Deja Vu by J.Cole
It might surprise you to see a J.Cole song on this list, but "Deja Vu" is actually a great love song.
It features the signature rapping style by Cole, with lyrics that reflect the feeling of wanting to protect and even die for someone while also highlighting the doubt that sometimes arises when we first fall in love with someone.
10. You Had Me From Hello by Kenny Chesney
And finally, I have to end off with perhaps my favorite song about falling in love at first sight – "You Had Me From Hello" by Kenny Chesney. It's a country track through and through, and it features Kenny's signature haunting vocals.
The song is simple and pretty, with a simple chord progression, beautiful, singable melody, and epic chorus. If you're a country fan, I strongly suggest giving this song a listen.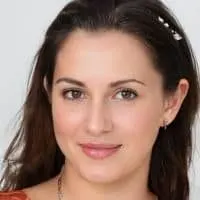 Alexandra loves playing the piano and guitar. She has always been a music lover, but it wasn't until she was in high school that she realized how much she loved to play. It allowed her to express herself without having to be verbally expressive, which is something she found very empowering.