Share on facebook
Share
Share on twitter
Tweet
Share on pinterest
Pin
Love. It's beautiful, complex, tragic, and at the center of pretty much everything we do. While we often think only good things when we think of love, sometimes it gets messy – but it doesn't get messier than love triangles.
If you've ever been in a love triangle, you've come to the right place.
In this article, I will introduce you to some of the best songs about love triangles to add to your playlist right now.
1. Love Triangle by RaeLynn
Starting us off is a track for all the country fans out there. If you've never heard any of RaeLynn's music before, I'm sorry to tell you that you haven't lived – she's an incredible songwriter with one of the most beautiful voices in country music.
"Love Triangle" is a pretty self-explanatory track. In it, RaeLynn sings about how easy it is to fall into a love triangle and how you envy those who seem to be able to find the right one without even trying. It's one of my favorite songs about love triangles for sure.
2. august by Taylor Swift
You should expect a profoundly sad song when you see Taylor Swift's name in any of my posts. "august" is absolutely one of her most emotional tracks, though its meaning might not be totally obvious upon first listening.
With its beautiful chords, ethereal vocals, and stunning harmonies, Taylor uses "august" to sing about enjoying a love that you know can't last because the person you're with will never indeed be yours. Make sure you've got tissues at the ready before listening to this track.
3. Jessie's Girl by Rick Springfield
Don't be fooled by the peppy intro to "Jessie's Girl" by Rick Springfield – once you pay attention to its lyrics, this is not a song you'll want to dance the night away to. Rick Springfield has an incredible way with words, and this talent is reflected in this song.
Rick sings about feeling envious of the love that another couple has. It's a widespread emotion that we've all been through at some point or another, making this one of the more universally-relatable songs on this list.
4. ghostin' by Ariana Grande
Ariana Grande is known for her sassy hip-hop style, but ghostin' is one of her more emotional tracks. She uses this song to show off her vocal prowess and creative songwriting abilities, with its enjoyable, simple backing track that allows her voice to take center stage.
In "ghostin," Ariana sings about being the one to end the love triangle and how it's a near-impossible decision to make. It's one of the best songs about love triangles out there and is criminally underrated, in my opinion!
5. Betty by Taylor Swift
In "Betty," Taylor takes us on a nostalgia trip back to her country days, with a classic harmonica intro, simple chord progression, and lyrical melody guaranteed to get stuck in your head. She sings in her signature whispy vocals, tugging at the heartstrings with every line.
"Betty" is a song about being the 3rd person in a love triangle. It describes the pain of feeling like you're the backup choice, second best. It's a Taylor Swift song, which is incredibly emotionally charged.
6. cardigan by Taylor Swift
At this point, are you even surprised that I include a third Taylor Swift song on this list? Cardigan is one of the most popular songs that Taylor has released in recent years, and it's clear why – it's simply incredible.
"cardigan" is one of my favorite songs about love triangles for several reasons. It features a haunting chord progression, delicate vocals in Taylor's lower register, and lyrics that hit home for anyone that has felt like the other girl.
7. She Will Be Loved by Maroon 5
Maroon 5 is known for releasing hit after hit, with countless songs from their discography featured on the radio over the last ten years. They just know how to write a good song, and "She Will Be Loved" is a testament to this talent.
It's super catchy after listening to it and will definitely be stuck in your head for a few days. In "She Will Be Loved," Adam Lavigne sings about the feeling of being used for emotional support, then discarded, which is something I think a lot of us can relate to.
8. Same Girl by R. Kelly (feat. Usher)
For classic R&B fans, "Same Girl" by R. Kelly will hit all the right spots. It features Usher and cleverly uses this feature to convey its message of two men being in love with the same woman – but this genius is to be expected from R. Kelly.
With its groovy beat, downtempo feel, and clever lyrics, "Same Girl" is one of my favorite songs about love triangles at the moment. It's a great track worth checking out if you've never heard it before.
9. The Other Woman by Lana Del Rey
Lana Del Rey is known for her signature musical style and old Hollywood aesthetic, and she took the world by storm with her debut album. "The Other Woman" is off of her Ultraviolence album and showcases Lana's sultry, lamenting vocals.
It sounds like it's straight from a movie starring Audrey Hepburn and is absolutely one of the most beautiful songs the singer has ever released. If you've never heard "The Other Woman" before, what are you waiting for!
10. The Other Girl by Kelsea Ballerini
And finally, we end off with "The Other Girl" by Kelsea Ballerini, which, while its title is similar to the previous track, is a far cry from Lana Del Rey's "The Other Woman." It's got a more poppy, upbeat sound but is not a celebratory track.
It's a song about an unfaithful lover and how difficult it can be to confront their infidelity. "The Other Girl" is definitely one of my favorite songs about love triangles.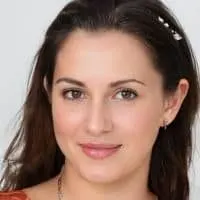 Alexandra loves playing the piano and guitar. She has always been a music lover, but it wasn't until she was in high school that she realized how much she loved to play. It allowed her to express herself without having to be verbally expressive, which is something she found very empowering.