Share on facebook
Share
Share on twitter
Tweet
Share on pinterest
Pin
We've all been there. Sometimes, you and your partner just don't work out, and you're forced to break things off, but it's impossible to make those intense feelings disappear. You need time to process, and sometimes, you'll still be in love with that person, even months after your breakup.
If that sounds like your experience right now, then you've come to the right place.
In this article, I want to take you through some of the best songs to listen to when you just can't get over your ex – at least, not right now.
1. Goodbye My Lover by James Blunt
James Blunt is known for his rich, haunting vocals, and he puts them on full display in "Goodbye My Lover". He lets his vocals float above a simple backing track, consisting mostly of a delicate piano that serves as the perfect base for this number.
In my opinion, this is one of the best songs to listen to when you're still in love with your ex. It perfectly encapsulates that feeling of yearning and emptiness we feel when we lose who we thought was The One.
2. Someone Like You by Adele
There's a reason why "Someone Like You" is one of Adele's most popular songs that she's ever released. It's quite simple, easy to sing, and incredibly catchy – the world was humming this song for months after its release.
The simple piano accompaniment allows Adele's vocals to really shine through on this track, in which she sings about hoping to be able to find someone to replace the love that she lost. It's super relatable if you've ever been a part of a breakup that you didn't want to have to go through.
3. Every Breath You Take by The Police
This iconic song by The Police perfectly sums up how it feels when you aren't able to move on from your ex. You just want to be with them always and might even consider taking desperate measures to do so. "Every Breath You Take" is one of the best songs to listen to when you're still in love with your ex, for sure.
In it, the band sings about wanting to stay with your ex-lover even though you know you shouldn't. It's really catchy and almost feels uplifting – until you examine the deeper meaning, of course.
4. It Must Have Been Love by Roxette
If you're a fan of the rock genre and are going through a tough breakup, "It Must Have Been Love" by Roxette is the perfect track for you. The singer puts her impressive vocals on full display with this track, which happens to be extremely catchy.
It's one of the most popular songs that Roxette has ever released, and it's clear to see why. It's simple, powerful, and highly relatable and will have you humming its tune for days after listening.
5. Heartbreak Warfare by John Mayer
"Heartbreak Warfare" is definitely going to confuse your emotions! It's a groovy, funky track that has some incredible instrumentation and a fantastic rhythm, but John Mayer is hardly singing about anything happy.
If you're ever in the mood to have a breakdown and dance at the same time, then I strongly suggest listening to "Heartbreak Warfare" by John Mayer.
6. The Scientist by Coldplay
If you recognize the name Coldplay, then you already know that this is going to be one of the most heartbreaking songs you've ever heard. Coldplay is known for their beautiful tracks, simple instrumentation, and incredible lyricism, and "The Scientist" is no different.
This is definitely one of the best songs to listen to when you still love your ex but be prepared for the waterworks to kick into action – it's definitely going to tug on your heartstrings. And if you feel like you want to cry, then let yourself cry!
7. Somebody That I Used To Know by Gotye (Feat. Kimbra)
Gotye will forever be known as the 'one-hit wonder', but damn, his one hit was certainly wonderful. "Somebody That I Used To Know", which features the beautiful vocals of Kimbra, is a track that you can almost dance to.
But it really hits home if you've ever been through a difficult breakup. It's actually one of my favorite songs, and I highly recommend you check it out.
8. The One That Got Away by Katy Perry
You might not think of sad love songs when you think of Katy Perry, but "The One That Got Away" is really a tragic story disguised behind a joyous backing track.
In it, Katy sings about having to let someone go when you feel like you just can't, with her powerful signature vocals and upbeat music.
9. Don't Forget About Us by Mariah Carey
It's easy to see why Mariah Carey is considered one of the best voices of her generation. She has total control over her vocals, an awe-inspiring range, and a pure talent when it comes to writing and composing songs.
Why do you think "All I Want For Christmas" is such a hit? But we're here to talk about "Don't Forget About Us", which features that classic Mariah R&B sound that brings you right back to the 90s while also tugging at the heartstrings.
10. Back to December by Taylor Swift
And lastly, we have "Back to December" by Taylor Swift – an artist renowned for her haunting vocals and tragic stories within her songs. This track showcases Taylor's signature singing style and lyricism, in which she sings about the difficulties of slowly losing the one you love.
The instrumentation is really simple here – a basic acoustic guitar, easy chord progression, and simple melody. However, the singer does include a beautiful cello in the verses that gives this track a unique emotional charge.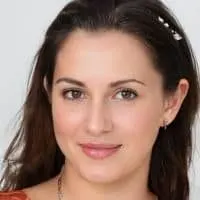 Alexandra loves playing the piano and guitar. She has always been a music lover, but it wasn't until she was in high school that she realized how much she loved to play. It allowed her to express herself without having to be verbally expressive, which is something she found very empowering.