Share on facebook
Share
Share on twitter
Tweet
Share on pinterest
Pin
Whether you've just had a break-up, are struggling at school, or have had a bad week at work, it can be difficult to shake that feeling of depression. Fortunately, music can be a way to get your groove back.
There are some great tracks out there that can bring a smile to your face and help you to feel a little more upbeat.
So, here are my picks for the 10 best songs to listen to when you're depressed!
1. Hold Me While You Wait – Lewis Capaldi
"Hold Me While You Wait" is a great break-up song, if you feel like you still have feelings for your ex and don't want them to leave. You may be feeling down because you know your relationship isn't working and you don't want it to end.
Lewis Capaldi's soulful sound perfectly captures how this situation feels and helps you to feel that you're not alone.
2. Be Alright – Dean Lewis
"Be Alright" is the perfect song if your lover has done you wrong and you're feeling depressed about walking away. While the lyrics acknowledge why you're feeling depressed, the overall tone of the song is perfectly expressed by the title.
This song allows you to feel down about the situation, but gives you the confidence that you'll "be alright."
3. Hold On – Chord Overstreet
If you're sinking into despair and feel like there is nothing positive left in your life, "Hold On" is the perfect song to listen to. It highlights the grief and sadness that is left behind when someone is close to suicide.
While not the most upbeat of songs to listen to when you're depressed, it can help you to realize that you have people in your life who love and need you.
4. Tell Me That You Love Me – James Smith
"Tell Me That You Love Me" is a bittersweet song that is a lovely breakup anthem. It allows you to picture telling your ex all the things you loved about them and that you still care, even if you're not meant to be together.
Even if you're depressed because you're not in that place, the song allows you to remember the good times that you shared with your ex.
5. Someone To Stay – Vancouver Sleep Clinic
"Someone To Stay" is a soulful song that lets you know that you're not alone. The lyrics beautifully express that while you may feel alone, there are others who understand what you're going through.
If you're looking for the best songs to listen to when you're depressed, the lyrics and melody of the beautiful "Someone To Stay" can help you see a light at the end of the tunnel.
6. 3:00 AM – Finding Hope
If you manage to keep a smile on your face throughout the day, only for the loneliness and sadness to hit you in the middle of the night "3.00 AM" is one of the best songs for you.
The band's name says it all and the lyrics of this slow-paced and melodic song will help you to find hope. The lyrics perfectly capture the loneliness of not being able to be with the person you love.
7. A Drop in the Ocean – Ron Pope
"A Drop in the Ocean" has a raw intensity that really expresses that others appreciate the pain that you're feeling. Even if you're not fully submerged in the lyrics, the piano melody is heartbreakingly beautiful.
This song is a great choice for your playlist if you're feeling depressed about a one-sided relationship.
Whether you're down because your love is unreciprocated or that the other person is taking more from you without a commitment, the lyrics wonderfully express how you're feeling.
8. Moral of the Story – Ashe
"Moral of the Story" is a great breakup song if you've left a toxic relationship. You may be feeling a little down and foolish about falling in love with the wrong person or finding that you didn't know them as well as you thought. The lyrics of this song perfectly express that you're not alone.
Ashe perfectly expresses that it's okay to make mistakes and you'll be alright in the end. She even features some of the age-old tropes and says that they may be rubbish, but it's fine to believe "it is better to have loved and lost" while you repair your heart.
9. Can't Help Falling In Love – Kina Grannis
"Can't Help Falling in Love" by Kina Grannis is a wonderful acoustic cover of the Elvis Presley song. Kina's voice is achingly beautiful and soulful, making it a lovely choice if you're feeling blue.
Whether you're feeling down because you've been rejected by a crush or you have strong feelings for someone who doesn't seem to know you exist, the lyrics of this song will resonate with you.
"Can't Help Falling in Love" is a moving song that you may recognize from various movies and television shows. If you want a song that will encourage that lump in your throat and allow you to have a really good cry, this is perfect.
10. Still Don't Know My Name – Labrinth
"Still Don't Know My Name" is a powerful song that is a great playlist choice if you are feeling down because your special someone just doesn't seem to get you. If you've just had an argument and you can't seem to agree because your partner doesn't really understand, this song will appeal to you.
While the lyrics are powerful, the funky melody will automatically start to make you feel a little better and brighter. You may even find that your foot is tapping along with the beat, even if you've decided to retreat under the covers to hide from the world.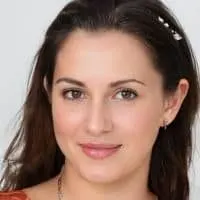 Alexandra loves playing the piano and guitar. She has always been a music lover, but it wasn't until she was in high school that she realized how much she loved to play. It allowed her to express herself without having to be verbally expressive, which is something she found very empowering.