Share on facebook
Share
Share on twitter
Tweet
Share on pinterest
Pin
The use of animal names in music may be used more-so as a metaphor or a play on words, but that also has made some records highly memorable. Some of the most outstanding records over the last few decades have had an animal in the title.
From legends like Lynyrd Skynyrd to more modern artists such as the Foo Fighters, you'd be surprised at how many incredible songs share a similarity in song titles.
So without further ado, here is my list of the 10 best songs with animals in the title!
1. Eye of the Tiger by Survivor
Taking the top spot, and rightfully so, "Eye of the Tiger" will be played for decades to come. Its signature intro is unmistakable, and the song has been used in every form of media you can possibly think of.
With its rousing nature, Survivor wrote an anthem whether they knew it or not. Aside from the excellent production quality, the classic-sounding vocals are full of passion, and it's hard not to get into the record the moment it starts.
2. Free Bird by Lynyrd Skynyrd
A tune riddled with emotion, Lynyrd Skynyrd released a multi-generational classic with "Free Bird." It's so well known that you could play this song anywhere, and you'll find someone chiming into the lyrics.
Not only was it very culturally relevant at the time, but the lyrics also speak on a topic that a lot of listeners can relate to. Lastly, the guitar melodies and riffs simply can't be ignored as they evolve throughout the track as your ear catches every note.
3. Hound Dog by Elvis Presley
There's a reason why Elvis Presley was the king of pop; not only did he introduce many new and controversial styles in music, but he also caused a riot with each live performance. "Hound Dog" is a danceable tune that will always be considered full of timeless qualities and a staple of Elvis's career.
Although the song may have garnered many critics at the time, the record was another step in the direction of what pop music came to be. Aside from the societal nuances of the time, it's a total jam with excellent replay value.
4. Hungry Like the Wolf by Duran Duran
Encompassing the bop-driven sound of the 80s, Duran Duran gave us a feel-good jam that never gets old. The tempo and contrast between the beat and the vocals complement each other well.
This can be considered one of the best songs with animals in the title due to its impact on pop culture and mainstream media. "Hungry Like the Wolf" won't get lost in history any time soon, and it's a whole vibe that any generation can appreciate.
5. War Pigs by Black Sabbath
Black Sabbath knows how to paint a picture with their storytelling between raw vocals and cinematic instrumentation. "War Pigs" has a few anxiety-inducing elements, but you can also feel the pain and frustration at the same time.
With a unique intro, they prepare listeners for a storm of a record. Possibly one of the best songs with animals in the title, Black Sabbath, didn't hold back on the intensity from start to finish.
6. Who Let the Dogs Out by Baha Men
Known for its fun energy and undeniably catchy hook, "Who Let the Dogs Out" was released in 2000 and has been stuck in everyone's heads ever since. Entering the 2000s with a bang, Baha Men had one of the catchiest records at the time.
The song invaded every cd player, commercial, boom box, and movie for years to come. Not only do the lyrics have marketable qualities, but it brings an infectious and simply fun vibe that gets a hold of anyone.
7. What's New Pussycat? by Tom Jones
Offering a style from a bygone era, Tom Jones made a record that stuck and came with many catchy qualities, from the tempo to the very memorable chorus. Moreover, it's easy to enjoy the classic sound the record provides, and all of the live instrumentation sounds crisp as ever.
The song is old enough to come from an era where a lot of the slang used is entirely obsolete now. Nevertheless, whether you're a fan of Tom Jones or not, you've more than likely heard the hook in your life at some point.
8. Crocodile Rock by Elton John
It can't be argued that Elton John's talent and musical range seem to be endless, and he knows exactly how to create a journey with his songs. His piano work never disappoints, and "Crocodile" is up there with the best songs with animals in the title, without a doubt.
His voice and uptempo take on the record fill your brain with good feelings while keeping your foot tapping to the beat. Being the universally loved artist that he is, Elton John gave us another bop to play for the rest of our lives with "Crocodile."
9. Tiger by ABBA
I'd say this song has the catchiest melodies out of any song on this list, and the layered chorus-like vocals bring all of the qualities that make you want to sing along. The drums offer an excellent surfer-pop sound that keeps your head nodding from beginning to end.
"Tiger" is one of ABBA's most memorable records due to its virality at the time and its highly danceable nuances that are perfect for any party. Although the song came out years ago, its production value still holds strong today and should only be played at max volume.
10. Monkey Wrench by The Foo Fighters
With plenty of intense energy, "Monkey Wrench" was a show killer for the Foo Fighters when it first came out. It has a great blend of hard rock and pop-punk elements that seem to trade off throughout the track.
The band has created many generational hits that will surely be around for many more years, and this one is a personal favorite by far. From their album The Colour and the Shape, "Monkey Wrench" went on to be a fan favorite from their discography with many others the band is known for.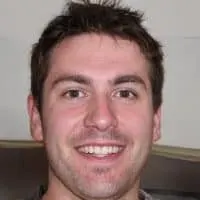 Alex is a man of many talents. He's been playing music since he was young, and has been the main content writer at Tone Start for the past few years. Alex loves to play around with different styles of music and enjoys listening to anything from country to classical.