Choosing a brand new guitar can often prove to be an overwhelming task. The market is packed with a wide range of guitars and it can be hard to find the best value for money. In a crowded field, the Taylor Academy 12e stands out as one of the best guitars out there.
It is quite natural for you to think that a Taylor guitar will be out of your price range, given their premium quality. The Taylor Academy 12e, however, is one of their most affordable guitars while still having exceptional tone and playability.
The Taylor Academy 12e is one of the newer models out there with completely new designs and an equally modern purpose. We were impressed by its qualities and in this review, we're going to show you why.
Overview
While not being one of their premium guitars, the 12e is still going to be a significant investment for many. For the price you pay, you get a sound that is very rich with a neck that is silky smooth, making it extremely playable. It's great for those starting out while still being suitable as a practice guitar for intermediate and expert players.
The Taylor Academy 12e has been designed with a solid sitka spruce top that has the build quality you'd expect. The back and sides of the guitar are also laminated with layered sapele and overall it has a smooth and attractive matte-varnish-like finish.
It's a fairly plain guitar in terms of its style but comes with an armrest bevel and a grand concert body. It also has a brilliant pickup for those that want to plug in their acoustic. Read on as we take a closer look at its key features.
Specifications
Scale Length: 24-7/8 inch
Bracing: Academy Series
Number of Strings: 6
Back Material: Layered Sapele
Body Material: Sapele
Fretboard Material: Ebony
Top Material: Maple
Neck Material Type: Maple
Guitar Bridge System: Hardtail Bridge
Number of Frets: 20
Body Length: 19 ½ inches
Body Depth: 4 3/8 inch
Nut and Saddle: Nubone Nut/Micarta Saddle
How It Sounds
When you start playing the Taylor Academy 12e, you'll instantly be impressed with the sound. The guitar itself isn't flashy but with the rich tones, it doesn't need to be. You may want to adjust the setup to your own needs but once you do, the sound is close to most expensive Taylors. You also don't lose that quality if you plug it in.
The top is made of solid spruce and the back and sides made of sapele help the guitar offer a vibrant and more balanced tone. You will feel that the sound from the guitar is slightly bright and filled with warmth. It is not too distorted or loud. The volume is more than appropriate with great nuances at low volumes and superior projection.
Here is a fantastic video that demonstrates just how good the 12e sounds:
Playability
When you first look at the Taylor Academy 12e, the first thing that attracts your attention isn't the decorative elements or the vibrant colors. It is the armrest. It is the lower bout that is normally found on some of the most expensive models. It helps to accommodate guitar players who tend to rest their picking arm on the top of the guitar. This lets them enjoy more comfort and playability.
You will automatically feel the slim profile of the guitar's neck the moment you hold it. The neck is made in such a way that it offers a more enhanced and smoother hand feel. This feel is generally preferred by beginners.
This list of features means that you can play fast with no issues at all. This allows you to progress from beginner to intermediate level with ease. It also means that expert players won't feel restricted. It's a guitar everyone can enjoy.
Quality
When you decide to buy Taylor's guitar, you naturally expect nothing but quality. With the Taylor Academy 12e, that's exactly what you get. The instrument comes with an ebony fretboard and a shorter scale. This makes it very easy for you to move your hands up and down the fretboard.
Even though this guitar is a non-cutaway model, the neck is pretty smooth. This makes it very simple for you to access the upper-register frets. However, this might demand some amount of practice from you.
The tuning machines are made of chrome that makes them quite reliable and decent when it comes to keeping the strings in the right tune. Even if you decide to play the guitar for longer hours, the strings will stay in tune. This makes it a delight for beginners.
The ES-B pickup is also impressive. With many electric acoustics, you lose a lot of the warmth and tone when played through an amp. With the 12e, though, we thought that any quality loss was minimal and it makes it great for those starting out playing live.
What Others Are Saying
Users have universally liked the Taylor Academy 12e with some saying that it is much more than what they had expected it to be. Most of the customers fell in love with the instrument the moment they started playing it.
Most comment on just how comfortable it is to play. This can be especially true of those who can struggle with larger guitars. The sound quality also comes in for constant praise, which is obviously the most important feature.
There is no doubt that for a guitar at this price range, Taylor has packed in several useful features. Once you start playing the guitar, you will understand that you made a great investment.
Pros and Cons
PROS 👍
Easy to play with small hands
Comfortable arm rest
Bright, warms and rich sound
Versatility with electric functionality
Outstanding build quality
High-quality materials
ES-B pickup with digital tuner
CONS 👎
Taylor Academy 12e Vs GS Mini
Both the Taylor Academy 12e and the GS Mini come with great features. As the name suggests, the Mini is marginally smaller in size and is great for those looking for something more compact. However, if you are looking for a guitar that lets you play easily, offers a very good tone, and is extremely comfortable to use, then Academy 12e is the guitar for you.
To see our in-depth review on the GS Mini click here.
Taylor Academy 12e Vs 10e
Both the Taylor Academy 12e and 10E will feel quite similar to each other in terms of playability. However, the 10E is a dreadnought. It's a quite big guitar that offers terrific volume but can be a little difficult to play. The 12e comes in a Grand Concert size which, while smaller, is still able to deliver a big sound. The best one for you depends on which size you're more comfortable with.
Conclusion
The Academy 12e is a very impressive guitar. The sound that you get from it is beautiful and you won't have any issues learning how to play it. You also get the extra functionality that comes from its ES-B pickup which includes a digital tuner.
If the 12e fits within your price range then it's going to be a brilliant option for you. This is especially true if you're going to be most comfortable with the Grand Concert body. It's a brilliant guitar and one that you'd have no regrets about buying.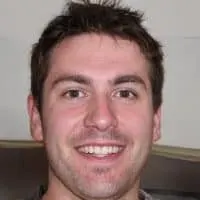 Alex is a man of many talents. He's been playing music since he was young, and has been the main content writer at Tone Start for the past few years. Alex loves to play around with different styles of music and enjoys listening to anything from country to classical.