Taylor GS Mini Mahogany GS Mini Acoustic Guitar , Sapele, Mahogany Top
"Body Body type: Taylor Grand Symphony Mini Cutaway: No Top wood: Solid Mahogany Back & sides: Layered Sapele Bracing pattern: GS Mini With Relief Rout Body finish: Matte 2.0 Orientation: Right-handed Neck Neck shape: Taylor GS Mini Profile Nut width: 1-11/16"" (42.8mm) Fingerboard: Genuine African Ebony Neck wood: Sapele Scale length: 23-1/2"" Number of frets: 20 Neck finish: Matte 2.0 Electronics"
"There's something undeniably inviting about the Taylor GS Mini's scaled-down size, yet a single strum reveals the impressive voice of a full-size guitar
Taylor GS Mini is an acoustic guitar that packs a lot of sound in a compact design. This is the mini version of Taylor's Grand Symphonic (GS) model. As such, it features the same bass depth and tone richness. Read on to find out more about its design, playability, and sound.
I shall also compare the GS Mini to Big Baby Taylor (BBT) and answer some interesting questions such as who plays this compact guitar and if it's suitable for beginners.
Overview
Small as the Taylor GS Mini is, it isn't cheap. Selling at about $500, it shows some serious potential in terms of build quality and sound.
This acoustic guitar comes with two essential accessories: a special soundhole pickup called ES-Go (implying that it is easy to install) and a 1/4-inch cable with built-in volume control.
Technical Specs
Body
Body design: Grand Symphony
Finish: Satin
Soundhole: 3-ring
Cutaway: No
Purfling: Black/White/Black
Material:
Back/Sides: Layered Sapele
Top: Solid Sitka Spruce
Dimensions
Length: 17-5/8″
Width: 14-3/8″
Depth: 4-7/16″
Strings
Number of strings: 6
Strings: Elixir Medium Gauge Strings with NANOWEB Coating
Bridge
Bridge material: Ebony
Bridge Pins: Plastic
Neck
Headstock Overlay: Lexan
Neck material: Sapele
Scale Length: 23-1/2″
Nut and Saddle
Nut Width: 1-11/16″
Nut material: Tusq
Saddle material: Micarta
Fretboard
Fretboard material: Ebony
Number of Frets: 20
Inlays: 5mm dots
Pickguard and Tuners
Tuners material: Chrome
Pickguard: Tortoise (GS Mini design)
Accessories
ES-Go soundhole pickup
Taylor V-Cable
Other
Overall Length: 36-5/8″
Case: GS Mini Hardbag
How It Sounds
The GS Mini's deep body makes it sound like a full-size dreadnaught guitar. It responds equally well to gentle fingerpicking and hard strumming.
Strum it softly, and your Mini will produce a warm and clear midrange tone with bright trebles and full bass. The notes are crisp and clear, and the melody is articulated on all strings.
The low action may not suit most aggressive guitarists. I've noticed that the bass begins to break up during hard strumming. So, the GS Mini isn't very suitable for bluegrass jamming. However, it copes reasonably well with small band playing and solos.
The sharp tone raises bass runs above ringing chords, while long notes will hold for as long as you need them. On the whole, Taylor GS mini is best loved for its balanced, even tone and full bass.
Check out this video if you want to hear a sound demonstration of the GS Mini Mahogany:
Playability
The Taylor GS Mini acoustic guitar is designed with comfort in mind. With a 23.5-inch scale, this model falls somewhere between the Baby and Big Baby in size and makes open chords easy to reach.
The body is just 143/8 inches wide, so you can play while sitting down on a chair without having to hunch over. At the same time, GS Mini's body is an inch deeper than the Baby's, so it feels like a full-sized dreadnaught in your lap.
Build Quality
Compared to the standard Taylor GS, the Mini version is 3.38 inches shorter, while the scale has been shortened by approximately 2 inches.
As to its solid top, the GS Mini comes in two versions: Sitka spruce and tropical mahogany. The mahogany version may be less responsive than the Sitka top version, yet its tone is more focused and its fundamentals – more prominent.
The laminated back and sides are made of layered Sapele wood. The lack of binding means that the edges are susceptible to some wear and tear over time. The lack of a cutaway presents certain challenges to upper register fingerpicking.
What Others Are Saying
With more than 60 user opinions on Sweetwater.com, Taylor GS Mini is a well-reviewed instrument. Smaller-framed users say it's given them the comfort they've always wanted.
Elderly guitar players with stiffer fingers will appreciate the easy action. To sum up, all reviews, let's say that the GS Mini shows a vast improvement over the Babies from Taylor and even challenges the brand's high-end models.
Pros and Cons
PROS 👍
Quickly transforms into an electric acoustic guitar
Compact design suitable for playing in limited space
Supreme build quality
CONS 👎
Taylor GS Mini vs. Big Baby
Size
Being a 15/16 Size Dreadnought, The Big Baby is a bit larger than the GS Mini.
Sound
The GS-Mini's tone is richer and fuller than that of the Big Baby. Yet, the latter instrument lends itself better to a wide variety of ranges and playing styles.
Build Quality
Both guitars are built equally well. One tiny difference I could spot is that GS Mini's neck is made of Sapele wood, while the neck of the Big Baby is made of maple wood.
Playability
Compared to the GS-Mini, the Big Baby feels more like a regular-size guitar. Apart from that, both guitars are equally comfortable to play.
Taylor GS Mini FAQ
Is Taylor GS Mini An Electric Acoustic Guitar?
I already mentioned the ES-GO and the V-Cable, so I got confused when the guys from Sweetwater listed it as a no electronics guitar.
This is because the ES-GO passive magnetic soundhole pickup is installed separately with a screwdriver.
ES-GO Installation
First, you should loosen or remove the strings to access the soundhole. You've already noticed the pre-drilled hole in the tail end. Remove the screws and fit the jack through the hole.
Align the holes and use the screws to fix it in place. Search inside your GS Mini for the special connecting bracket and secure the 8-inch plug to the side.
Finally, you should plug in the pickup and secure it to the receiver inside. At this point, you can reinstall or tighten the strings and tune the guitar. Use the V cable to connect the pickup to your mike.
Is The Taylor GS Mini Worth The Money?
Taylor GS Mini scores very high in terms of sound, build quality, and playability. So, it's worth every cent you're going to pay for it.
For more reviews check out our section on the latest acoustic guitars.
Is The Taylor GS Mini Discontinued?
The GS Mini by Taylor is a series of acoustic guitars. The production of some models, such as the Koa and the Blackwood, has been discontinued. However, Taylor can also add some new models to its GS Mini series in the future.
Who Plays The Taylor GS Mini?
Styx's frontman Tommy Shaw is one of the staunchest followers of the series.
"It intonates great all the way up and down the neck and has a nice tone. I would play this on stage. I would record with this guitar," he says.
Is The Taylor GS Mini Good For Beginners?
Because of its compact size, rich tone, and build quality, it is perfect for beginners. With some practice, they will learn to put the electronics on and off as needed.
What Size Is Taylor GS Mini?
The Taylor GS Mini is 17.6 inches long, 14.37 inches wide, and 4.44 inches deep.
Conclusion
The Taylor GS Mini is a small guitar with a big heart. If you put the electronics on, you can easily pull off a big hall performance. Without it, the guitar is perfect for some on-the-couch strumming in the living room.
The lack of a cutaway and the laminated back and sides are among the few drawbacks of the GS Mini series. Yet, the neck feels natural, and the sound is surprisingly loud.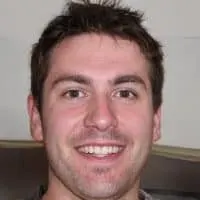 Alex is a man of many talents. He's been playing music since he was young, and has been the main content writer at Tone Start for the past few years. Alex loves to play around with different styles of music and enjoys listening to anything from country to classical.