Today, I will be reviewing the Yamaha F335 – a dreadnought acoustic guitar in the sub-$200 price range. While testing it, I was surprised at the value that this instrument offers for its comfortable retail price of just under $160.
After briefly outlining Yamaha F335's sound, build quality, and playability, I shall compare it to the FG800, which is probably Yamaha's best-loved acoustic guitar.
Happy reading!
Overview
As an entry-level acoustic guitar, Yamaha F335 features meranti back and sides and a laminated spruce top.
It sells in three color patterns with a gloss finish: black, tobacco brown, sunburst, and natural.
The tortoiseshell pickguard gives the guitar a vintage look, and the die-cast gold tuners are pretty reliable. The fingerboard and the bridge are made of rosewood, but the nut and the saddle are plastic.
Specifications
Body
Body Shape: Dreadnought
Top Material: Laminated spruce
Back & Sides Material: Meranti
Body Finish: Gloss
Fingerboard
Number of frets: 20
Scale Length: 20 inches
Fingerboard Material: Rosewood
Bridge Material: Rosewood
Pickguard: Tortoiseshell
Fingerboard Finish: Gloss
Strings
Number of Strings: 6
Strings Type: 80/20 Bronze
Strings gauge .053 to .012
Nut & Saddle
Nut Width: 1 11/16″
Nut Material: Plastic
Saddle Material: Plastic
Other
Tuners: Gold die-cast
Case: No
Electronics: No
How It Sounds
As soon as I set the action at the right height, the Yamaha F335 that I received to test sounded pretty loud with a prominent mid-range.
The tone is OK for some country and folk jingling on the couch, but you'll need more accuracy and subtlety for a serious on-stage gig.
True, there is some resonance, but the mediocre quality of the tonewood has taken its toll on this characteristic of Yamaha F335's sound.
Playability
I am a big guy, and playing my Yamaha F335 was easy. However, I wouldn't recommend the guitar to children or small-framed fingerpickers, as its dreadnaught size would undoubtedly present some challenges to them. I mentioned above that the original strings might be a bit harsh to your fingers at first, but they are super easy to replace.
I can't say the same for the action and the truss rod. Both offered heroic resistance while I was trying to set them in the correct position.
Build Quality
Let's just say Yamaha F335's manufacturing quality does not surpass its affordable price. As I said above, the frets needed some filing, the strings – some tuning, and the adjustable truss rod isn't very responsive.
My test guitar did not have any excess glue around the neck joint, and I could feel any rough sections on its back and sides either.
What Others Are Saying
Most Yamaha F335 owners praise its clear and loud tone and affordable price. You can see that the company's designers have given this guitar a vintage look.
However, users say the guitar would be much more comfortable to play if the action was a bit lower. Lowering the test guitar's action was the first thing I did after unboxing it.
Most Amazon buyers complain of manufacturing or shipment defects, but the guitar I got to test did not have any.
I must admit that the frets needed some filing, the fifth in particular, and the strings were not very forgiving to my callous fingers. However, both issues can be expected from a cheap acoustic guitar.
Pros and Cons
Let's round up the strong points and the shortcomings of the Yamaha F335.
PROS 👍
Good value for money
A clear and loud tone
It's a well-built instrument
CONS 👎
Limited tone projection
Tuners need frequent adjustment
Tone accuracy isn't great
Yamaha F335 vs. FG800
Against the Iconic FG800, Yamaha F335 could offer little resistance, but let's look into the details.
Tone Quality
Both guitars are dreadnaughts, but FG800's solid spruce top accounts for a better sound projection, while the scalloped X-bracing inside makes the guitar even louder.
FG800's heart-melting leads and joyful riffs make it suitable for concerts and club gigs. In a nutshell, FG800 wins the sound contest by a wide margin.
Playability
While test playing the two guitars side by side, I fancied how FG800's slim tapered neck glides through the fretting hand. Also, the preset D'Addario, .012-.053 string was far more forgiving to my fingers than that of the F335.
And while both guitars are dreadnaughts, FG800's is more compact and fits better on my hip while I was playing on a chair in my studio. After the playability round, the score is now 2-0 for the FG800.
Build Quality
The Yamaha FG800 is a better-built instrument. Not only does it have a solid spruce top, but its tuners are far more reliable, and its neck – much smoother and suitable for fast strumming. In terms of build quality, FG800 is probably Yamaha's best-built acoustic guitar.
Price
Yamaha FG800 sells for $220 on Sweetwater.com, which makes it the more expensive guitar. Come to think of it, for just $60 over F335's price, you get a much better tone and build quality.
Frequently Asked Questions (FAQ's)
Here are the answers to four of the hottest questions about Yamaha F335.
Is the Yamaha F335 a Good Guitar?
The Yamaha F335 is one of the best guitars you can buy for about $150.
Is the Yamaha F335 a Full-Size Guitar?
Yes, the Yamaha F335 is a full-size dreadnought acoustic guitar.
How Big is the Yamaha F335 Acoustic Guitar?
The Yamaha F335 is 40.5 inches long and 16.2 inches wide.
Does the Yamaha F335 Have a Truss Rod?
Yes, the Yamaha F335 has an adjustable truss rod.
Conclusion
I hope you enjoyed my Yamaha F335 review!
On the whole, Yamaha F335 is an excellent entry-level acoustic guitar that you can buy even on a tight budget.
The only red flag I noticed is that its chief retailer is Guitarcenter.com. I would prefer if Yamaha.com were the top seller.
I assume the Yamaha F335 is probably assembled in China, the Philippines, or other places where labor is cheap and quality control is relaxed.
Anyway, if you need a guitar for your summer vacation only, then go ahead and order a Yamaha F335 from Amazon. Let's hope that it will arrive in time and without any issues.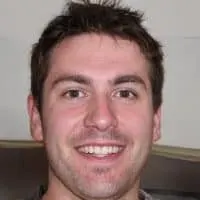 Alex is a man of many talents. He's been playing music since he was young, and has been the main content writer at Tone Start for the past few years. Alex loves to play around with different styles of music and enjoys listening to anything from country to classical.