Sale
Yes, OK, it hasn't been easy to find out that the F in this model's name stand's for "first guitar" and D stands for dreadnought, I suppose.
So, I will be reviewing a super-affordable dreadnought acoustic guitar of surprisingly good build quality. The FD01S by Yamaha proves that affordability does not come at the expense of playability and sound.
Along the way, I will compare this acoustic guitar to two of its closest rivals: the versatile FG 800 and the equally affordable F335.
Overview
Yamaha has long traditions in making affordable and reliable acoustic guitars, and the FD01S makes no exception. It's got a solid spruce top that's rarely found on guitars for less than $200.
The guitar's back and sides are made of laminated Nato wood, an affordable replacement for .mahogany. Yet, it provides enough tone sustain without unnecessary boom.
Being a six-string dreadnought guitar without a cutaway, the FD01S may be too big for some fingerpickers, but they will quickly get used to the instrument's dimensions.
Specifications
Body
Body Design: Dreadnought
Top Material: Solid Spruce
Back Material: Laminated Nato Wood
Side Material: Laminated Nato Wood
Body Length: 19 15/16″
Body Width: 15 3/4″
Body Depth: 3 15/16″ – 4 15/16″
Body Finish: Gloss
Body Binding: Black + White
Neck
Scale Length: 25 1/4″
Total Length: 40 3/8″
Neck Material: Nato
Neck Finish: Gloss
Nut / Bridge / Saddle
Nut Width:1 11/16"
Nut Material: Urea
Bridge Material: Rosewood
Saddle Material: Urea
Bridge Pins: White ABS with Black Dot
Strings
String Spacing: 11.0mm
Number of Strings: 6
Strings Type: .012/.016/.025/.033/.043/.052
Fingerboard
Fingerboard Material: Rosewood
Fingerboard Radius: R 15.748″
Other
Tuners: Die-cast Chrome
Pickguard: Black
Accessories: Hex Wrench
How It Sounds
Two things are essential here: the solid spruce top provides a loud and crisp tone with a well-defined mid-range.
I managed to find out that the FD01S has a scalloped "X" bracing, which enhances tone projection and sustain.
A word of advice: for better on-stage performance, consider lowering the guitar's action by a notch.
The FD01S's sound is not without its flaws. For example, the tone would have been more mellow had the back and sides been made of solid mahogany instead of Nato wood.
Check out Edwin's demo video of the FD01S here:
Playability
The Yamaha FD01S lends itself to hard strumming and gentle fingerpicking with the same ease. The upper frets would be more easily accessible if there were a cutaway, but this isn't a dealbreaker.
Fellow reviewers advise fingerpickers to change the original set of strings with a higher-quality one if you plan to play on stage.
Accessories Pack
For roughly $50 more, you can purchase the FD01S together with an accessories package. It includes the following items:
A spare set of strings
Several picks
Tutorial DVD
Tuner
Gig Bag
Strap
I advise you to opt for the extra package, as all of the above items will significantly enhance your guitar's playability.
Quality
Speaking of the FD01S's quality, I think the quality of the used materials far exceeds the guitar's more than affordable price.
You see, a cheap guitar is cheap because you get what you pay for. Sadly, it's not much. By contrast, an affordable guitar is one whose quality will allow for many years of continuous playing without any significant issues.
I already mentioned the solid spruce top and the back and sides made from Nato wood. Urea-formaldehyde (UF) is used to make the guitar's nut and saddle, which is cheaper than NuBone.
What Others Are Saying
The Yamaha FD01S is amazingly popular. It's got 925 user ratings on Amazon, and 78% of them are five-star. Users like its design, look, feel, and sound. They say the guitar is easy to tune and, once it's been set up, it stays in tune for quite some time.
Pros and Cons
PROS 👍
This starter's guitar provides exceptional value for your money
The sound is consistent with a pleasing projection and sustain
The guitar's easy to tune up
CONS 👎
The tone may fade during band playing
Manufacturing defects have been reported
Yamaha FD01S vs. FG800
I think the FG800 is Yamaha's best acoustic guitar within the $200 budget, but let's highlight some key differences. The head-to-head bout is going to be a thriller.
Sound
Side-by-side playing reveals that FG800's tone is somehow fuller and delivers more bass. The FD01S has a well-defined mid-range, but it sounds a bit shallow to me.
Playability
Both guitars feature a full-sized dreadnought design, but FG800's slimmer neck gives this guitar a slight advantage in the second round.
Price
Although both guitars are designed for beginners, the FG800 is roughly $50 more expensive than the FD01S. At first glance, they are made from the same materials, but I think the FG800's assembly is more robust.
Yamaha FD01S vs. F335
Availability
It appears that the FD01S is no longer in production, so the guitars you'll probably spot online may have some minor flaws like dents and scratches. By contrast, the F335 is sold in three distinct finishes: Natural, Black, and Sunburst.
Build Quality
Just a couple of things to mention. First, the F335's back and sides are made from Meranti – a low-cost timber with limited tonal properties. Nato wood is used to make the FD01S's back and sides. This cheap replacement of mahogany sustains the mid ranges quite well.
Secondly, the FD01S has a plastic bridge, whereas the F335 is made from rosewood. However, the F335's top is made from laminated spruce, while that of the FD01S is made from a single piece of Sitka Spruce.
Sound
With a solid spruce top and back and sides made from Nato wood, the FD01S wins the sound contest against F335.
Final Verdict
The FD01S is made from higher-quality materials and sounds better. However, the F335 wins this match simply because it's widely available.
Conclusion
To sum up, the FD01S is an excellent guitar for beginners. Its build quality allows the guitar to sustain a tone with a well-defined middle range.
The only real issue I see with this acoustic guitar is that it's no longer in production. Thus, you may find online that may have some manufacturing defects.
Thanks for checking out my review on the Yamaha DF01S – catch ya next time!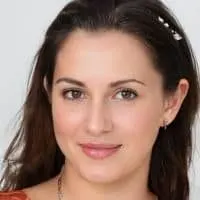 Alexandra loves playing the piano and guitar. She has always been a music lover, but it wasn't until she was in high school that she realized how much she loved to play. It allowed her to express herself without having to be verbally expressive, which is something she found very empowering.