Yamaha FS800 is an incredibly affordable acoustic guitar that is perfect for small unplugged gigs. It lacks some of the subtleties of higher-end guitars in terms of build quality and performance. Yet, offers the best value for your money within the 200-dollar price range.
After looking at its technical specs, playability, and sound, I shall compare Yamaha FS800 to two of its closest rivals – FG800 and Fender CC-60S.
Overview
If you are just making your first steps into the fabulous world of acoustic guitars, Yamaha FS800 is an excellent first choice. Not only is Yamaha FS800 the best guitar you can buy for $200, but it also delivers fantastic sound.
The solid spruce top and the rosewood bridge are well-complemented by a gentle sand-burst finish. The laminate interior of the back is made of a tree called Nato, or Okoume.
Beginners would certainly appreciate the inlaid dots on the fingerboard's sides that help navigation.
Specifications
Here are the basic technical specs of Yamaha FS800:
Strings
Number of strings: 6
String Type: Steel
Strings: D'Addario, .012-.053
Body
Body Shape: Concert
Body Bracing: X-bracing
Color: Natural
Finish: Gloss
Top Wood: Solid Spruce
Back & Sides Wood: Nato/Okoume
Binding: Cream
Neck
Neck Wood: Nato
Neck Shape: Standard
Fingerboard
Number of Frets: 20
Fingerboard Material: Walnut
Fingerboard Inlay: Dots
Bridge Material: Walnut
Nut/Saddle Material: Urea/Urea
Dimensions
Nut Width: 1.6875″
Radius: 15.75″
Scale Length: 25″
Other
Left-/Right-handed: Right-handed
Tuning Machines: Chrome Die-cast
How It Sounds
It is unrealistic to expect a 2,000-dollar sound quality from a 200-dollar acoustic guitar. Yet, the sound is pretty good, as Yamaha has upgraded the bracing inside. The scalloped X-bracing on the top naturally amplifies the volume when you slam on your Yamaha FS800.
The solid spruce top dramatically improves the quality of high and midrange tones, while the crisp high-end copes really well with country and folk pieces.
If you want to hear how the FS800 sounds then check out this video that gives you a good idea of how good it sounds:
Playability
The shallow neck profile provides extra comfort for the player's hand and makes Yamaha FS800 very suitable for smaller-framed players.
FS800 feels very easy on the fingers, while the Nato wood neck and the walnut fingerboard increase its responsiveness.
Quality
Yamaha FS800's build is robust enough to withstand some improper storage or mishandling. Both can be expected from young fingerpickers, who are still learning how to care for their acoustic guitars.
The solid spruce top and the rosewood bridge add solidity and style, but the back's interior is laminate, and the nut is made of plastic, not natural bone.
The tuners replicate the classic Grover Automatic design of the late 1960s, but they are still a cheap replica of the great original. The steel D'Addario strings are not very forgiving to the fingers, so you'll definitely need a pick.
What Others Are Saying
On the whole, Yamaha FS800 enjoys a five-star rating among acoustic guitar fans. Users generally praise its build quality, safe for some roughness on the neck.
Perhaps the highest tribute to Yamaha FS800's performance comes from a user who once played it back-to-back with a Martin guitar and was surprised how well it held up.
Another user praises its focused sound with a sweet mid-range but regrets the lack of more bass.
Pros And Cons
PROS
Excellent value for money
Reasonably well made
Decent quality sound
CONS
Not suitable for big-pawed guys
The third fret lacks a dot
The strap button is missing on the neck
Yamaha FS800 Vs. FG800
Here are the key differences between these the Yamaha FS800 and the Yamaha FG800.
Size
FG stands for "Folk Guitar," while FS indicates "Folk Small." Hence, FG is a bit bulkier than its sibling.
Design
In addition to size, FS800 and FG800 differ in terms of design, as well. FS800 features a typical Grand Concert design. Its smaller body makes it more suitable for concert playing. By contrast, FG 800 showcases a standard Dreadnought body type, which is ideal for strumming.
Sound
As a typical dreadnought acoustic guitar, FG800 is louder than FS800 and more suitable for band playing. On the other hand, FS800 is the better choice for concert solos.
Yamaha FS800 Vs. Fender CC-60S
Now, let's see how Yamaha FS800 stands against Fender CC-60S.
Price
Although both FS800 and CC-60S are excellent for beginners, the latter appears to be slightly more expensive, with retail prices starting from $220.
Design
CC-60S features Fender's 'Easy-to-Play' shape and rolled fingerboard edges. And whereas the "S" in the Yamaha model's name stands for "small," here, it means "solid," indicating that this is a solid-top acoustic guitar.
While FS800 has a spruce top, CC-60S can have a Sitka spruce top or a mahogany top. On the whole, I find Fender's retro design a bit more appealing.
Scale
While Yamaha FS800 features a standard 25-inch scale, Fender boasts a particular 25.3-inch scale.
Sound
The truth is there isn't very much written on the subject of CC-60S's sound. After listening to both guitars on YouTube, I feel that Fender's tone is crisper and clearer. Both models lack bass power, though.
Frequently Asked Questions (FAQ's)
The four questions answered below shed more light on the design and performance of this reliable and affordable acoustic guitar.
Is The Yamaha FS800 A Good Guitar?
Yes, it is an excellent acoustic guitar for beginners.
What Size Is The Yamaha FS800?
FS800 is a typical concert-size acoustic guitar. Its smaller size makes it suitable for playing in cozy country clubs.
What Is The Difference Between A Concert And A Dreadnought Guitar?
Concert guitars are smaller and more responsive, which makes them more suitable for concert playing. On the other hand, Dreadnought guitars are bulkier, louder, and perfect for band playing.
Does The Yamaha FS800 Have A Truss Rod?
A truss rod is present along the neck of Yamaha's FS and FG series alike. Essentially, a truss rod is a metal bar that controls how much the wooden neck bends under the strings' tension.
Conclusion
To sum up, Yamaha FS800 is a reliable and well-made acoustic guitar with a sound quality that exceeds its modest price tag by far.
Easy to play and incredibly responsive, FS800 is an excellent first guitar choice.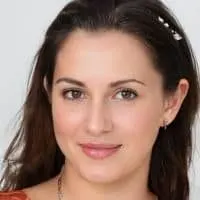 Alexandra loves playing the piano and guitar. She has always been a music lover, but it wasn't until she was in high school that she realized how much she loved to play. It allowed her to express herself without having to be verbally expressive, which is something she found very empowering.