[amazon box="B0002D02IU" template="horizontal" description_items="4″]
Today I will be talking about the Epiphone DR-100. With a price tag of just under $150, this is an entry-level guitar that will help your child take their first steps in the magical world of acoustic fingerpicking.
Read on to find out more about the Epiphone DR-100's technical specs, sound, playability, and build quality. I will also share some first-hand user feedback and show you how this acoustic guitar stands against the Yamaha F310 and the Yamaha FG 800.
Overview
The Epiphone DR-100 is a dreadnaught acoustic guitar with a laminated spruce top and laminated mahogany back and sides.
The Slim Taper-profiled neck is made of processed mahogany, and the fretboard is made of rosewood.
The dovetail neck joint imitates that of a high-end Martin, but the surrounding traces of excessive glue give out its cheaper origin.
[amazon fields="B0002D02IU" image="2″ tracking_id="tonsta-20″ value="thumb" image_size="large" image_align="center" image_width="500″ image_alt="Epiphone DR-100 Acoustic Guitar"]
Technical Specifications
Body
Body Shape: Dreadnought
Cutaway: No
Top: Select Spruce
Back & Sides: Laminated Mahogany
Color: Natural
Finish: Gloss
Neck
Neck Wood: Mahogany
Neck Shape: SlimTaper
Scale Length: 25.5″
Fingerboard
Number of Frets: 20
Fingerboard Material: Rosewood
Fingerboard Inlay: Pearloid Dots
Bridge/Nut/Saddle
Bridge Material: Rosewood
Nut Material: Plastic
Nut Width: 1.69″
Saddle Material: Plastic
Tuners & Strings
Number of Strings: 6
String Type: Steel
Strings: .013-.056
Tuning Machines: Die-cast chrome
How It Sounds
It sounds like a cheap country and folk-music guitar. Its broad dreadnaught body generates enough sound power, but the laminated top and body fail to produce a focused projection.
While test playing the guitar, I hoped to hear some bass and bell-like low end, but my hope was in vain. There was a recurrent buzz on the fifth fret, which I could not eliminate with the dual-action truss rod.
Playability
The Slim Taper neck profile does make playing this guitar a bit less challenging despite its bulky shape. You can adjust the string tension with the truss rod, but the cheap PVC nut and saddle are the main culprits for the guitar's poor tone sustain.
The frets of the guitar needed some filing, and the steel strings made me search for a pick. On the whole, this is a good guitar to play some country songs by the campfire, but nothing more.
Build Quality
I am not impressed with the build quality of this guitar. The instrument's class does not justify the expense you'll make replacing the bridge, the nut, the saddle, and the strings with better ones.
The traces of glue around the test guitar's neck joint were barely noticeable, but I did not expect them to be there at all. The die-cast chrome tuners work well, but the guitar still requires some re-tuning before each session.
[amazon fields="B0002D02IU" image="3″ tracking_id="tonsta-20″ value="thumb" image_size="large" image_align="center" image_width="500″ image_alt="Epiphone DR-100 Acoustic Guitar"]
What Others Are Saying
If you are looking to buy a cheap guitar that is easy to play and sounds OK, you will probably join the 73% of the Amazon users that have given Epiphone DR-100 five stars.
When you are trying to sell something, you'll push all five-star reviews towards the top. So, I can't really blame the Sweetwater guys for presenting the Epiphone DR-100 as a more affordable alternative to Martin D-28.
Unfortunately, this is very far from the truth; as a sub-$150, Epiphone DR-100 has some flaws you should be aware of.
For example, an Amazon reviewer writing under the nickname "Peaceiscoming" shares that the guitar they got had fret wires that stuck out on both sides of the neck. Users also share that the tone lacks depth, with the lows being muddy and the highs – barely audible.
Pros and Cons
PROS 👍
Affordable price
Decent sound
Great first guitar choice
CONS 👎
Manufacturing defects have been reported
The plastic nut and saddle do not provide sufficient tone sustain
Epiphone DR-100 vs. Yamaha F310
Sound
Soundwise, the Yamaha F310's tone is somehow fuller and with a better projection. The low end is warmer, and the high end is crisp and bright. I give my preference to the F310 in this round.
Playability
The strings of the Yamaha F310 are much more forgiving to your fingers than those of Epiphone DR-100. The necks of Yamaha F310 and Epiphone DR-100 are equally comfortable, but the former guitar's action is more responsive. On the whole, Yamaha F310 is more comfortable to play than Epiphone DR-100.
Build Quality
Both guitars feature a laminated spruce top, but the F310's back and sides are crafted from laminated Meranti, which is slightly inferior to Mahogany. I find the Yamaha F310's tuners to be a notch more stable than those of the Epiphone DR-100.
Price
The Yamaha F310 sells for about $214, which makes it slightly more expensive than the Epiphone RD-100.
The problem is that it took me a while to find an online shop that sells the F310. So, the DR-100 easily wins the price & availability round.
Epiphone DR-100 vs. Yamaha FG800
Sound
The FG800's sound may not be as loud as the Epiphone DR-100 because of its smaller body, but its tone is far more accurate and resonant. The better sound quality comes from the FG800's solid spruce top and the scalloped X-bracing inside.
Playability
The necks of both guitars are equally comfortable, but that of the FG800 lends itself better to fast-paced strumming. While testing both instruments side by side, I felt the strings of the FG800 to be somehow more responsive.
Build Quality
The back and sides of both guitars are made of laminated tonewood, but the solid spruce top of the FG800 gives the guitar a slight advantage in this round. Also, I could not notice any manufacturing imperfections on the FG800's neck and body.
Price
The Yamaha FG800 is $70 more expensive than the Epiphone DR-100, but you'll get a lot of value for this slight difference.
Frequently Asked Questions (FAQ)
Does the Epiphone DR-100 have a solid top?
No, it isn't. The top of the Epiphone DR-100 is made of laminated spruce, which makes it more scratch-resistant.
Conclusion
The Epiphone DR-100 is a good entry-level guitar within the sub-$200 price range. It may have some manufacturing imperfections, but they do not affect its sound and playability.
I recommend taking your brand-new DR-100 to your local guitar shop for an initial tuning and setup.
[amazon box="B0002D02IU" template="horizontal" description_items="0″]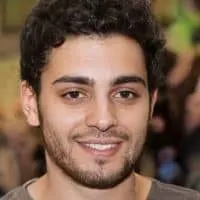 Justin is an audio engineer with years of experience in the field. He has been creating and playing music his entire life, but he really found his passion for engineering when he was introduced to Logic Pro at age 10. Justin has spent countless hours perfecting his craft and now works as a freelance engineer out of Boston, MA.