If you have been following my posts about acoustic guitars, you've probably learned quite a lot about the most famous brands and models in the field.
Now, it's time to plunge into the magical world of electric guitars. My first choice is the Ibanez AX120, a reliable and affordable solid body electric guitar that is easy to play and certainly has got a charm of its own.
Here is my review of the Ibanez AX120 for you to check out.
Happy reading!
Overview
The Ibanez AX120 is probably the best electric guitar you can buy for $200. The combination of a maple neck with a poplar body enriches the instrument's tone and makes it very comfortable to play.
The fingerboard is made of treated New Zealand pine. The pair of Classic Elite humbucking pickups accounts for a warm tone in the neck position and a well-defined mid-range in the bridge.
The electronics package allows the player to control the guitar's volume and tone, while the 3-way toggle switch provides a wide variety of tone customization options.
Specifications
Strings
Number of Strings: 6
Strings Gauge: .010-.046
Body
Type: Solidbody
Shape: AX Doublecut
Material: Poplar
Finish: Gloss Polyester
Color: Metallic Light Blue
Neck
Material: Maple
Shape: AX
Joint Type: Bolt-on
Radius: 12″
Fingerboard
Number of Frets: 22, Medium
Scale Length: 24.7″
Material: Treated New Zealand Pine
Inlay: White Blocks
Nut
Width: 1.692″
Material: Plastic
Bridge & Tuning Keys
Bridge: Full Tune III Bridge with Tailpiece
Tuners: Ibanez machine heads
Electronic Bundle
Neck Pickup: Classic Elite Humbucker
Bridge Pickup: Classic Elite Humbucker
Controls: 2 x volume, 2 x tone
Switching: 3-way toggle pickup switch
How It Sounds
The Ibanez AX120 is known for its rich sound and tone. The two Classic Elite dual humbucking pickups deliver an extensive and surprisingly accurate tonal range.
While playing this guitar, I was surprised to hear how bright and crisp each tone was. The instrument I got has a poplar body, and so its tone sustain is a bit shorter than that of the 2019 version, whose body is made of basswood.
Playability
If I said that the Ibanez AX120 is exceptionally comfortable to play, I'd lie to you. I was unpleasantly surprised to find out that this thing is somehow neck-heavy.
The treated New Zealand pine that the neck's made of isn't perfectly smooth, but the worst thing was that I cut myself badly on the protruding end of the guitar's fifth fret.
On the plus side, beginners may find the white block position markers handy.
Build Quality
My experienced eye quickly spotted some places where the guys from Ibanez have saved a few dollars on quality. First, the nut's a bit too high, and you'll probably need to have it filed down.
To set the action at an appropriate height, you may need to bottom out the bridge or place a shim in the neck pocket. I also wish the tuners weren't that soft and were better aligned. Anyway, the build quality is quite decent for such an affordable instrument.
What Others Are Saying
Quite understandably, retailers promote ecstatic, five-star reviews hailing AX120's loud sound and build quality.
However, as with every affordable electric guitar, the Ibanez AX120 needs extensive preparatory work before you can start playing.
I find Amazon's four-star reviews to be the most useful. Most of them read that the guitar's frets may need some filing and polishing.
The tuning pecks and the electronics package are acceptable for this price point. And one last tip: changing the strings with higher quality ones won't hurt.
Pros and Cons
PROS 👍
Affordable price
Classic design
Good sound quality
Crisp and clear tones
Double-cutaway body design
Multiple sonic options
CONS 👎
Short tone sustain
The guitar is neck-heavy
Tuners are too soft
Fret ends may need some filing
The fretboard is not that smooth
Ibanez AX120 Vs Epiphone SG
Let us now see how Ibanez AX120 stands against Epiphone SG.
Sound
Ibanez AX 120's sound isn't great, but it is consistently good. Something which you can't say about Epiphone SG's. In fact, I came across a Quora title, "How to make your Epiphone SG sound better."
Apparently, solid-state amplifiers like Fender Frontman can't extract the best sound from your Epiphone SG. Try it with the Mesa-Boogie Mk V combo, and you'll hear an immense volume output. Even so, I prefer AX120's consistent and predictable tone.
Playability
While test playing the Ibanez AX 120 and Epiphone SG side by side, I noticed that the latter is somehow more balanced. Also, the 60's SlimTaper D profile of the SG fit my fretting hand like a glove.
The frets of both electric guitars needed some filing, but the initial setup of the Epiphone's action took much less time to complete. In terms of playability, my personal preference goes to the Epiphone SG.
Build Quality
Compared to Ibanez AX120's pine fingerboard, the Epiphone SG is made of solid rosewood. Both guitars have polar bodies, but the neck of the Epiphone's made of Okume, which is a notch below the poplar used to make AX 120's neck.
What I particularly disliked about Epiphone SG's build quality was the paint job. The finish was smooth, but the worn cherry color is inconsistent and leaves plenty of grain and pores along the neck. I think the build quality round is a tie.
Price
Both Ibanez AX120 and Epiphone SG are entry-level guitars that cost around $200. You can use them to learn the basics of plugged-in playing, but I advise you to look around for a better guitar once you get more confidence.
Frequently Asked Questions (FAQ)
Where is the Ibanez AX120 Made?
Ibanez is a Japanese company that has been making electric guitars since 1957. All guitars from the AX series, including the AX120, are made in China.
Conclusion
On the whole, Ibanez AX120 is a good entry-level electric guitar that can be yours for about $200. Although you can upgrade the strings and the electronics, I advise against such an investment.
When you feel you've outgrown this guitar, just buy a mid-priced instrument like the Gretsch G5222 or the Classic Vibe '50s Stratocaster.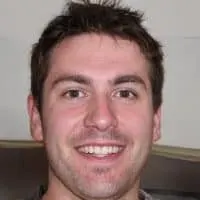 Alex is a man of many talents. He's been playing music since he was young, and has been the main content writer at Tone Start for the past few years. Alex loves to play around with different styles of music and enjoys listening to anything from country to classical.