Share on facebook
Share
Share on twitter
Tweet
Share on pinterest
Pin
Sometimes, you just have an urge to bring a little color into your life. My ranking of songs with purple in the title will give you a sampling of classic rock and pop music through the decades, as I hit on all of the classics that deserve a listen from a true music lover.
So without further ado, here is my list of the best songs with purple in the title!
1. Purple Rain – Prince
Would any ranking of the best songs with purple in the title be complete without Prince's iconic "Purple Rain"? Prince sings a beautiful song about wanting happiness and laughter from a friend whose relationship with him has just ended.
Prince and the Revolution have a hit tune on their hands with the album named after the song, and it has been a cult favorite since its debut in 1984.
2. Purple Haze – The Jimi Hendrix Experience
For those who want a true rock anthem, "Purple Haze" should come near the top of your list. Jimi Hendrix is an amazing guitarist who has incredible riffs that perfectly pair with the music as he sings about "purple haze all around" and how he doesn't know if he is "coming up or down."
Their Are You Experienced album became one of the most well-known rock albums from Hendrix as a result of this classic tune.
3. Deep Purple – Donny and Marie Osmond
Another classic from decades long past, "Deep Purple" by Donny and Marie Osmond is a hit as one of the best songs with purple in the title. They sing together about lovers who meet in their dreams, cleverly referred to as deep purple dreams which are where the title comes from.
This is a beautiful love song while remaining upbeat and positive, even though the lover is gone and is nothing more than a memory at the moment.
4. Purple Heather – Van Morrison
Van Morrison's evocative voice will bring you to the wild mountains where the purple heather blooms all around. He begs his lover to go with him, no matter whether they go to the wild mountain thyme, the foot of the mountain, or a tower he builds for his lover.
"Purple Heather" is another 70s hit that many listeners will already be familiar with when they come to this ranking of the best songs with purple in the title.
5. Pale Purple – Ani DiFranco
Ani DiFranco has a captivating voice that draws you in and keeps you paying attention to her unique singing style. "Pale Purple" isn't an uplifting song as she sings about teenagers getting pregnant, how time can't be bought, and how people want to be distracted.
This song is very much an early 90s in the style of Alanis Morrissette hit in terms of its content and the style in which it is done.
6. Purple People Eater – Sheb Wooley
If you are looking for a fun song that tells a story, "Purple People Eater" is a classic from 1958. It has a catchy tune with its alliteration and the interjection of other people and children through the song.
While it is more fun than some of the songs like Ani DiFranco's "Pale Purple," it is still a great hit that should make it onto your playlist for a day when you need a little cheer.
7. Purple Haze – The Cure
While this song is technically a cover of the Jimi Hendrix track by the same name, it warrants its own spot on the ranking. "Purple Haze" transforms into an alternative rock jam under The Cure's careful guidance, giving it a little bit of a harder edge and more guitar solos (if that's even a thing).
Compare it to the original and add both to your playlist. You won't even notice the similarity in the two tracks apart from the lyrics.
8. Purple Yellow Red and Blue – Portugal, The Man
Portugal, The Man has a great indie hit on their hands with "Purple Yellow Red and Blue." It is all about how he wants to grow up to have a bright future as a movie or TV star because "workin' just don't work for me."
With the desire to "live in ecstasy," this song is all about wanting something that you know you can't have. The indie music in the background will draw you in and make this one of your new favorites.
9. Purple Stain – Red Hot Chili Peppers
From their well-known Californication album, Red Hot Chili Peppers sings about a purple stain with his lover, a reference to a woman's menstrual cycle. However, the edge of this song will have you overlooking the meaning behind the song and draw you in with its clever wordplay.
If you love their usual hard rock sound, you will love "Purple Stain" just as much. The voice on this track, lead singer Anthony Kiedis, is evocative and memorable with his signature style that is somewhere between a croon and spoken word.
10. Purple Sky – Kid Rock
After some of the downtrodden songs with purple in the title here, Kid Rock rounds out my ranking with an upbeat rock song that borders on pop. He just wants to "drive till I run out of highway into the purple sky."
Who hasn't wanted to get away and escape from the world for a little while? Kid Rock will take you on a journey out and away from your busy life right now as he hopes to live a good life with his lover by his side.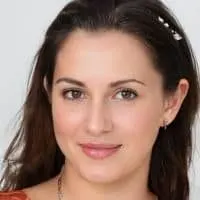 Alexandra loves playing the piano and guitar. She has always been a music lover, but it wasn't until she was in high school that she realized how much she loved to play. It allowed her to express herself without having to be verbally expressive, which is something she found very empowering.