Share on facebook
Share
Share on twitter
Tweet
Share on pinterest
Pin
Whether you are in the mood for something spooky or are trying to compile the best songs for your Halloween party, you will need to add some of these songs to your playlist. From creepy to upbeat, there is a long list of potential selections for a playlist like this from the likes of classic 80s bands to more modern tunes.
Which ones are the best fit for you?
Here is my list of the best songs about ghosts, all compiled into one awesome list for your convenience!
1. Ghost Song – The Doors
Often referred to as a pure genius, The Doors have created a masterpiece with "Ghost Song." This song lacks the melodic singing of the other music associated with the band and instead presents raw poetry and spoken word to a musical backdrop.
Jim Morrison, the poet who doubles as lead singer, relates encourages us to "shake dreams from your hair." It is a beautiful addition to their An American Prayer album.
2. Misguided Ghosts – Paramore
Paramore is mostly known for their alternative indie music, but "Misguided Ghosts" slows things down. Their Brand New Eyes album is full of slower tracks, and this may be one of the most underrated options off their entire discography – not to mention one of the best songs about ghosts.
They utilize a softer beat, crafted from tapping instead of a proper drum kit. It is framed with a melodic guitar piece that draws you in and helps you to get caught up in the music.
3. Thriller – Michael Jackson
Perhaps Michael Jackson's most well-known song, "Thriller" takes you for a ride. It was one of the first songs of its kind when it debuted in 1982, the same year as Jackson's other major hits like "Beat It" and "Billie Jean."
It brings an eerie story to light as he sings about how "no one's gonna save you from the beast about to strike." It's catchy, upbeat, and a feel-good song despite the darker subject matter.
4. Ghost Riders in the Sky – The Ramrods
Take a trip back in time with this song from The Ramrods circa 1960. It is a cult favorite with many artists offering their covers of the tune. "Ghost Riders in the Sky" offers a beautiful melody, even if it doesn't have any lyrics to accompany it.
You can tell that the ghost cowboy is riding high on his horse with this upbeat melody. Listeners still say that this original is the best version of all the covers that are available of "Ghost Riders in the Sky."
5. The Ghost in You – The Psychedelic Furs
Released in 1984, "The Ghost in You" from The Psychedelic Furs will quickly take you back in time to one of the most vibrant eras of music. Not only is it about ghosts, but it is a captivating love song where his love doesn't fade even as time moves.
This song is reminiscent of how we all wish we could hold onto love, but love is "only heaven away." Listen to this song and let your ghosts haunt you while you get lost in the music.
6. Ghost – Justin Bieber
Justin Bieber's chart-topping hit "Ghost" definitely deserves a place on this ranking. This song is a pop-based and modern twist on some of the classic hits featured here, offering a refreshing take on how the new generation views ghosts.
He talks about settling for the ghost of someone when they can't be around, and we can certainly all relate to that topic. Sometimes, it is better to settle for the ghost than to let go of a person altogether.
7. Ghosts – Michael Jackson
No list of the best songs about ghosts would be complete without another selection from Michael Jackson, aptly named "Ghosts." This creepy song talks about ghosts, ghouls, and blood up on the stairs, all of which makes this song one of the best for those who want to address the "ghost of jealousy" in their lives.
Despite the gory subject matter, Jackson keeps things light and truly represents the King of Pop. Some listeners argue that he should be called the King of Music because everything he touches turns to gold.
8. What's It Feel Like to Be A Ghost? – Taking Back Sunday
Taking Back Sunday takes a harder edge to the topic of ghosts, and many people consider this to be one of their classic hits. What does it feel like to be a ghost? This hard-rock band promises to explore the feeling with a "quick but not quite painless" song.
If you want to explore what it might be like to be a ghost, this song made it onto the band's 20th-anniversary compilation because it is a fan favorite.
9. Ghost Town – The Specials
The 80s was a great time for music and many artists were exploring the concept of ghosts, even The Specials in their "Ghost Town." It might be a shorter song with relatively few lyrics, but it is accompanied by some creepy background sounds and melodies that will leave you feeling a little bit creeped out.
Listeners say that this song sends shivers down their spines. It is still one of the best songs they have ever heard, even 40 years after its initial debut in 1981.
10. Ghost Dancing – Simple Minds
Simple Minds is a classic band that brings another one of the best songs about ghosts to the world in "Ghost Dancing." Listeners classify this song as timeless and say that it reminds them that life is worth living, making them nostalgic for days gone past.
Debuted in 1985, this song is a delightful rock ballad that anyone can appreciate.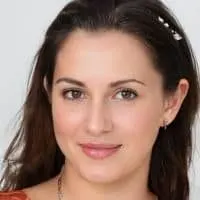 Alexandra loves playing the piano and guitar. She has always been a music lover, but it wasn't until she was in high school that she realized how much she loved to play. It allowed her to express herself without having to be verbally expressive, which is something she found very empowering.