[amazon box="B01MY4WB2H" template="horizontal" description_items="2″]
Electro-acoustic guitars are great for anybody looking for a versatile option for practicing at home, playing intimate shows, and even large-scale concerts. However, with so many options available on the market, the process of choosing can often leave us spoilt for choice.
A great place to start is Taylor guitars, a household name when it comes to electro-acoustics. However, even then there are a few options to choose from.
We are going to be looking at one of the most popular Taylor guitars, the 114e, in addition to comparing it to two similarly popular Taylor guitars – the 214E and the 114CE.
We will be providing information regarding the guitars and their differences, similarities, features, and more.
Read on to find out about everything you will need to know about Taylor's 100 and 200 series electro-acoustic guitar range.
Taylor 114e – An Overview
The Taylor 114e is a six-string, full-bodied electro-acoustic guitar, specifically designed to be comfortable and accessible to guitarists of all experience levels.
It has a Grand Auditorium style that employs a similar depth and width to the dreadnought, leaving the body looking sleek and slightly thin around the middle.
Along with unique tone woods that help sustain detailed tones and audio projection, the Taylor's Expression System 2 and its proprietary pickups respond organically to the acoustic energy, providing acoustic concerts with a wide dynamic range and natural live acoustic sound.
Specifications
Body shape: Grand Auditorium
Color: Natural
Finish: Satin Varnish
Top Wood: Sitka Spruce
Back & Sides Wood: Walnut
Neck Wood: Maple
Body Bracing: Forward-shifted
Binding: Black
Number of Frets: 20
Pickups: Proprietary (3 x piezo-electric sensors)
Scale Length: 25.5″
Strings: Elixir Phosphor Bronze Lights, .012-.053
How It Sounds
The sound of the Taylor 114e is notable for having a significantly full-bodied and high-volume sound in comparison to pricier alternatives.
This is ultimately due to the Grand Auditorium build, which provides a rich warmth around the bass frequency range.
On the other hand, the body's narrower waist also helps to bring out crisp treble and harmonics.
Unlike other Taylor electro-acoustic guitars, the 114e does not feature a cutaway as this helps maintain the high level of bass and volume desired in rhythm guitar playing, allowing the waist to handle the management of the high-end.
It also has a lengthy sustain, presenting itself as a great option for the harmonic articulation of both fingerpicking and strumming with a plectrum.
Overall, the sound profile of this guitar is versatile, boasting a true equilibrium between low frequencies and high frequencies for a variety of playing styles.
If you would like to hear how the 114e sounds yourself then check out this video:
Playability
Due to the Grand Auditorium body style, the Taylor 114e is particularly comfortable to play despite it being a full-sized acoustic.
Fingerpicking, strumming, and plectrum use work well with the guitar providing plenty of accessibility depending on your playing preference.
The detailed wood finish is smooth to aid in the natural exploration of frets, and the fretboards themselves are well-scaled for natural access.
Quality
Taylor has gone above and beyond with the quality of this guitar – the Grand Auditorium body shape, Satin Varnish finish, Walnut backs, and sides and the Sitka Spruce top wood all work together to bring a highly polished acoustic.
What Others Are Saying
The most common comment made about the Taylor 114e lies in the comfort of play and the quality of the sound.
Users claim it sits very comfortably in their lap, with the wooden finishes providing a smooth and frictionless exploration of the frets.
Regarding the quality, owners of the guitar claim that the sound is a perfect balance between warm, hollow tones with bright and crisp harmonics.
Generally, buyers do not have much criticism of the guitar, with many claiming that the value for money has resulted in them delaying getting an upgrade where they normally would choose to do so.
Pros and Cons
PROS 👍
A versatile guitar great for fingerpicking, finger-strumming, or plectrum use
Balanced tone with excellent bass, mid and treble response
High-quality wooden finish
Handy placement of the control panel for control of the Taylor's Expression System 2
CONS 👎
The Taylor 144e does not feature a cutaway, so it is not ideal for lead guitarists
The narrow width of the 114e is loved by many, but it can feel unnatural to some
A relatively expensive investment, but considered to be excellent value for money
Taylor 114e vs 214e
It is easy to assume that the 114 vs the 214 have no differences due to their similarities. However, there are some differences, ultimately lying in cosmetics.
The guitars have different colored pickguards, binding, and finishes, but the most notable of differences is the fact that the 114 has a layered Sapele back and sides, as opposed to the Rosewood back and sides of the 214.
Taylor 114e vs 114ce
Whilst the Taylor 114e and the 114ce are very similar guitars, there is one major difference – the cutaway.
The 114ce has a cutaway that allows for easier access to the high frets of the guitar.
This presents it as a superior option for lead guitarists in addition to boosting the treble response, but the increased price tag will not be necessary for guitarists who focus mostly on rhythm.
Frequently Asked Questions (FAQ)
Is the Taylor 114e a good guitar?
The Taylor 114e is a very good option for lovers of electro-acoustic guitarists, particularly considering the value for money.
Where is the Taylor 114e made?
Unlike the 200-series Taylor guitars that are made in El Cajon in California, the Taylor 104e is made in Tecate, Mexico
Conclusion
Overall, the Taylor 114e presents itself as an excellent choice for electro-acoustic guitarists of all experience levels. It is a gorgeous guitar with beautiful woodwork, finishes and overall feels like a huge amount of care has been put into its production.
The balance of luscious low and crisp high frequencies is projected by the brilliant volume of the guitar.
However, one of the biggest strengths in this beauty is the sheer comfort it provides, sitting naturally in hand and lap. It certainly holds up the excellent reputation of Taylor guitars, but choosing this over the Taylor 214e will ultimately come down to your personal aesthetic preferences.
However, it must be noted that the lack of a cutaway presents the 114e as a slightly weaker choice for lead guitarists. As long as your playstyle doesn't focus on the high frets too much, this shouldn't be a significant problem.
I hope you enjoyed my review on the Taylor 114e.
Any questions or comments please let me know by using the comments section below.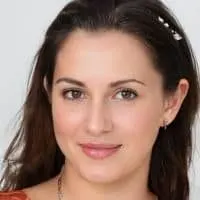 Alexandra loves playing the piano and guitar. She has always been a music lover, but it wasn't until she was in high school that she realized how much she loved to play. It allowed her to express herself without having to be verbally expressive, which is something she found very empowering.