🥇 BEST CHOICE 🥇
Eastman E1D Dreadnought

CHECK LATEST PRICE

🥈 SECOND CHOICE 🥈
Eastman PCH1-D

CHECK LATEST PRICE

🥉 THIRD CHOICE 🥉
Eastman AC Series Sitka/Sapele Grand Auditorium
For decades, string instrument enthusiasts had struggled to acquire decent string instruments mainly due to the mass production of instruments by utilizing machines to generate quick profits.
Thanks to Quian Ni, Eastman strings have become synonymous with exceptional quality and affordability.
Over the years, Eastman has made its mark as a household name in the musical instrument industry. By attributing the manufacturing process of instruments to the exceptional craftsmanship and quality of materials used, Eastman has captured the hearts of guitar and other string instrument enthusiasts.
This article focuses extensively on the best Eastman guitars of this year.
Most players may be seeking to acquire a new guitar and may be having a hard time deciding on which of the several great options on Eastman's catalogue to buy.
If you fall into this category, this article is tailored to highlight the features of four of the top Eastman guitars of this year in a bid to answer some of the questions you might have, serve as a guide, and generally aid your decision-making process.
For the year 2021, four of Eastman's released guitars which have topped the charts as customers favorite – for obvious reasons like design, cost, and resourcefulness – include;
The Eastman E2D Dreadnought Acoustic Guitar
The Eastman AC Series Sitka/Sapele Grand Auditorium Acoustic Guitar,
The Eastman PCH1-D Acoustic Guitar and
Eastman E1D Dreadnought Acoustic Guitar.
Each of these models is peculiar in its capacity, and depending on your budget or aesthetic taste, one of these contenders will definitely suit your preferences.
4 Best Eastman Guitars Reviews
1. Eastman E1D Dreadnought
At the top of our list, we present to you the Eastman E1D Dreadnought Acoustic Guitar. An absolute players' favorite, we chose this model as our number one and best Eastman 2021 Acoustic Guitar for an infinite number of reasons.
Some of these reasons include its body material make-up, an alluring mix of Mahogany and Spruce, and its renowned, woody, and dynamic sound. Talk about an all-solid class act.
The Eastman E1D Dreadnought Acoustic Guitar is designed with a two-way adjustable truss rod, Martin SP Phosphor Bronze strings, and a comfortable hand-fitted dovetail neck joint, which is suitable for fingerstyle play methods.
It also has open machined heads, which exudes a vintage vibe. The saddles to the nut width have all been adjusted to give 3dimensional sound, and in truth, it is an amazing instrument to play.
It may be difficult for an untrained ear to spot the difference between the E1D and others in its class, but the moment you hear them play, it's difficult to believe that the E1D is as affordable as it is.
Weighing a solid 18 pounds with body dimensions at 22 x 8 x 49 inches, it feels like music if she were a person. This particular Eastman product was specially selected as our best Eastman Acoustic Guitar and placed at number one on our list for obvious reasons.
For the value it offers, paying $530 may be likened to a give-away for seasoned guitarists.
Reviews also testify to this beautiful guitar's quality, with some happy users nicknaming it a 'killer guitar.'
If you want quality at a pocket-friendly price, the Eastman E1D Dreadnought Acoustic Guitar is the one for you.
2. Eastman PCH1-D
Sitting pretty at number two, Eastman's PCH1-D Acoustic Guitar is yet another bestseller and customer favorite in terms of quality and affordability, both of which are watchwords for the Eastman brand.
The exterior design of this model is one thing, and its material composition is another wonder. You just cannot get enough of this stringer.
Weighing 10 pounds, this model was first released in August 2017 and has since gone up in rankings to #85 among Steel-string Acoustic Guitars and #22,427 in the musical instruments category.
The Eastman PCH1-D Acoustic Guitar comes with an adjustable truss bar in its sound-hole to allow for personal preferences, which may vary from user to user.
Also rated 5-star, this Eastman product is durable and reliable, as are most Eastman guitars. Its sleek, bold, and distinctive shape brings to mind the classic acoustic guitar shape familiar to most players.
In terms of cost-effectiveness, the Eastman PCH1-D Acoustic Guitar sells at an average price of $310, ensuring that with a small budget, you too can play an amazing instrument.
3. Eastman AC Series Sitka/Sapele Grand Auditorium
Closely following the Eastman PCH1-D Acoustic Guitar, this cutaway natural sits at number three on our best Eastman guitars list. Made with the finest Sapele wood, this Spruce material guitar gives a warm and comfortable feel to the players' fingers.
For lack of better words, it just feels right!
This model is accompanied by a complimentary padded bag that fits perfectly and aids easy mobility.
Also rated 5.0 out of 5 stars on Amazon, this Eastman product is a classic Grand Auditorium acoustic guitar model and ranked #772 in Steel- String Acoustic Guitars. It is also ranked #143,712 among other musical instruments.
Definitely one loved by many, the Eastman AC Series Sitka/Sapele Grand Auditorium Acoustic Guitar was first released into the market in April 2018 and has since remained a people's favorite.
Relatively on the high side when it comes to pricing, the AC Series Sitka/Sapele Guitar is a steal, costing an average of $610.
On the bright side, it definitely will give you your money' worth in terms of sound quality and overall durability.
However, if you want a pocket-friendly option, maybe keep it moving.
4. Eastman E2D Dreadnought
Eastman Traditional E2D Cedar/Sapele Dreadnought
Neck Material: Mahogany | Fingerboard: Ebony | Fingerboard Radius: 12" | Neck Profile: Traditional Even "C"
Nut: Bone 1-3/4" | Fretwire: 20 Jescar-FW43080 | Scale Length: 24.9" | Body Dimensions: 15" x 4 1/4" x 4" | Bracings: Hand Scalloped X | Body Top: Solid Cedar | Body Back/Sides: Solid Sapele
Bridge/Saddle: Ebony/Bone, 2 5/32" Spacing | Rosette: Classic | Truss Rod: Dual Acting | Binding: Top and Back | Binding Material: Tortoise | Logo: Maple Headstock | Inlay: Pearl Dots | Side Dot Color: White
Bridge Pins: White Plastic with Black Dots | Body Top Finish: Gloss Nitrocellulose | Back/Sides Finish: Open Pore | Hardware Color: Nickel | Pickguard: Tortoise Shell G-Guard | Tuners: Open-Gear Ping V93N 3+3 | Electronics: None
Case: Padded Eastman Gig Bag
At number four, this 13 3 /4 " X 4 1/8" bad boy has an adulation-worthy 5-star rating on credible online stores like Amazon.
Released in February 2020, the E2D Dreadnought Acoustic Guitar is adorned with an exterior blend of Indian Rosewood and Herringbone trim.
This beautiful music maker comes with solid Sapele sides and exterior giving a rich, solid, and woody feel. And the sound is as professional as any dreadnought guitar you'd get for under $700.
It almost sounds as if this instrument has been equalized right off the factory—incredible sound.
The E2D Dreadnought Acoustic Guitar strings are EXP coated phosphor bronze with a complimentary Hardshell case.
This guitar is your go-to string instrument choice if your preferences are acoustic, woody guitars with a solid feel and assured sound quality and durability.
As is customary with most Eastman products, the E2D Dreadnought Acoustic Guitar offers a limited lifetime warranty, depending on which dealer the purchase you patronize.
This model is also very pocket-friendly, going for as low as $530.00, complimentary gig bag inclusive.
A steal!
Things to Consider Before Buying an Eastman Acoustic Guitar
There are a few things you should consider before buying an Eastman acoustic guitar, this includes:
Product specification: Before choosing what guitar to buy, you may want to confirm that the product specifications and components are suited to your style and intended purpose.
Budget: you want to be sure that your acoustic guitar choice is within your budget to avoid regrets later on. Thankfully though, the Eastman brand makes provision for varieties of pocket-friendly options suitable to any budget.
Size and shape: Just as with any other instrument or gadget, you might want to consider your options before getting an Eastman guitar, taking into cognizance your preferred guitar size and shape.
Conclusion
Generally, Eastman acoustic guitars are quality products sold at affordable prices. The choice is, therefore yours. However, our number one choice and recommended option remains the Eastman E1D Dreadnought Acoustic Guitar, simply because it looks good, feels good, and even sounds better – all this value at such excellent market prices.
If you enjoyed reading this article and found it useful then please leave us a comment in the comments section below.
Keep on rocking!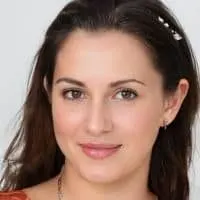 Alexandra loves playing the piano and guitar. She has always been a music lover, but it wasn't until she was in high school that she realized how much she loved to play. It allowed her to express herself without having to be verbally expressive, which is something she found very empowering.