Have you ever thought about the hidden meaning in songs today? In my sleeping songs list, I look at the meaning behind the song and why the artists chose to use "sleeping" as a theme in their music.
Join me as I take you through the ten best songs about sleeping and how the artists chose to interpret this in their songs!
1. Sleeping in My Car by Roxette
Roxette was one of the biggest artists in the 90s, and with hits like "Sleeping in my Car," the duo had fans worldwide that just couldn't get enough of their music. "Sleeping in my Car" was released in 1994 on the album Crash! Boom! Bang!, and is a song about a great night out.
Not wanting the night to end, the singer and her beau sleep in her car, making love under the stars. I bet you wish you could have a night that ends with sleeping in your car because I sure do. Take some inspiration from Roxette and give "Sleeping in my Car" a listen as you prepare for a night out.
2. Enter Sandman by Metallica
"Enter Sandman" is one of the most iconic songs from the 90s. But do you know the meaning behind the lyrics that hint at a good night's sleep? Released in 1991 on the album Metallica, "Enter Sandman" is about the horrors of SIDS, more commonly known as "cot death."
SIDS has no explanation and can leave a family devastated as they try to make sense of what happened to their baby. Regardless of the meaning, the song is a true rock classic and one of Metallica's most popular songs. Add it to your playlist and spare a thought for families affected by the tragedy of SIDS.
3. Wake Me Up Before You Go-Go by Wham!
If you've never heard the 80s dance hit "Wake Me Up Before You Go-Go" by Wham!, chances are you have been living in a cave. The song was released in 1984 on the album Make it Big and is one of the band's biggest hits.
"Wake Me Up Before You Go-Go" is a song about a girl and how being with her is like a dream. Begging her to wake him up, the singer fears waking up to find that it never happened and that he doesn't want to give up what they have. Share this song with your dreamgirl when you add it to your 80s playlist.
4. How Do You Sleep? By Sam Smith
Sam Smith's hypnotic song "How Do You Sleep?" will have you thinking about your past toxic relationships when you listen to it on your songs about sleeping playlist.
The song was released in 2019 and took a deeper look into the singer's relationship with someone who does nothing more than break him down on a daily basis, making him wonder how she sleeps at night knowing what she has done.
If you have been with someone who belittles and constantly gaslights you, this song is sure to stir up emotion as you find yourself relating to every word that Smith sings. Give it a listen today as you find the power to free yourself from toxic relationships.
5. Sleep On The Floor by The Lumineers
"Sleep On The Floor" is a song taken off The Lumineer's 2016 album Cleopatra and is about a girl who leaves a funeral to go on a road trip with a boy. The song (and video) chronicles their journey together and will have you wishing that you could escape reality for a while.
The Lumineers are known for their folksy-sounding music, and "Sleep On The Floor" is just one of a string of hits for which the band is known. Fall in love with The Lumineers when you add "Sleep On The Floor" to your playlist of songs about sleeping.
6. Wake Me Up by Avicii
"Wake Me Up" by iconic DJ Avicii is one of the biggest club hits of the century and was released in 2013. With over 2.1 billion views on YouTube and even more downloads from music streaming platforms like Spotify, it is clear that everyone loves "Wake Me Up."
The song describes Avicii's life and how he feels like fame and success are a dream. Fearful of it coming to an end, the singer wants someone to wake him up from the dream before it all comes crashing down. Avicii sadly committed suicide at the age of 28 and left behind some of the best music to come out of the 2000s.
7. Mr. Sandman by The Chordettes
The Chordettes struck gold with the release of their cute song "Mr. Sandman" in 1954, as they pleaded with the sandman to bring them the man from their dreams. A fun, energetic song, "Mr. Sandman," was a popular hit in the 50s and had many women wishing for a dream man to sweep them off their feet.
Music was a lot simpler back in the day, and songs rarely had hidden meanings in their lyrics. "Mr. Sandman" features on my list at number seven. Give it a listen and sing along to The Chordettes.
8. Insomnia by Faithless
Can you believe that Faithless' club hit "Insomnia" is 27 years old?! Released in 1995, the song describes the struggles of someone battling the sleeping disorder insomnia and has him wishing that he could just get some sleep.
"Insomnia" has an incredible beat that will have you thinking you're back in the club when you listen to it – it is a nostalgic song for all millennials. Relive your heyday when you add "Insomnia" to your playlist today.
9. Where Did You Sleep Last Night? By Nirvana
Nirvana tackles the heartache of a cheating wife in their 1994 song "Where Did You Sleep Last Night?" The song deals with infidelity and the pain of knowing that your spouse is cheating on you.
"Where Did You Sleep Last Night" is a more intimate look at the pain from a man's perspective and is one of the best Nirvana songs released in the early 90s. Give it a listen today and discover that the pain of cheating and infidelity is not only something that women go through.
10. Sleep to Dream by Fiona Apple
Fiona Apple's feminist song "Sleep to Dream" brings me to the end of my list of the best songs about sleeping. Released in 1996 on the album Tidal, the song is a message to dreamers that the realities of life will catch up with you sooner or later.
We all wish for a better life, job, partner, and more money, but "Sleep to Dream" will bring you back down to earth as you listen to some harsh words from this popular 90s singer. Add it to your playlist today and take the lyrics of the song to heart when you play it on loud in your living room.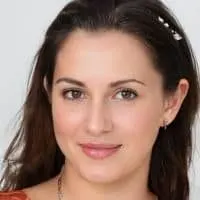 Alexandra loves playing the piano and guitar. She has always been a music lover, but it wasn't until she was in high school that she realized how much she loved to play. It allowed her to express herself without having to be verbally expressive, which is something she found very empowering.