Share on facebook
Share
Share on twitter
Tweet
Share on pinterest
Pin
Love songs are great for weddings, for dedicating to that special someone, and in the case of many American movies, are perfect for blaring outside the bedroom window of your crush. But Christian love songs tell the story of another type of love – One where the relationships are based on faith and love because of the love of God.
Here is a list of the 10 best Christian love songs that tell a sweet tale of love in a God-centered relationship!
1. When God Made You by NewSong (Feat. Natalie Grant)
New Song did something right when they collaborated with Natalie Grant on the song "When God Made You." A beautiful duet, this song is popular for weddings and has been used for many a couple's first dances as Husband and Wife.
Taken off the 2003 album More Life, the song thanks God for the love he has provided in the form of a person. Consider this one for your wedding, or dedicate it to the one you love.
2. Love Never Fails by Brandon Heath
One of the most common themes in Christian music is the unwavering love that God provides. "Love Never Fails" is a sweet tale of love loosely based on 1 Corinthians 13: 4-7.
Taken from the 2008 album What If We, Brandon Heath sings of a love so pure that even the stoniest of hearts will melt.
A great song to listen to when you feel like you want to give up on love, "Love Never Fails" should be at the top of any Christian love songs list.
3. Good Day for Marrying You by Dave Barnes
If, like many other couples, you are searching for the ultimate feel-good love song for your wedding reception, "Good Day For Marrying You" might be it.
With a doo-wop/bubblegum-pop feel, the song from the 2015 album Hymns For Her will have you up and dancing with your lover in your arms.
Warning: "Good Day For Marrying You" is extremely catchy and has been known to bring a smile to anyone's face.
4. I Choose You by Ryann Darling
"I Choose You" is also known as "The Wedding Song." It has been used as the first dance song for countless couples and features the incredible vocal talents of Ryann Darling.
Taken off her 2016 album of the same name, the song tells of the beauty of a God-centered marriage.
Finding "The One" might seem impossible, but trusting that God has the perfect mate for you is a hope that we all hold onto. "I Choose You" is the perfect song to dedicate to the one you love on any occasion.
5. Love Will Be Enough for Us by Brandon Heath
Taken off the 2012 album Blue Mountain, "Love Will Be Enough For Us" gives all the singles hope that the dream of a love that's enough to sustain you, no matter what. The song has a country vibe that tells the story of a lover's dream of the future.
Another song based on the idea of a God-centered marriage or relationship speaks of a love for God and for your significant other that is so powerful and true that you will never need anything else in life.
6. God Gave Me You by Dave Barnes
When you have decided to give up on love for good, someone comes into your life and changes your perceptions of love and everything else you have ever believed.
This is the love that Dave Barnes sings about in his song "God Gave Me You" from his 2010 album What We Want, What We Get.
Covered by Blake Shelton, the original is still a favorite for many wedding reception music lists and is the perfect addition to the ten best Christian love songs list. This song is great to dedicate to the one who made you believe that true love is possible.
7. Jesus & You by Matthew West
Matthew West sure has a way with words. In this 2017 song, "Jesus And You," West sings of the two most important things in his life, Jesus and his lady-love.
Recorded with a country feel to it, he describes his love for his partner as a lighthouse in a hurricane, which is also how he feels about his relationship with Jesus.
This sweet love song with Christian themes will have your partner falling into your arms.
8. Love Will Be Our Home by Sandi Patty
Let's turn back the clock and head back to 1988 when Sandi Patty released the hit "Love Will Be Our Home." An old-school love song with Christian-based lyrics, the song was a hit for couples worldwide who wanted to make a declaration of love.
The song, taken off the album Make His Praise Glorious, describes a perfect love with children, laughter, and happiness in the future and truly shows that love can conquer absolutely anything.
9. I Will Be Here by Steven Curtis Chapman
Another old-school love ballad, Steven Curtis Chapman, recorded his hit "I Will Be Here" in 1898. In the song, he sends a message to his lover, detailing his love for her and highlighting that he will always be a constant in her life.
Just as God is his constant, he will be true to her and the love he has for her and his God.
10. When I Say I Do by Matthew West
Another Matthew West love song, "When I Say I Do," is one of those love songs that make you believe that with love, anything is possible.
Sung almost as if he is reading out a letter to his love, West speaks of God's plan and how he brought them together.
Taken from the 2019 album Hello, My Name Is, this beautiful love song is the perfect way to help you describe your feelings for someone.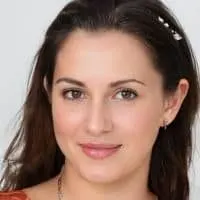 Alexandra loves playing the piano and guitar. She has always been a music lover, but it wasn't until she was in high school that she realized how much she loved to play. It allowed her to express herself without having to be verbally expressive, which is something she found very empowering.